Companies average $8 for every $1.60 spent on pay-per-click (PPC) campaigns through Google Ads. If your co-op isn't leveraging PPC as part of your digital marketing strategy, you could be missing out on an incredible return on investment (ROI).
Want to learn how to master this digital advertising strategy? You've come to the right place! On this page, we'll discuss:
Keep reading to learn what it takes to run a successful PPC campaign for co-ops!
Or, if you'd rather partner with a PPC agency to manage your campaigns, we'd love to hear from you! Call us at 888-601-5359 or request a free proposal online today!
What is PPC for co-ops?
PPC is a digital marketing strategy that involves running an ad online and paying for each click your ad receives. You set a bid amount that tells the advertising platform the maximum amount you're willing to pay for each click, and the amount you pay will depend on the competing ads.
You can run PPC ads on various online platforms, such as:
Across these platforms, you'll find numerous types of PPC ads, including instream video ads on YouTube, shopping ads, and local services ads on Google.
One of the most lucrative PPC strategies for co-ops is paid search. With these PPC ads, you'll bid on placement at the top of the search results.

Benefits of PPC for co-op businesses
With one billion monthly users, Google boasts one of the most attractive markets for PPC advertising. Through Google Ads, your co-op can reach people on Google's search engine or Google's numerous partner sites.
Beyond its broad reach, Google Ads campaigns also allow you to leverage the many benefits of PPC for co-ops, including:
Fast results: When you run a PPC campaign, your ads generate data immediately. You'll receive real-time information to improve your campaigns and boost their performance continually.
Increases brand awareness: You get your co-op brand in front of a wider audience through Google Ads and similar search engines like Bing. With search ads, you can appear at the top of the search results, which is invaluable for increasing brand awareness.
Robust targeting: Most digital advertising strategies have robust targeting abilities, and PPC ads are no exception. Through Google Ads, you can target users searching for relevant keywords and further refine your targeting with negative keywords and other strategies.
Complements other digital marketing strategies: Your PPC campaign plays a strategic role in a larger digital marketing strategy. For example, PPC and SEO work together to boost your presence in the search results.
Transparent data: When you and your co-op members run a marketing campaign, you need to see the performance data to continue planning strategically. With PPC campaigns, you'll receive transparent data to track all co-op brand campaigns.
7 PPC strategies for co-ops
Ready to take advantage of these incredible benefits but unsure where to begin? Check out these seven PPC strategies for co-ops:
1. Use long-tail keywords
When you set up your co-op PPC campaigns, you'll need to choose how to target your ads. While Google Ads includes several targeting options, keywords are one of the most foundational options for paid search campaigns.
When people use search engines, they type a keyword into the search bar, so you need to let Google Ads know which keywords are relevant to your ads.
As a result, PPC for co-op businesses should begin with thorough keyword research. Try choosing long-tail keywords with three or more words and clear search intent. If you understand what the searcher wants to find with a keyword, you can deliver a more relevant ad.
2. Add negative keywords
In Google Ads, you can include keywords you want and don't want to target. The latter are negative keywords, and they allow you to weed out any irrelevant searches your ad might appear in due to mixed search intent or similar problems.
You'll want to limit these irrelevant appearances as much as possible because searchers are unlikely to click on ads that don't match their search. Google Ads recognizes when users find your ad unhelpful, and this information impacts your Quality Score.
Your Quality Score is a rating Google Ads gives your PPC ad based on factors like its click-through rate (CTR), relevance, and landing page experience. You want to keep your Quality Score high because it affects which ads Google shows for each search and impacts the amount you pay.
3. Test audience targeting features
While keywords are an excellent starting point for PPC campaign targeting, you can optimize your target audience further using Google Ads' audience targeting features. For search and display ads, you can target users based on factors like:
Demographics
Interests
Previous visits to your website
Alignment with your existing customer data
Purchase intent
Because you pay for every click your ad receives, improving your targeting strategy helps ensure you receive the most qualified traffic through your PPC campaigns.
4. A/B test campaign elements
Depending on the type of ad — for example, search or display — your ad will include various elements. For example, a search ad consists of a headline, description, display URL, and optional ad extensions.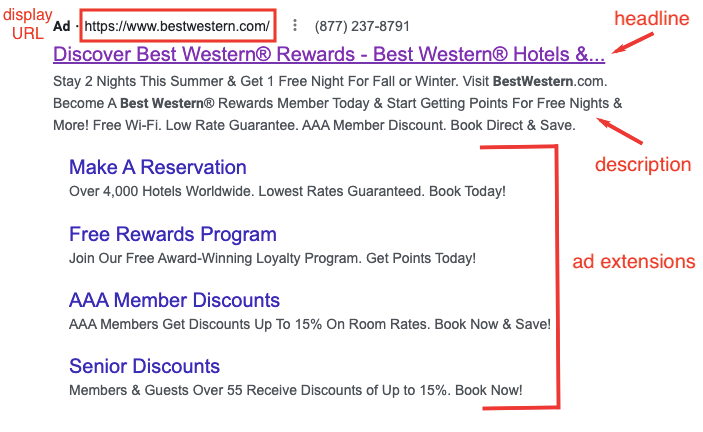 To ensure you've chosen the best combination of elements that convince users to click, run A/B or multivariate tests. Remember how quickly PPC campaigns generate data? That benefit will come in handy here because it allows you to test your campaigns and track the results immediately.
While testing ad elements, you'll also want to optimize your landing page. Users' experience on your landing page impacts your Google Ad Rank, and an optimized landing page leads to more conversions!
5. Manage your bids strategically
With any PPC campaign for co-ops, you can set your budget and manage your bid for as long as you run your campaigns.
Given how rapidly the search landscape and PPC competitive environment changes, you'll want to regularly monitor your bids to ensure you've chosen the most strategic amount.
Google Ads chooses which ads to show based on your Ad Rank and the bid amount, so adjust your bid accordingly to improve your ads' visibility. When managing your bids, you'll want to consider factors like:
Keeping these factors in mind will ensure you get the most out of your PPC campaigns.
6. Organize your Google Ads account efficiently
Your Google Ads account includes campaigns, ad groups within your campaigns, and keywords within your ad groups. To achieve the best results, you'll want to organize your campaigns and ad groups around audience niches and strategic keyword groups.
Why? Google Ads provides robust data, but poor account organization will limit your ability to leverage it.
You want enough ad groups for each to only include keywords for a particular niche or theme without having so many that they're difficult for you to manage.
7. Optimize your campaigns continually
Last on this list of co-op PPC strategies is continual optimization.
As mentioned above, the PPC landscape constantly changes, so you need to check your accounts regularly to track your campaigns' performance. Use the data you find to continue testing new elements and optimizing your bids and targeting strategies.
You'll also need a way for your co-op members to report their performance, and you'll need this data in an accessible format. Robust marketing data management can help, but when you partner with WebFX, you'll receive custom reporting tailored to your co-op's needs.
Learn more about our PPC services for co-ops
Ready to invest in PPC for co-ops but not sure where to begin? When you partner with us for PPC management services, you'll receive access to the experts who have driven over $3 billion in revenue and 7.8 million leads for our clients.
We've run 650 ad campaigns, and we're ready for your co-op to be next. Our experts will craft a custom strategy tailored to your business's unique needs to drive the results that matter most.
Want to learn more? Call us at 888-601-5359 or request a free proposal online today!
Earn a 20% greater ROI with WebFX