Homeowners will need repairs and improvements no matter what, meaning your business has staying power. From installing new floors to building finished basements, individuals, and families everywhere love to invest in their living spaces.
Even though your services are likely in demand, you still need to set your brand apart from the competition to ensure it's the go-to option for homeowners in your area. Today, seven in 10 Americans use social media, making it a must for your marketing strategy.
Ready to learn the ropes? Check out five social media tips for home improvement companies here, and call 888-601-5359 to speak to an FXer directly!
74% of people use social media when making a purchasing decision.
Make their decision easy with a stellar social media presence. See how your brand can level up by requesting a no-obligation proposal today.
One of our experts will be in touch within 24 hours!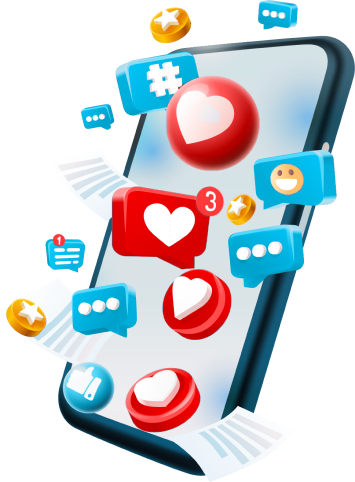 1. Pick the right platforms
Though dozens of social media websites exist, you'll only want to focus on a few. Getting involved in too many platforms can derail your plans, leaving you overwhelmed and noncommittal to your strategy.
Decide to dedicate your attention to two or three options, which might include:
Instagram:

This platform is all about visuals, perfect for showcasing home improvement projects. As your company takes on different client requests, you can show the progress of each one, so your followers can see the quality of your work.

Pinterest:

Remember that Pinterest is home improvement's original social media platform. Here, users search for all kinds of home design ideas. Capture their attention by posting images of and links to your projects.

Facebook:

Most home improvement companies work with a clientele that skews a bit older. If that's the case for your business, Facebook would be a helpful option to connect with them. There, you can post updates, link to new blog posts, and respond to client reviews.

YouTube:

If you're interested in giving your clients a behind-the-scenes look at your building and design processes, YouTube is the perfect visual tool. Upload videos about different techniques to give people real insight into your everyday work.
Ultimately, the platforms you choose will be the ones that make the most sense for your customer base and workflow. Carefully consider each option — not just the examples above — to make the best decision for your social media strategy.
2. Think about the content you want to post
Aside from choosing the websites you want to get started on, you should think about the kind of content you want to post. Between pictures, videos, blogs, and customer interactions, you have plenty of options. The best approach is to use a mix of everything, including repurposed content and new material.
Here's an example. If you post a blog about renovating a garage into a living space, you can use the same content for your social media strategy in different forms. On Pinterest, you should post an image of a garage remodel and link to your blog post. Then, your Instagram post might be a Reel that shows that same garage project from start to finish.
No matter what platforms your clients follow you on, they'll learn about transforming their garages. Of course, exclusive content can be a way to attract followers to a specific account, but repurposing the content you already have is a nice entry to starting your social media accounts.
3. Maintain your branding across each profile
Aside from posting consistent, quality content, you must ensure followers can recognize your brand across the web. This cohesion makes it easier for new and existing clients to find your pages on every website and app.
Here are a few suggestions for keeping your branding uniform:
Use the same profile name:

Try to use the same name for every account, depending on what's available. Adding an underscore or "official" to your profile name might be necessary. Make sure it doesn't differ too widely to the point that your Instagram account is unrecognizable from your Facebook profile.

Upload the same profile picture:

Use the same profile icon for each account. This picture should relate to your company, such as your brand logo or colors.

Have similar bios:

Almost every social media website has an option for you to upload a bio, where you can add a unique snippet of information about your company and link to your website. Feel free to put your own twist on each one, but make sure they're uniform to avoid confusion.
If you're struggling to think of your company's branding, it might be time to evaluate that aspect of your business.
4. Reply to customer comments
The beauty of social media is that it can connect people worldwide. These platforms are a space for customers to interact with brands, and yours is no exception. Whether your clients leave positive or negative feedback or ask detailed questions, it's crucial to reply to as many of their inquiries as possible.
If you leave your followers in the dark, you won't inspire brand loyalty. By engaging with them, you create a dialogue that helps them learn more about your company and why they should choose you over your competitors. At the same time, you get to understand more about them and their needs.
Do what you can to be active in the replies to your posts, even if it's only to say thank you or respond with a couple of emojis.
5. Take note of trending topics
Something new trends on social media every day. As part of your social media strategy, try to get in on the action by tracking trending topics related to design and construction.
For example, maybe you've seen industry experts discussing the rising costs of certain building materials. Why not put your expertise to use by posting an Instagram Story about that topic? Keeping your eye on the latest issues and ideas can let clients know you're knowledgeable and trustworthy.
Growing your social presence with WebFX is a walk in the park.
"WebFX allows growing your social media platforms to be stress-free! They are knowledgeable and adapt to your company needs!"
Learn More About Our Social Media Services

Get social media help from WebFX
Considering everything you do to help your company succeed, a social media strategy might be the last thing on your mind. Let WebFX help!
With over 25 years of experience in the internet marketing industry, we know what it takes to build a winning social strategy.
Ready to get started? Get a free proposal today!
Increase your leads, sales, and revenue with digital marketing
Find Us Driving Revenue Nationwide