Want to earn more leads and revenue for your aircraft sales company?
In this evolving digital age, the Internet is one of the best tools to market your products. But how do you choose the best digital marketing methods for your aircraft business?
On this page, we'll discuss the top three methods for marketing your aircraft products. If you need help constructing your ideal marketing plan, call us today at 888-601-5359 or contact us online to speak with a strategist about how WebFX can help.
1. Search engine optimization (SEO)
One of the best methods to reach new leads is search engine optimization (SEO). SEO is the process of boosting your website's ranking in the search results for keywords related to your aircraft sales business.
Many businesses aim to get to the first page of the results. This is because 75% of people don't look past the first page of results. If you aren't on the first page, you'll miss out on leads for your business.
There are a few important aspects of SEO that you can focus on to improve your rankings.
1. Keyword integration
SEO utilizes keywords. When users conduct searches, the keywords they use trigger the search results. To appear in the search results of your target audience, you need to use the right keywords.
You will need to conduct keyword research to find the right keywords. The best kind of keywords for your campaign are long tail keywords. These are keywords contain three or more words.
Long tail keywords are better than short tail keywords because they drive in better leads. Short tail keywords only use one or two words, which are very generic. They don't drive in valuable traffic for your aircraft business.
Once you have your keywords, you'll need to integrate them into your page. When Google crawls through your page, they look for keywords to understand the context of your page. You want to use these keywords on your page to help your page rank better.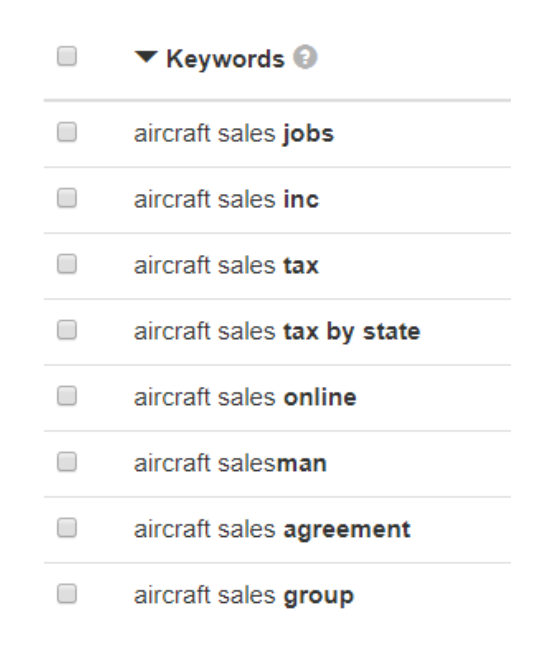 There are numerous places you can incorporate your keywords. You can use them in the body text, meta descriptions, headings, and titles of your pages.
It is important that you don't overuse these keywords. This can lead to keyword stuffing, which negatively impacts your ranking. To avoid this, only use keywords where they fit and flow naturally.
2. Link building
An integral part of SEO is link building. When an authority site links back to your page, this forms a backlink.
Backlinks are important because they build the trust and authority of your site. When Google sees a credible site linking to your site, it sends a positive signal. It tells Google that your information is valuable and valid, so they rank your site higher to enable more leads to find your site.
One of the best ways to earn links is through content creation. When you create content, you can reach out to other sites and ask them to check it out. If they like your content, they may choose to use it as a resource in their own content.
This is a great way to build a relationship with an authority site to earn more backlinks. By earning links, you will be able to improve your website's ranking.
Keyword integration and link building are two of the most important ways you can improve your SEO ranking. By improving your ranking, you will obtain more leads for your aircraft business.

Hear What It's Like to Work With WebFX!

"Our manager has been so great to work with! WebFX takes the time to understand our company and industry, making an accurate campaign and without us having to carry the heavy load."
Aircraft Supply
2. Pay-per-click (PPC) advertising
Pay-per-click (PPC) advertising it a great option for your aircraft business. These are paid advertisements that appear at the top of the search results, above the organic listings.
PPC utilizes keywords, like SEO. You'll want to use long-tail keywords because they drive in better traffic and have less competition, which means a lower cost-per-click (CPC). The CPC is how much you pay each time someone clicks on your ad, so long-tail keywords cost less per click and allow you to get more clicks for your budget.
After you select your keywords, you'll bid for your placement. You will need to determine how much you are willing to pay each time someone clicks on your ad, also known as your maximum bid. This bid is flexible and can be changed at any time.
Your placement is determined by your maximum bid and your quality score. Once you have your placement, you can start running your campaign.
PPC is a great option for your aircraft business because you have control over your campaign. You control when your advertisement appears and how much you pay. If you want to stick to a certain budget, you will stick to that budget without incurring additional costs.
The best part about PPC is that you only pay when people click on your ad. You don't pay for impressions. This means that you are paying for leads who are the most interested in your aircraft business.
With PPC, you will draw in more qualified leads and earn more conversions for your aircraft business.
3. Email marketing
Email marketing is one of the best ways to get leads to convert. This method has a potential return on investment (ROI) of 4400%! That means you can earn up to $44 for every $1 you spend!
To start using email marketing, you'll need to build up a subscriber list. You can obtain subscribers by creating an email sign up bar. This bar can be in the header or footer, or you can opt for a pop-up email sign-up form.
Many companies use pop-up email sign-up forms because they put your sign-up forms right in front of your audience. If people are visiting your site, you have a pop-up email set to trigger when they visit your homepage.
Companies often tempt people to sign up with a first-time special offer. It's a great way to generate a list of subscribers for your email list.
You'll want to refrain from buying email lists. These won't produce credible leads for your business. Your emails will end up in the spam folders.
After you build up your list of subscribers, you can start sending them emails. It is best to segment your subscribers so that you can send them more tailored content. This will provide a better experience for your audience.
You can send them emails for promotions, sales, deals, or general information. You'll need to figure out which kind of emails resonate with your segments.
To make things easy, you'll want to invest in a program like EmailMarketingFX. This program enables you to create, send, and monitor your email campaign in one place. You will have a more organized campaign by using a program that enables you to track everything.
Email marketing is successful for converting leads because you are sending content to people who are already interested in your products. People sign up for your emails because they want to hear more from your business. This means you simply need to send emails that will appeal to them and entice them to convert.
This method has the potential to generate great leads for your aircraft business. Once you obtain these leads, email marketing makes it easy to work to nurture these leads towards conversion.
Get more revenue through the web
When you partner with WebFX, we'll help you use the web to bring more revenue to your business.
Soar to new heights with a digital marketing plan from WebFX
Your digital marketing plan is an important part of your business. At WebFX, we know what it takes to help your digital marketing plan take flight. We're a full-service digital marketing company with experience creating custom marketing plans.
We have a team of 500+ experts that are dedicated to your campaign. Our award-winning team knows what it takes to produce an effective plan that will help you reach more leads and earn more conversions.
When you partner with us, you'll get a team that is dedicated to bringing your business results. To date, we've driven over $3 billion in sales and over 7.8 million leads for our clients. We put our clients' success first.
Plus, we offer a hassle-free CRM for aviation companies, Nutshell. Nutshell gives you and your team all the tools you need to level-up your sales.
Our clients love the work we do, too. We have over 1020 client testimonials from a variety of industries. Check them out to see what it's like to partner with a digital marketing company like WebFX!
Learn more
If you're ready to learn more about how you can generate more valuable leads for your business with digital marketing, contact us online or call us today at 888-601-5359 to speak with a strategist.
We look forward to working with you!
Earn a 20% greater ROI with WebFX