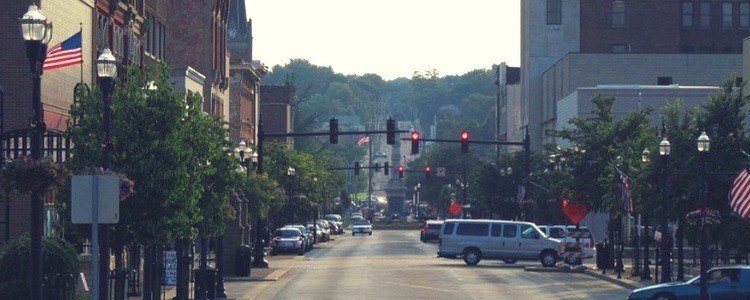 Internet Marketing Services For New Castle, PA
Shopping around for an Internet marketing agency to partner with can be confusing and difficult. Finding the right agency is an absolute must if you want your business to stay competitive, but it needs to be the right fit to truly benefit your business.
WebFX has been providing PA businesses with smart, effective digital marketing solutions for years. We understand that a good marketing strategy must be built from the ground up. We take the time to learn about your business, your industry, and your community so that we can provide you with tailor-made Internet marketing solutions perfect for the New Castle area.
WebFX is based in Harrisburg, so we know what it's like to be a local business in New Castle. We take that knowledge and apply it to all of our clients. We're personally invested in the success of our partners and would love to help your business succeed, just like we've helped so many others.
Want to learn more about how Internet marketing services from WebFX can help your New Castle business? Keep reading, and give us a call at 888-601-5359.
What is Internet marketing?
Part of the reason it's hard to find a good Internet marketing agency is because there are so many variations in which Internet marketing services each one offers.
Internet marketing is a general term that refers to a number of online marketing channels, strategies, and solutions. Here's a basic outline of the three "cornerstones" of Internet marketing for most businesses:
Web design and development
You need a website in order to truly take advantage of Internet marketing. Not just any website – a website that looks great and functions flawlessly. Your website is the online face of your company, and it shapes potential customers' first impressions of your business.
You don't have to spend an exorbitant amount of money on web design, but you want to make sure you have a functional and visually attractive website.
Search engine optimization (SEO)
SEO is a crucial element of most Internet marketing strategies. It involves manipulating certain elements of your website, creating specific types of content, and building relationships with other websites around the Internet in order to make your website appear higher up in search engine results.
It's important to understand that SEO is a long-term strategy. You won't see serious results for a few months, but investing in good SEO work is a sure-fire way of improving future growth and increasing your marketing ROI.
Some of our client Successes
Pay-per-click advertgising (PPC)
PPC advertising means creating ads that will be displayed next to search engine results and/or on social media platforms and certain other websites. It's called pay-per-click because you only pay when a user actually clicks on one of your ads. It doesn't matter how many people view each one, because you're only charged for the ones that click on it.
PPC is especially attractive to businesses with stricter marketing budgets, as it allows for a very high level of control over and optimization of your ad campaigns. With the proper fine-tuning, PPC campaigns can see incredibly high ROI.
Social media
Social media marketing refers to strategies using social media sites like Facebook, Twitter, LinkedIn, Pinterest, and more. You can use these platforms for anything from building a loyal audience to paid advertising. Social media is especially important for local businesses, as it provides a direct line of communication to your target customer base on a more personal level.
Ready to get started?
If you're looking for a transparent agency with upfront pricing, constant lines of communication, and a thorough understanding of how local businesses function, then WebFX could be the perfect fit.
We've been proudly serving the New Castle, PA area for years, with clients in Pittsburgh, Warren, OH, and more. We know your city, and can help you improve your bottom line.
Contact us today for more information or a free quote!
Looking for Internet marketing services in the New Castle, PA area? Call 888-601-5359 or contact us online today to see how WebFX can improve your online performance.