If you're looking to find the best marketing automation software platforms, look no more!
Small-to-midsized businesses (SMBs) all over the U.S. use marketing automation software to increase their productivity and revenue — and your company can too. Ready to learn about some of the most powerful marketing automation tools for SMBs?
Keep reading!
Check Out the Latest Marketing Automation Trends
What is marketing automation?
In simple terms, marketing automation means using tools and software to provide potential customers with content that will help them convert. It helps marketers better understand and nurture their leads, too, which benefits both businesses and consumers.
How do we know it works? Users of marketing automation have seen a 34 percent increase in revenue from sales and 53 percent higher conversion rates.
In short: it saves you time, connects you with site visitors, helps you make the most of your leads, and offers an impressive return on investment (ROI).
That's why the best thing a small business can do to overcome the challenge of limited time and resources is to find a tool that automates several components of marketing at once, so your staff spends less time manually completing these tasks.
Whether you're automating your email marketing campaigns, content personalization, or lead attribution, marketing automation software can help your business maximize its time, productivity, and digital marketing ROI.
The 5 best marketing automation tools for small businesses
Ready to discover the best marketing automation tools for small businesses? Check out the top five:
1. MarketingCloudFX
The first marketing automation software on our list? MarketingCloudFX. This proprietary software uses the artificial intelligence and machine learning power of IBM Watson to automate marketing processes and provide data-driven strategies.
Learn more about MarketingCloudFX:
What it is: MarketingCloudFX is one of the industry's leading platforms for ROI tracking — it's also a trusted marketing automation software for SMBs.

MarketingCloudFX features a suite of tools, including automated email marketing, personalized content, call tracking, and advanced targeting.

What it does: This marketing automation platform provides insight into your key performance indicators (KPIs), like your website's visitors, leads, and calls — it can even track offline leads from your digital marketing strategies. With MarketingCloudFX, your business can make informed, data-driven decisions.
How it benefits SMBs: With MarketingCloudFX, your SMB can automate a lot of the components that make up your marketing strategy, freeing up limited time and allowing your company to focus on other areas. Plus, the company behind MarketingCloudFX — WebFX — designed it with SMBs in mind.
Find out more about the features of MarketingCloudFX or learn about our second software pick!
2. Hubspot
Hubspot, which coined the term inbound marketing, can help your company grow traffic, convert leads, and track users' buying funnel.
Learn more about the usefulness of Hubspot as a marketing automation software, below:
What it is: Hubspot is a free all-in-one inbound automation software that includes a variety of features, including blog post blueprints for hassle-free publishing and live chat for convenient relationship-building with leads.
What it does: This software you to automate simple tasks, set up score leads, manage data in bulk, and design calls-to-action with personalized messaging based on location, device, and more. You can put your work on autopilot with Hubspot.
How it benefits SMBs: Hubspot helps SMBs that have a sales team and are looking to attract leads and users online. If your company is interested in tracking a considered buying process rather than a fast transactional one, this software might be great for you!
3. Marketo
Familiar with marketing automation software? Then Marketo, a marketing platform now owned by Adobe, might be right for your growing company.
Learn more about Marketo, from what it is to how it benefits SMBs, below:
What it is: Though cost is one downside, Marketo is a powerful marketing automation software It allows your company to find and engage with the right customers by helping them learn what they want to know about your products.
What it does: Marketo provides cloud-based email marketing, smart campaigns, and smart lists, plus you can get granular with audience segmentation. It integrates with SalesForce, taking away a lot of guesswork when it comes to scoring a customer's value.
How it benefits SMBs: While helping your company build long-term relationships with customers in a personalized way, Marketo benefits SMBs because it is easy to use, quick to set up, and requires minimal upkeep, which saves your small business time and money!
If you're looking to manage your digital marketing in-house, Marketo is a smart option.
4. Act-On
Looking to integrate your inbound and outbound marketing strategies? Try Act-On, an adaptive marketing platform used by large corporations and small businesses, including Progressive, Target, and Joyride Coffee.
What it is: Act-On is a marketing automation software that streamlines and connects inbound and outbound marketing, enabling companies to better track, measure, connect, and adapt your strategy to individual customer journeys.
What it does: This software, unlike Marketo, is easier to use if you are new to automation software. The best part?

The option to link your customer relationship management (CRM) software with Act-On, as well as keep and maintain lists of different people and groups.

How it benefits SMBs: Act-On benefits SMBs by giving you the ability to see which users interacted with the messages you sent. This information helps build your company's relationship with customers already interested in you, which can lead to a valuable conversion.
5. EmailMarketingFX
Email marketing is one of the best strategies your company can use to connect with leads and send them the information they need. It's also one of the most cost-effective digital marketing strategies, offering an immense return on investment (ROI) of $44 for every $1 invested.
An excellent tool for managing and streamlining your email marketing strategy? EmailMarketingFX.
What it is: EmailMarketingFX is a marketing automation software that focuses on email marketing.

It provides tools for creating and analyzing your email campaigns, which makes it easier for your team to improve your email marketing strategy.

What it does: With EmailMarketingFX, you don't have to waste precious time by having employees log contact information or write and send emails manually. As an all-in-one software, EmailMarketingFX can help you create, send, and monitor your email campaign with ease — and in one place.
How it benefits SMBs: This software allows you to analyze metrics like bounce rate, open rate, and click rates that help your business know which emails succeed and which ones need to be improved. Plus, it comes with 30 different templates to make creating an email hassle-free.
Get more information on EmailMarketingFX or keep reading!
Meet MarketingCloudFX:
One platform tracking countless metrics and driving stellar results.
Learn More About Our Proprietary Software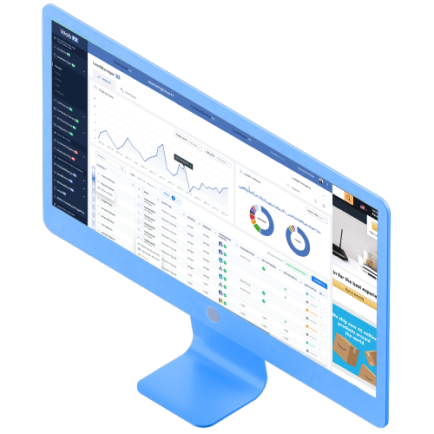 4 quick benefits of marketing automation
Debating whether your SMB needs marketing automation software?
With platforms like MarketingCloudFX and EmailMarketingFX, your business can reap several noticeable benefits, including:
Decreased time spent on internet marketing: Software that automates tasks enables you to save time, which you can allocate elsewhere, to areas that you can't automate. More efficient operations equal increased productivity!
Improved ROI: In addition to saving time, marketing automation features an impressive ROI, making it an investment that benefits your company in the short- and long-term. That kind of ROI can also impact your future growth, allowing you to grow your company and team.
Personalized connection with site visitors: Providing content tailored to users presents offers and calls-to-action that match their needs.

Giving users useful information makes it easier for them to get what they need, creating a positive experience that will bring them back for more.

Makes the most of your leads: Marketing automation increases the chance that high-value leads will convert, as you're providing them relevant content. With relevant content, your team can increase your conversion rates and revenue.
Want to discover more marketing tools for your SMB?
Learn more about marketing automation software and tools for your business by becoming a part of our email newsletter. Join at the top and start receiving the latest updates — delivered right to your inbox!
Or give WebFX a call at 888-601-5359 to talk about our marketing automation consulting, and the best marketing strategies for SMBs!