The average person spends about two and a half hours per day on social media sites. If you work for a mental and behavioral health organization, there are many ways digital marketing services can help you reach more clients and change more lives.
74% of people use social media when making a purchasing decision.
Make their decision easy with a stellar social media presence. See how your brand can level up by requesting a no-obligation proposal today.
One of our experts will be in touch within 24 hours!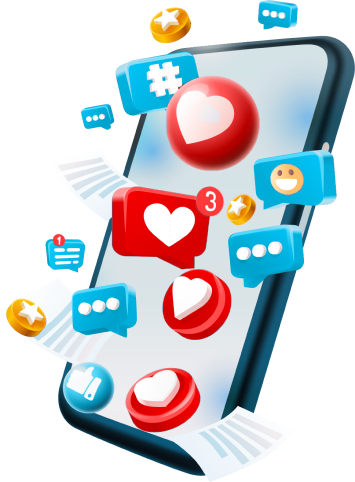 What does social media marketing entail?
If you want to start a social media marketing campaign or extend one you already have in place, you probably want to know what all it entails. Generally speaking, there are three types of social media marketing:
Organic:

Organic marketing results from content you produce that naturally picks up attention.

Paid:

You can also invest money in

sponsored or promoted content

that increases the likelihood that your posts reach your target audience.

Earned:

Earned advertising means your content is promoted for free by others through likes, shares, and comments.
Social media marketing can also take a variety of forms across different social networks. Some networks, like Facebook, Twitter, and Instagram, are popular worldwide, while some places have more localized social media platforms. Social media marketing can take the form of:
Image and text posts

Videos

Sponsored ads

Stories

Influencer promotions

Live events

Hashtags

Geotags
Why is social media marketing good for mental and behavioral health organizations?
If you're a part of a mental and behavioral health organization, social media marketing can benefit you in many ways:
Increase brand awareness

: The landscape of marketing has changed due to social media, and many people turn to these platforms to find what they once used a search engine for. By participating in social media, your organization can extend its reach and increase customers' awareness of your services.

Boost engagement

: Social media is a great way to interact and

engage with your target audience

.

Extend your outreach

: While most organizations have a limited number of physical locations, social media is able to reach practically anyone around the world. While someone who sees your posts may not have access to your services themselves, they can still benefit from your outreach efforts through social media.

Generate leads and conversions

: Through organic, paid, and earned social media marketing, you'll generate leads for your business and increase the likelihood of conversion.
Best practices for social media marketing for mental and behavioral health
If you're pursuing a social media marketing campaign for your mental and behavioral health organization, there are a few best practices you'll want to keep in mind.
1. Post informational content about mental health
Social media can be a wonderful place for connection and the free exchange of ideas, but these platforms have many downsides. Research shows that social media can negatively impact how our brains process information, particularly among younger teens and children.
As a mental and behavioral health organization, you can share informational content about mental health on social media to remind users about coping mechanisms, self-care tips, and other important considerations. Users can share your informational posts with their followers, providing you with earned advertising.
2. Pay attention to current events
Social media keeps the world connected, and for many users, it's their primary source of news. Current events like tragedies and conflicts can impact social media users' mental health, and certain times of year can also trigger negative emotions, like with seasonal affective disorder (SAD).
Paying attention to these current events allows your organization to respond to relevant issues and provide resources to those who need them. Adding relevant hashtags and geotags to your posts about current events ensures users see your content, expanding your reach and generating new leads for your organization.
3. Share encouraging messages
Sharing positive and encouraging messages can help your content stand out from the millions of other posts on social media platforms. You might create content about small wins to help users feel accomplished or make a stylized post with positive affirmations. Users will be more likely to share these kinds of posts on their own pages.
4. Make engaging content
Ultimately, users turn to social media to be entertained. While making positive, informational content is essential, you should also strive to make that content compelling or engaging. Using humor can be an effective tool to increase organic interest in your content. You might also share heartwarming success stories that promote your services and increase positive emotions associated with your brand.
5. Discourage misinformation and stereotypes
Social media algorithms are highly effective at getting content to people who are most interested in it — however, this function has a darker side. Misinformation and extremist views are highly prevalent on social media, so as an authority on mental health, you can challenge misinformation and stereotypes through your social media posts.
For example, people with substance abuse disorders are highly stigmatized, but posts informing people about the realities and challenges of struggling with substance abuse can dispel some harmful stereotypes. Challenging misinformation can also help remove important barriers to seeking care for those who need it, and show these individuals you will treat them with dignity and respect.
6. Engage directly with your audience
Social media has a variety of tools to help you engage with your audience. These features include:
Comments

: You can interact with your audience by responding to comments they leave on your posts. You might answer questions, respond to a user's personal anecdote, or direct people to your products or services.

Shares

: Users might share your content on their own social media pages, and you can do the same with posts you see that are relevant to your audience and brand.

Direct messages

: Some users may not feel comfortable commenting publicly but will share their thoughts with you via a direct message (DM). Keeping track of and responding to DMs can increase engagement with your audience and may often encourage leads to convert.
Different platforms have different unspoken rules about how to engage with other users. For example, company Twitter or TikTok accounts may have more leeway to be snarky or sassy, while Facebook and LinkedIn pages are usually more professional. You might do some competitor research to see how they engage with users on their pages to determine the right voice and tone for your brand.
7. Encourage openness and availability
As a mental and behavioral health organization, it's important that social media users see you as approachable. You can engender trust by being open and honest with your followers, ensuring positive interactions with other users, and sharing authentic content.
While overt marketing messages might be effective for advertising methods like direct mail and sponsored posts, users want to see that you put genuine effort into the content you create and that your motivations aren't solely sales-oriented.
You should also introduce staff and volunteers on your profile so users can see who they'll be interacting with. These introductions can also help people feel more comfortable approaching your organization with questions, as they'll have human faces to match with the online content.
Growing your social presence with WebFX is a walk in the park.
"WebFX allows growing your social media platforms to be stress-free! They are knowledgeable and adapt to your company needs!"
Learn More About Our Social Media Services

Trust WebFX for your social media marketing needs
When it comes to marketing your mental and behavioral health organization, social media is a fantastic choice to generate new leads and boost conversion rates. But creating the kind of content you need to gain new followers, get shares, and increase your engagement takes time.
Since your main concern is the well-being of your clients, let WebFX tackle your social media marketing needs. With expert strategists that can assist you in many ways, our social media marketing services include:
Dedicated social media account managers

Third-party audience targeting

Design services

Audience analysis

Ad copywriting

Performance reports
When you're ready to start building a successful social media marketing strategy, contact our team to request a free proposal or call us at 888-601-5359 to speak with a strategist today!
Increase your leads, sales, and revenue with digital marketing
Find Us Driving Revenue Nationwide