Digital marketing is essential for any power and utility company because it helps you gain loyal customers. There's typically a short decision period before individuals and businesses choose their power and utility provider. Presenting yourself as the best option is vital to obtaining and retaining customers for years to come.
Continue reading to learn more about how your company can use digital marketing strategies to generate more leads and, ultimately, more revenue. You can also subscribe to our newsletter, Revenue Weekly, for more marketing strategies.
Don't miss our Marketing Manager Insider emails!
Join 200,000 smart marketers and get the month's hottest marketing news and insights delivered straight to your inbox!
Enter your email below:
Inline Subscription Form – CTA 72
"*" indicates required fields
(Don't worry, we'll never share your information!)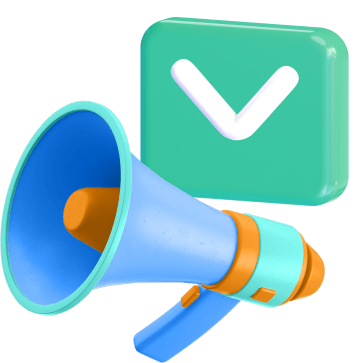 What is digital marketing?
Before exploring how you can use digital marketing to enhance your power and utility company, it's important to define the term. Digital marketing is a collection of strategies businesses use to promote their products or services and increase their sales online. It takes the traditional concepts behind paper, radio, and TV ads and moves them to the next level — the Internet.
While entering the digital marketing game is relatively simple, producing consistent positive results requires knowing how the system works and how to best reach your target audience.
Benefits of digital marketing for power and utility companies
Adding digital marketing to your power and utility company's business strategy will enable you to experience advantages like:
Reaching the right audience:

Digital marketing lets you target the individuals and businesses who will most likely benefit from your services. For example, you can create content that attracts people who are opening a new store and need power and utility services now.

Appearing at the top of search results:

These strategies are perfect for pushing your pages to the top of search engine results, where Internet users are most likely to click on them and learn about your offerings.

Spreading knowledge of your brand:

Digital marketing is a great way to increase your customer base and build your reputation as a reliable power and utility company.
With these benefits, you can achieve your business goals more easily and grow your influence and revenue.
4 effective digital marketing strategies
Now that you see how beneficial digital marketing can be for power and utility companies, it's time to explore the various strategies you can use.
1. Search engine optimization (SEO)
Search engine optimization (SEO) is when you improve your website to ensure it appears higher in search engine results. Considering SEO ranking factors, such as responsive design, is vital for this strategy.
Another ranking factor that will help you climb the search results is on-page optimization. You can optimize your site by writing content that features keywords and phrases that potential customers frequently search for. Search engines will pick up on these keywords and recognize you as a helpful resource.
SEO is also important for power and utility companies because it allows you to showcase your good rates and other benefits. You can ease your consumers' minds by showcasing your reliability, sustainability, and how you're keeping your carbon footprint small.
2. Pay-per-click (PPC) advertising
Pay-per-click advertising (PPC) is a strategy that involves marketing your business using ads you only pay for when users click on them. PPC ads use keywords and show up above organic search results. When potential clients click on them, they will go to a landing page with a call-to-action (CTA) of your choosing, such as purchasing your services or learning more about your offerings.
PPC advertising is a cost-effective way to market your services because you only pay when interested individuals click on your ad. These leads have expressed curiosity about your services and are more likely to choose your company for their power and utility needs.
3. Content marketing
Content marketing is when you use content like infographics, blog posts, and videos to inform readers about topics related to your business. This strategy establishes you as a reliable and authoritative source within the power and utility industry, and it helps increase traffic to your site and generate conversions.
Creating informational content for your site is also a valuable part of digital marketing because it generates 54% more leads than other methods. When crafting this content, remember that you're educating your readers and not selling your products.
For example, you could create a blog post about how a family could save money on electricity by making their home more energy efficient. You could also create an infographic about the latest industry trends. There are many great opportunities to craft informative content that helps you achieve your business goals.
4. Social media marketing
Social media is an excellent way to connect with your audience, inspire them to use your services, and learn more about them so that you can design more effective ads. There are five types of social media:
Social networks

Review networks

Media sharing networks

Discussion networks

Social blogging networks
When you use these resources to your advantage, you can share informational content about your power and utility company, respond to consumer comments to show that you care, and post pictures of your employees to reveal the humans behind your company.
Through this digital marketing strategy, you can draw people to your company who will consider you when they're looking for power and utility services.
37% of marketers say that generating high-quality leads was one of their biggest challenges.
We want to decrease that percentage.
WebFX can help you generate high-quality leads with a customized marketing strategy.
Learn More About Lead Generation Services
Work with WebFX to improve your digital marketing strategy
Your power and utility company can benefit from digital marketing strategies, but you may not have the time or experience to implement an effective action plan. That's where the experts at WebFX come in.
WebFX has over 25 years of experience providing digital marketing services to various businesses. We support our clients with data-backed methods and results-driven SEO strategies. Don't just take our word for it — we've generated over $3 billion in revenue for clients over the past five years.
WebFX provides a range of services for your power and utility company, from SEO services to PPC management services. When you partner with us, you'll enjoy the benefits of skilled digital marketing while focusing on serving customers who need your utilities. Contact us online or call our team at 888-601-5359 today!
Earn a 20% greater ROI with WebFX