A website that's easy to navigate and provides valuable information is essential for any business. And for solar companies, this is especially true, because people considering installing solar panels or using solar energy typically need to do a considerable amount of research about their options for both services and companies.
But no matter how informative your content may be, it won't do your potential clients (or your business) any good if it's difficult to find or read. That's where web design becomes extremely important.
Your site is often the first impression potential clients get of your company, and if they click away in frustration, they might not come back.
A well-designed website, however, can lead to an increased in qualified leads – and as a result, increased revenue.
WebFX has driven over $3 billion in revenue and more than 7.8 million leads for clients in the past five years. If you're ready to get started using email marketing for your solar company, you can call 888-601-5359 or contact us online!
Keep reading to learn more about why web design matters for solar companies, and the elements that go into building an effective site.
What makes an effective website for a solar company?
Your solar company's website can be instrumental to your success – but what's the difference between what works and what doesn't?
Here are six elements your solar company's website absolutely needs in order to be effective.

1. Visually appealing design
Looks aren't everything – but when it comes to your company's website, they're extremely important.
Your site should look professional and welcoming and fit with your brand's overall look. You don't want your site to look cluttered, so leave an ample amount of blank space. Break up large blocks of text with images, bullet points and photos or graphics.
Videos can also help make your website look more appealing. They catch visitors' attention quickly and provide a succinct, easy-to-digest way to introduce your company.
2. User-friendly navigation
Your site is ultimately designed to provide your visitors with information, so it needs to be easy for them to find.
Your navigation should be easy to find, clearly labeled, and include all the most important pages on your site. As a general rule of thumb, visitors should be able to find whatever they're looking for in two clicks or fewer.
Your website should also, of course, load quickly. Many users will leave a website if it takes too long to load, and a few seconds can make the difference between a new client for your company and a new client for one of your competitors.
3. Readable content
All the information a customer might reasonably expect to find on your website should not only be readily accessible, but also easy to read once they find it. If it's not, they may decide to visit a rival company's website instead.
Make sure your content is written in a way that's easy for potential clients to understand, and in a font that's easy on their eyes. You should also pay special attention to key details like your contact information.
After all, your site is designed to generate new leads – but if your visitors can't figure out how to find you, your site can't help you reach your goals.
4. Responsive design
An increasing number of consumers use smartphones, tablets, and other devices to browse the Internet, and many of them are likely your potential clients. This means that your site needs to be accessible and functional on a variety of devices.
The best way to accomplish this is with responsive design. Responsively designed websites adjust based on the screen used to view them, so that they look attractive and work well whether someone uses a smartphone, tablet or desktop computer to access them.
Having a website that's optimized for mobile can also boost the percentage of visitors who decide to become customers. In fact, 61% of consumers say that if a site is optimized for mobile, they're more likely to purchase from it.
5. Proof of your work
The content of your website is a chance to prove to visitors why you're the solar company they should trust. Show off your completed projects, offer useful tips and information, and discuss your capabilities and current projects.
Sometimes, it's easier to explain this information with images. Include photos and videos of your completed work, and it'll be easier to show people what you can do. Include information about each project, like how much power it can generate, how much money it saves the customer, and the emissions it eliminates.
Providing people with useful information and tips about electricity use, solar power, energy regulations, the environment, and other pertinent topics can also help you establish yourself as a valuable resource.
6. Compelling CTAs
In order for your website to be effective, it needs to encourage your visitors to take an action towards becoming clients.
Your website should feature plenty of calls to action, or CTAs, which are requests for the visitor to complete specific tasks. Depending on how far along they are in the sales process, the CTA might encourage them to sign up for an email list, fill out a quote form, or call your business directly.
Make sure your CTAs are easy to find and attractively designed, and use compelling, action-oriented language.
Time to Level Up Your Sales
Our long list of services helps you grow every aspect of your business with marketing strategies that are proven to increase bottom-line metrics like revenue and conversions.
In the past 5 years, we've managed more than 12.9 MILLION transactions across our client base.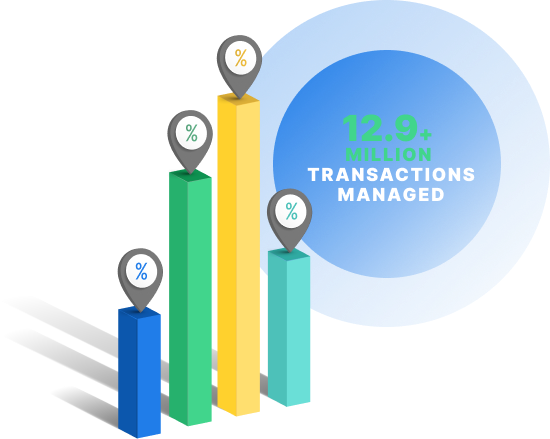 Hear What It's Like to Work With WebFX!

"I have used several SEO and internet marketing companies in the past and WebFX seems to have a more comprehensive approach to online marketing. Their customer service is outstanding and they are very professional to work with."
Solar Energy Contractor
Drive more leads with professional solar website design
A well-designed website is essential for every business today, and can be a valuable tool in generating new leads for your solar company.
If you don't yet have a website for your company, or know that your existing site has room for improvement, WebFX can help.
Our experienced team has designed and built effective websites for hundreds of clients, and we'll do the same for you. Contact us today to speak with a strategist, or use our project quote calculator to learn more about our services!
Earn a 20% greater ROI with WebFX