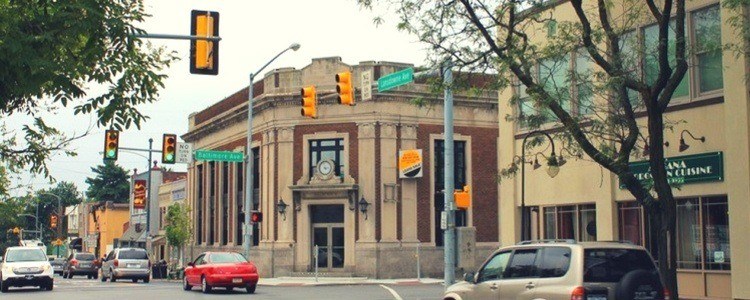 Internet Marketing Services for Lansdowne, PA
If you're a local business looking for professional Internet marketing services, you need to be selective.
There are many agencies out there that simply don't understand how to market for smaller, local businesses. There's a very big difference between an effective marketing campaign for a global enterprise and an effective campaign for a pillar-of-the-community local business.
Simply put, there's no one-size-fits-all "silver bullet" marketing strategy. For smaller businesses especially, digital marketing efforts need to be expertly guided and individually crafted.
In this article, we'll give you a brief overview of the Internet marketing service options available to your business, and explain why WebFX is the perfect digital marketing agency for PA businesses in the Lansdowne and greater Delco area. Keep reading to learn more, and give us a call at 888-601-5359.
What is Internet marketing?
It always helps to start at the beginning. As a small business owner, it can be extremely frustrating to deal with the Internet marketing industry. There are hundreds of buzzwords tossed around, and often it's unclear exactly what you'll be paying for with "Internet marketing."
Internet marketing is really just an umbrella phrase that refers to any of the online marketing channels available to businesses in 2016.
Here's a list of the four most common areas of Internet marketing for small and large businesses alike:
Web design and web development
Web design and web development services both refer to building your website. You can't get away with having a simple, one-page website anymore, unless you want to lose potential customers to your competition.
Professional web design and web development ensure that your website will look great and function perfectly. You want each and every one of your users to have a pleasant, intuitive experience on your website.
Some of our client Successes
Search engine optimization (SEO)
Search engine optimization (SEO) is the bread-and-butter of most effective Internet marketing strategies. It's the practice of manipulating certain elements on your website and creating connections around the web so that your site will appear higher up in search engine results.
Organic traffic achieved through search engines brings potential customer to your business, so SEO can be incredibly effective when executed properly.
Pay-per-click advertising (PPC)
PPC advertising is a phenomenal advertising channel for small businesses. Essentially, you create ads that are displayed alongside search engine results, on social media networks, and other websites. However, you're only charged for these ads when a user actually clicks on one of them.
PPC campaigns can be extremely effective even with smaller budgets, and result in very targeted, high-quality traffic landing on your website.
Social media

Social media marketing is very important for local businesses. We live in an age where positive reviews can enhance a business's revenue many times over, while negative reviews can scare away potential customers before they ever give you a chance. It can be hard to encourage the former and deal with the latter if you're not familiar with how these review sites work.
Additionally, maintaining personable, helpful, social media accounts allows potential customers to see your business as trustworthy and worthwhile. Building a strong social media following is one of the best ways to achieve lifelong, loyal customers.
We know Lansdowne
The key to online marketing for local businesses is a thorough knowledge of both the business and its community. Each and every business throughout PA is in its own unique situation, and calls for a truly custom approach to digital marketing.
WebFX has achieved such great success for our PA clients because we're a Pennsylvania business too! We know what it takes to thrive as a local business, and we truly care about each and every one of our clients. After all, we've been through all of the same growing pains and hit all of the same roadblocks.
Many of our WebFX family members grew up in and around the Lansdowne and Delco area of PA. We've walked past the gorgeous Victorian homes of Lansdowne, and we know what it's like to run a business in the suburbs of Philly.
Most of all, we're not like other digital marketing agencies. We take the time to learn your business inside and out, and are personally invested in your success.
Increase your revenue today
If you're a local business looking to test the waters of Internet marketing, we'd love to help.
We're a performance-driven agency, and we will help you improve your bottom line. The most effective online marketing campaigns are those that are truly unique in nature, tailor-made for individual businesses. We learned this long ago, and have enjoyed incredible success with our clients ever since.
Contact us today for more information or a free quote!
Call 888-601-5359 or contact us online today to see how WebFX can improve your online performance.