As social media algorithms evolve, it's harder than ever to connect with current and potential customers through organic social efforts alone. Social media advertising can help you connect with more valuable, targeted leads — and it's a great way to support your business goals. In this post, we'll take a look at five of the most valuable types of social media advertising in 2021 and beyond.
We'll walk you through the ins and outs of social media ads, so you can get the best possible results from your social media efforts. Just keep reading to learn more about the five top types of social media advertising — or check out our social media advertising services to get started today!
Not happy with your social media engagement?
We've got just the blog post for you.
Read the Blog Post & Watch the Video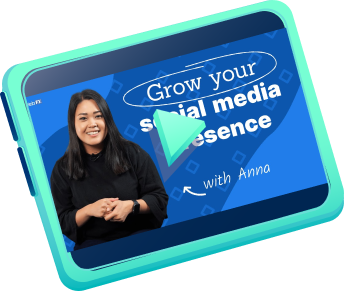 What type of social media advertising is right for me?
We're glad you asked.
In 2021, the top social media ad platforms include:
Each platform offers unique targeting options and ad types to help you reach your audience. Ultimately, the type of social media advertising you choose will depend on:
Your target audience
Your target audience's preferred social platforms
Where your target audience engages most with ads
Let's dive in and look at each platform, so you can choose the best types of social media advertising for you.
1. Facebook advertising
With 1.5 billion active users, Facebook is most popular among adults aged 18-29.

Facebook ad objectives
When advertising on Facebook, you'll first want to set your ad objective. This type of social media advertising offers numerous ad objectives to help you accomplish your goals online. They include: 1. Awareness If you're looking to reach new customers or boost awareness of your business, products, and services, you'll want to select this objective. Facebook offers two awareness objectives to help you increase buzz about your business.
Brand awareness: Connect with users who are likely to have an interest in your brand, products, and services
Reach: Reach the maximum number of people in a target audience
2. Consideration After creating awareness, you'll want to drive people down the purchase funnel with consideration objectives. Facebook advertising offers six consideration objectives, including:
Traffic: Drive more traffic to your website
Engagement:

Post engagement: Increase engagement on Facebook content
Page likes: Boost Facebook page likes
Event responses: Earn more Facebook event responses

App installs: Encourage app downloads
Video views: Increase views of video content
Lead generation: Drive sales leads via email and information collection
Messages: Start more conversations with your target audience via direct messages
3. Conversion If you're looking to drive conversions with your Facebook ads, this objective is for you. For Facebook ads, you can select from the following conversion objectives:
Conversions: Boost purchases, quote requests, form submissions, and downloads.
Catalog sales: Increase sales of Facebook Product Catalog products (for ecommerce stores only)
Store visits: Drive visits to your physical location
Pro tip: You can use awareness and consideration objectives to drive larger audiences for conversion campaigns.
Facebook ad targeting
After determining the objective for your Facebook ad, you can move on to ad targeting. Facebook offers the following targeted ad options to help you reach your ideal audience.
Saved audiences: Create a custom ad audience based on demographics, age, gender, location, interests, and behaviors
Custom audiences: Use data and interactions on websites and Facebook pages to target users who engage with you online
Lookalike audiences: Target customers similar to those in your Saved or Custom audiences — they may share the same demographics or behaviors as other customers you target
Types of Facebook ads
Next, you're ready to choose your Facebook ad format.
This type of social media advertising allows you to choose from the following formats:
Single image ads: A single image with a link to your site, headline, copy, link description, and call-to-action
Photo ads: Include photo and text ad copy
Video ads: Feature video ad content
Carousel ads: Add numerous photos in a scrolling carousel
Canvas ads: Combine videos, photos, text, and buttons to create a mini landing page for your ad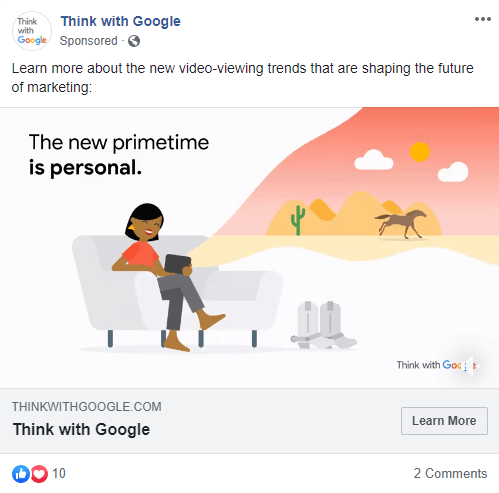 Facebook ad quick links
Want to learn more about how this type of social media advertising can grow your business? Check out these helpful links:
2. Instagram advertising
The second type of social media advertising — Instagram advertising — allows you to make creative photo and video ads to engage your audience. Instagram has a diverse user base with more than 1 billion active accounts each month. Much like Facebook, Instagram offers three ad objectives, so you can tailor your ads to reach your unique goals.

Instagram ad objectives
To recap, Instagram allows you to set ad objectives based on:
Awareness
Consideration
Conversions
Instagram ad targeting
Next, you'll choose between the following ad audiences:
Saved audiences
Custom audiences
Lookalike audiences
Types of Instagram ads
After selecting your objective and targeting options, you can select the ad format for this type of social media advertising. The format options include:
Photos: Include a photo and short snippet of copy
Videos: Include a short video clip to promote your business, products, or services
Carousel: Includes numerous photos in one ad that users can scroll to view
Stories: In addition to the paid ad options above, can also use Instagram stories — videos that appear on your account for 24 hours — to engage followers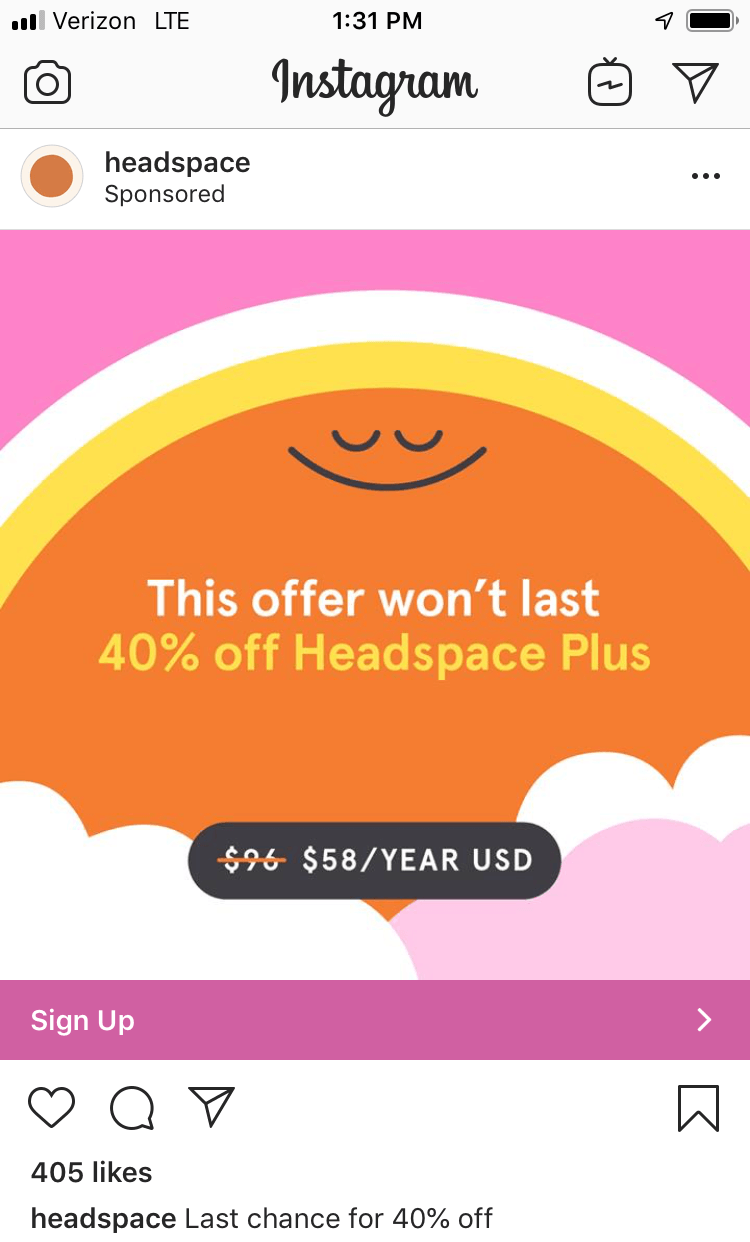 Instagram ad quick links
For more helpful information about Instagram advertising, check out these helpful links.
3. Twitter advertising
The next type of social media advertising is Twitter advertising. With nearly 336 million monthly active users, Twitter is ranked the fifth most popular social media network among adults in the U.S.

Twitter ad objectives
To get started with Twitter advertising, you'll first need to choose between the following ad objectives:
Awareness
Engagement
Traffic
App installs
Followers
Video views
Twitter ad targeting
Next, you'll set your targeting strategy based on:
Keywords: Connect with an audience based on the keywords and phrases they search
Demographics and interests: Target your audiences based on factors like age, gender, income, and general interests
Lookalike audiences: Target users who follow competitors' accounts
Remarketing: Target people who have previously visited your site or engaged with your tweets
Types of Twitter ads
Then, you can choose your Twitter ad format.
Twitter offers the following options for ads:
Promoted tweets: Reach a new audience or boost engagement among followers with promoted tweets that appear in users' feeds
Twitter GIF: Engage users with creative GIFs in your Twitter ads
Promoted video: In-feed, auto-playing videos engage users in their timelines
In-stream video ads and sponsorships: Supplement pre-roll video with branded video content
Website card: Image and video website cards allow you to share creative image and video content that drives your audience to a designated landing page
App card: Drive installs and mobile app engagement with media-rich Twitter ads
Direct message card: Provide personalized brand experiences and spark conversations in Twitter's Direct Messages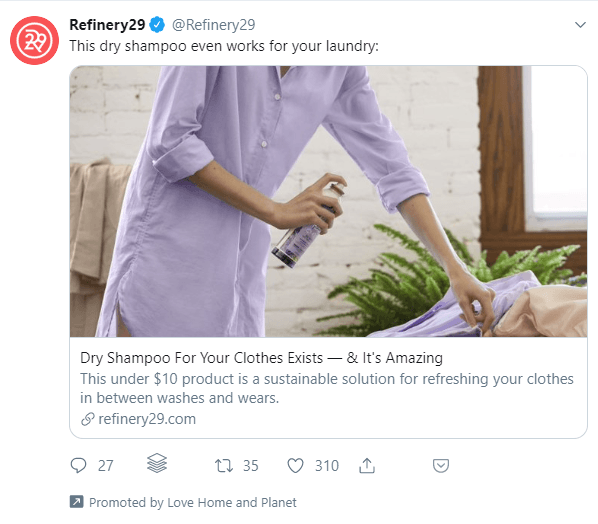 Twitter ad quick links
To learn more about this type of social media advertising, check out these links:
4. LinkedIn advertising
Next, we have LinkedIn advertising. This type of social media advertising gives you access to LinkedIn's professional network of more than half a billion users.
LinkedIn ad targeting
LinkedIn offers the following ad targeting options.
Demographics: Age, gender, geographic location, and more
Company info: Company name, industry, and company size
Job: Title, job duties, fields of study, education, and degrees
Matched audiences: users chosen based on LinkedIn's data and data like web traffic or email lists
Types of LinkedIn ads
After selecting your ad targeting options, you can choose from the following LinkedIn ad formats.
Sponsored content: Appears in users' feeds along with posts and content from other businesses
Text ads: Appears on the side, bottom, or top of users' feed and include CTAs to direct people to your website
Sponsored InMail: Send personalized messages dir3ectly to prospective clients via LinkedIn messenger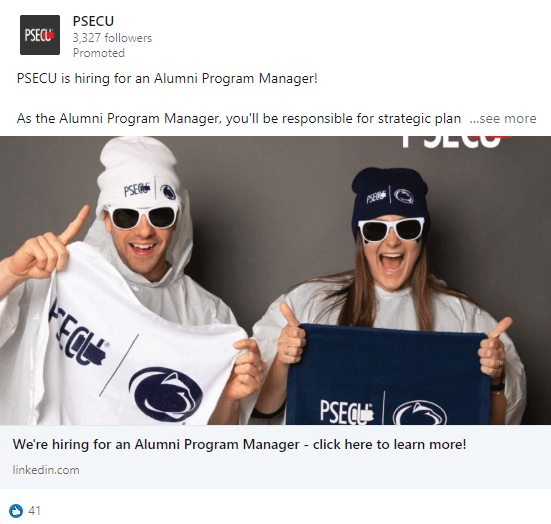 LinkedIn ad quick links
Learn more about LinkedIn advertising for your business by checking out these posts.
5. Snapchat advertising
Popular with millennials and Generation Z, Snapchat boasts a userbase of 300 million active accounts each month.

Snapchat ad targeting
On Snapchat, you can target users based on the following factors.
Interests and behaviors
Demographics
Location
Custom audiences
Lookalike audiences
Types of Snapchat ads
After choosing your targeting options, you can determine the type of Snapchat ad most likely to meet your goals. The ad formats offered by Snapchat include:
Snap ads: Appear in the midst of stories when users view friends' stories on Snapchat
Collection ads: Show a series of products and make it easy for users to shop and buy
Story ads: These ads appear in the "For You" and "Discover" areas of Snapchat and are located with other popular content from news sources and media outlets
AR lenses: Augmented reality (AR) lenses use animated filters to alter the appearance of users' faces
Filters: Create branded filters users can apply to their photos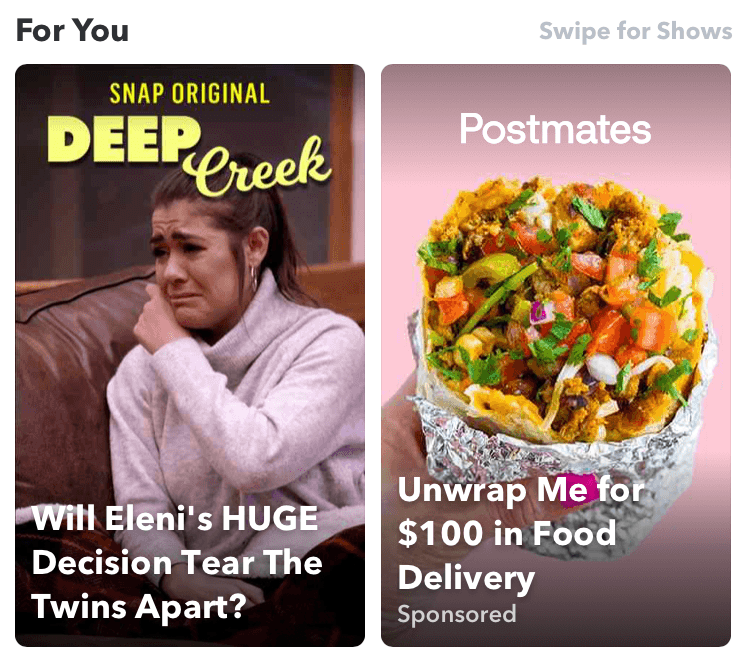 Snapchat ad quick links
Check out these links to learn how Snapchat ads can work for you.
Use these types of social media advertising today!
Ready to incorporate these social ad examples into your strategy?
WebFX offers numerous types of social media advertising to help you reach your business goals. Check out our social media ad services, or contact us online today to get started!