As a physician or employee of a medical practice, you're always looking for ways to bring new patients to your office. However, you may have found that the physician marketing strategies you once relied on aren't as effective as they used to be — and you're facing strong competition from other medical offices with a bigger budget.
View Digital Marketing Services
Believe it or not, there are numerous marketing methods you can use to expose your physician's office to a wider audience, and they're cost-effective and powerful. They require nothing more than a website, your time, and a commitment to the "new school" of marketing: Online marketing.
Online marketing for doctors includes a range of strategies, from advertising on search engines like Google to designing a mobile-friendly website. On this page, you'll learn about these techniques, plus see examples of physician marketing strategies, so keep reading to get started!
If you're looking for professional help with Internet marketing for doctors, WebFX can assist. Our digital marketing agency offers a suite of services (and decades of experience) that can help your practice attract more patients, build its reputation, and become a leader in its area and specialization.
Contact us online or call us at 888-601-5359 to learn more today!
Our digital marketing campaigns impact the metrics that improve your bottom line.
See More Results

WebFX has driven the following results for clients:

$3 billion
In client revenue

7.8 million
Leads for our clients

5.2 million
Client phone calls
Why is online marketing for doctors useful?
In the past, advertising methods like billboards, printed materials, commercials, and even word-of-mouth referrals may have brought a steady stream of new patients to your office. However, you may now be finding that these methods are no longer nearly as effective as they once were.
What happened?
With the widespread availability of the Internet, more and more consumers are now going online to make decisions about their health.
Rather than trust an advertisement, or immediately calling a doctor when they develop a new symptom, consumers are using search engines to research local physicians, read reviews, look up symptoms and illnesses, and decide on a proper course of action for their health.
With so many users on search engines every moment of every day, online marketing for doctors is too valuable to ignore.
If you want to be part of a consumer's decision-making process, you need to be where they are. That's what makes digital marketing so important: it puts your office right in front of those who are searching for it.
Additionally, web marketing for doctors and physicians is far more cost-effective than traditional advertising methods, and typically has a far higher ROI.
For example, you may pay thousands of dollars for a billboard or printed magazine ad, but will never know how many people actually saw it or came to your office because of it.
On the other hand, you can pay just hundreds (or less!) for pay-per-click advertising online, and you'll get a full report showing who came to your site, how long they stayed, and how many of those visitors filled out a contact form or called you.
Billboards with smiling faces and healthy images can be great, but these strategies make online marketing for physicians far more valuable.

Hear What It's Like to Work With WebFX!

"WebFX has completely transformed my practice. With their support, I have expanded my practice significantly and grown exponentially. I could not have expanded to this degree, nor this quickly had it not been for the incredible efforts provided by WebFX and my team."
Healthcare
5 physician marketing strategies for digital channels
Ready to give online marketing for doctors a try? First things first: if your physician's office doesn't already have a website, you'll need to get one before you start. You can read about designing a website for your practice on this page. If you already have a website, you're ready to go!
Let's discuss the five best marketing strategies for doctors that you can do online. If you're new to marketing, don't worry: these marketing strategies for physicians are fairly easy, and we have plenty of resources you can rely on for more in-depth reading and tutorials.
Strategy 1: Optimize Your Website for Search Engines
As we already mentioned, a big part of online marketing for physicians involves being where your potential patients are. Now that more and more consumers are turning to search engines to look up offices, read reviews, and make decisions about their health, you need to have a solid search engine presence to get in front of them at the right time.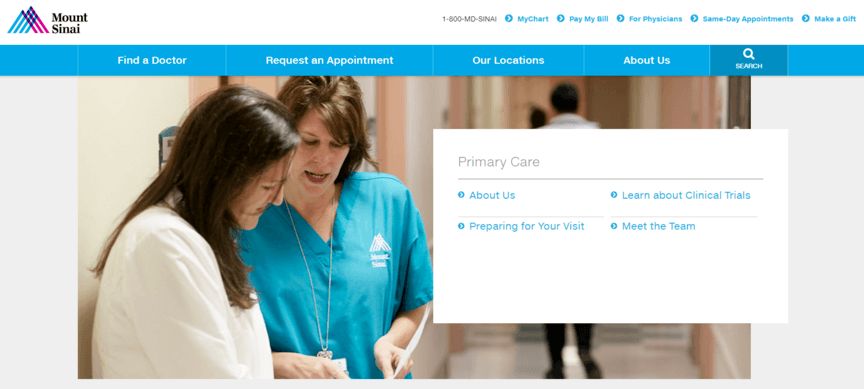 Search engine optimization, or SEO, is the best way to make your office's website more visible in searches. To explain it simply, SEO involves a handful of practices and methods that are used to make your website more likely to show up in a search for a relevant topic, question, or keyword.
Let's say you think your website should be ranking for a phrase relevant to your office, like "physician in Philadelphia, PA."
A big part of SEO will involve looking for ways to place that exact phrase somewhere on your website, because search engines won't know that you are a Philadelphia physician unless you tell them! So you might add that phrase to your homepage, in the titles of your pages, or in the body of an article about your office.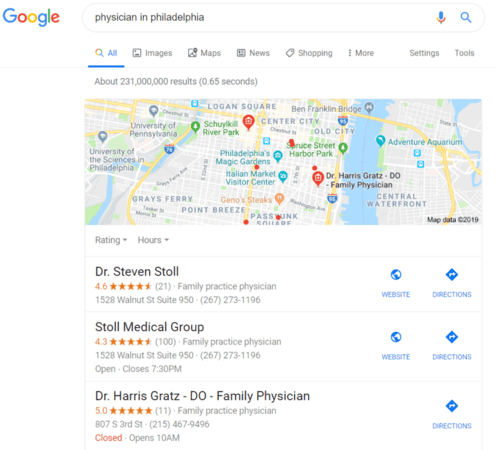 SEO can be very complicated and multi-faceted, but you can refer to our SEO tutorial for beginners to get an in-depth set of lessons on how to optimize your website for the words and phrases your potential patients are most likely to be searching for.
This is a perfect starting point for anyone new to SEO. From there, you can try more advanced strategies, like improving your page speed or building links.
Strategy 2: Improve Your Local Search Presence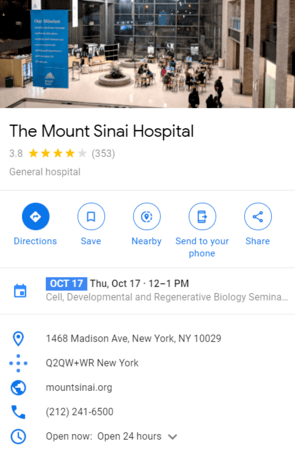 If you've been doing any searches on Google lately, you may have noticed that some of the results look a little different.
Specifically, you may have noticed that any location-sensitive searches – like the example we gave above show a map and a short list of locations above the rest of the results.
For physicians, local search is a crucial part of any online marketing plan. Because nearly all of the people you want to reach will be in a specific location, your website needs to show up when someone searches for a physician in that location.
If you haven't already, the very best way to do this is to set up a free Google My Business page. This gives your office the chance to show up when someone looks for you, displays your location on a map, and enables other features like reviews, contact information, and even the ability to get directions from a mobile device.
By setting up and completely filling out a Google My Business page, you'll be able to display all the relevant information a potential patient needs right in their search results. Once you have this page set up, you can then acquire reviews or accept photos submitted from patients that will make searchers more likely to click through and learn about you on your website.
Local SEO is essential to online marketing for doctors because most physicians operate locally.
Strategy 3: Design Your Website for Mobile Visitors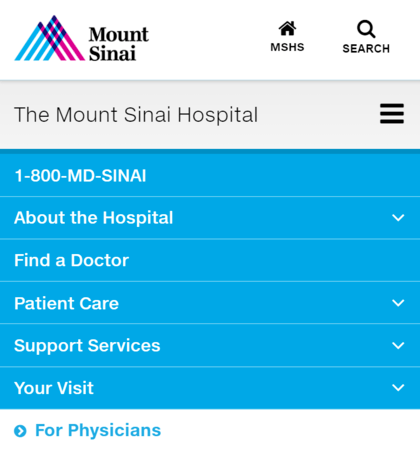 Another must-use strategy for Internet marketing for doctors? A mobile-friendly website.
Whether or not you already have a website for your office in place, it's absolutely crucial that your site displays properly for all visitors even the ones visiting from their phone.
More and more consumers are using their smartphones to do research, look up businesses, and read reviews, whether they are on the go or at home. If your website isn't designed to display properly on mobile devices, you could be driving potential patients away!
Mobile users expect the websites they visit to load quickly, display properly without excessive scrolling or pinch-zooming, and provide the same kind of information they would get from any other device.
If your website can't offer the same kind of experience, your frustrated visitors are more likely to leave for another office's website than they are to look you up on their desktop computer.
The best way to prepare your website for the continuing flood of mobile visitors is to rely on responsive design. Responsive design refers to a design practice in which your website's content is automatically scaled to fit screens of every size, no matter how big or small they are.
Our website is actually responsive, so if you were to make your window bigger or smaller, the content on this page would immediately scale to fit it.
Converting an existing website to responsive requires some up-front cost, but the future returns are enormous. A better design can prevent you from losing potential patients to your competitors, which is reason enough to make the investment!
Strategy 4: Cultivate a Following on Social Media
Can physicians really use social media? you may be asking. Yes, they can, but not like other companies. For physicians, social media may not be full of coupons or special deals, but it can give you an invaluable way to stay in touch with your patients and ensure they keep coming back to your office.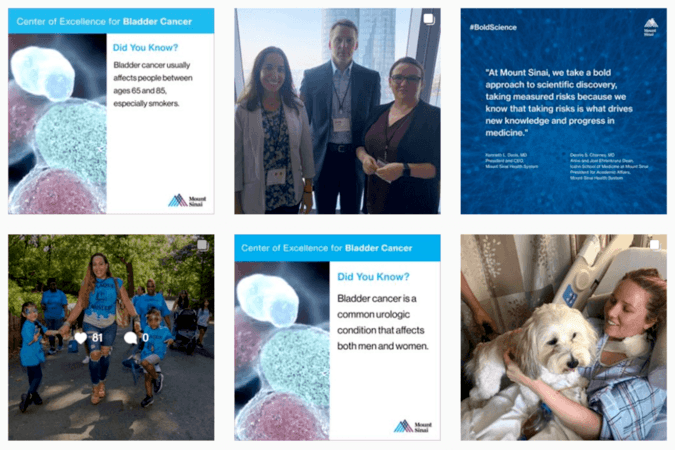 A Facebook Page is the best way to get started with social. You can set up your Page for free, customize it with your logo and a header image, and add all your contact information. Then you can start asking your patients to like it, and linking to the Page from your website. But to keep them there, you'll need one final thing: content.
Social media users don't visit these platforms to see sales pitches, and you need to consider this when creating posts. The content you share on your social accounts should be relevant to those who follow you, but not all about you. This might include things like:
General health tips
Links to articles about diet, exercise, or new health findings
Timely reminders (ex. flu shots, seasonal illnesses, or how to stay warm in very cold weather)
Photos of happy patients or staff around your office
Anything else that might make your patients feel good!
Of course, it's fine to mention the role your practice plays in your patients' health.
This might mean reminding your followers that flu season is coming up and to visit you for a shot, or simply mentioning that you'll have extended hours during a busier time. But try to follow a rule of thirds or fourths, that is, only talk about yourself a third or fourth of the time to avoid annoying those who really don't want frequent reminders to visit their doctor!
Strategy 5: Write Helpful, Informative Content for Your Website
No set of physician marketing ideas would be complete without emphasis placed on original content. This final strategy revolves around writing, which may not be your strongest skill, so it's expected that you'll ask for help with this. Don;t ignore this strategy altogether, though, because it's very important!
Ranking for a specific term in search engines can be easy, or it can be difficult.
Showing up in the #1 spot for the name of your office is going to be very easy! But if you want to show up in the #1 spot for a phrase with high competition, like "doctors in Flagstaff" or "Flagstaff physician" might take a bit more work.
That's where content comes in.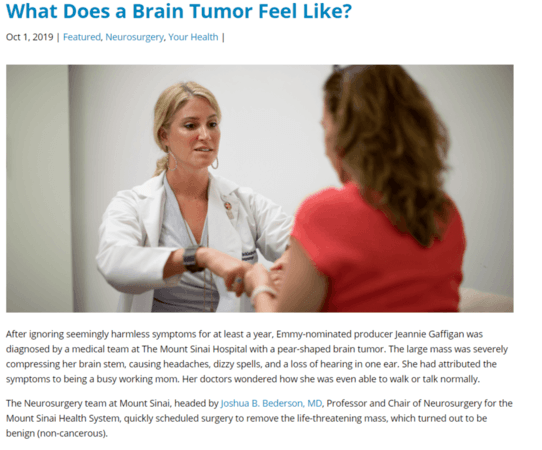 Some studies have found that the longer and more helpful your content is, the better chance you have at ranking highly. There's a strong correlation between the #1 result and a long content length. Because of this, if there's a more competitive phrase you want to show up in Google for, you should be prepared to create some very helpful content about it.
For example, let's say you wanted to rank for "flu shots in Flagstaff".
The top results might right now be from local pharmacies offering walk-in flu shots. However, you could outrank them by producing an informative content piece that includes this phrase (or others very similar to it). You could write about why flu shots are important, why Flagstaff residents should get them, and where they can get them for a low cost.
How to find more physician marketing strategies
These five physician marketing strategies aren't the only ones you can try, of course. If you want to invest in Internet marketing, there are many other things you can do to increase the amount of traffic to your website and acquire more patients.
To do some more in-depth reading on how to attract new patients with online marketing, we recommend reading this guide with 101 ways to increase traffic to your website, as well as this guide that walks you through how to scale your traffic.
Both of these guides will help you learn additional marketing strategies and tips that focus on acquiring potential patients and increasing your visibility in search engines.
Digital marketing services for doctors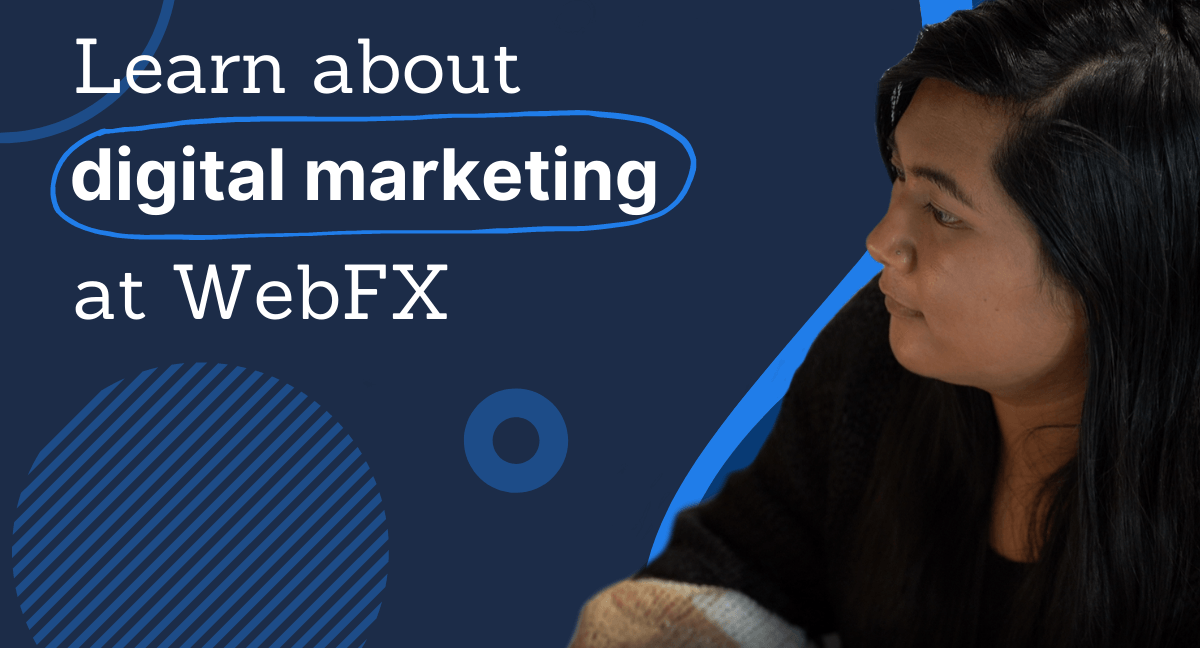 Do you need a trusted service provider to help your practice take complete advantage of digital marketing for doctors? At WebFX, we're a full-service agency, which means we offer all the services you need to excel at online marketing.
A few examples of our Internet marketing services include:
If you need help browsing our services and determining which ones offer the most value to your business, feel free to contact us online or call us at 888-601-5359 to chat with an experienced strategist about your medical practice and goals.
Reach more patients with online marketing for doctors
Are you feeling a little overwhelmed by all these physician marketing ideas and strategies?
If you need help with digital marketing for doctors, don't worry: you don't have to do this alone. As a leading Internet marketing firm, WebFX is happy to provide physician marketing services that can increase your visibility in searches, attract more potential patients to your site, and improve the effectiveness of your overall marketing strategy.
In short, we'll take care of your marketing while you focus on doing what you do best: Helping people.
A marketing plan from WebFX can help you improve your practice and get more people through your doors. Want to know what we can do for you? Just contact us online or call us today for a customized, no-obligation quote. We can't wait to hear from you!
Earn a 20% greater ROI with WebFX