And since social media users tend to skew toward younger generations, it's particularly important for universities — whose target audience consists predominantly of late teens — to have social media accounts.
These accounts can get the word out about what your university has to offer and can attract prospective students. Some of the best social media platforms to use are Facebook, Twitter, Instagram, Pinterest, and YouTube.
But just how should you go about creating and maintaining social media for universities? Read on to find out, and then call us at 888-601-5359 or contact us online to partner with the agency that's been in the business for over 25 years!
Not happy with your social media engagement?
We've got just the blog post for you.
Read the Blog Post & Watch the Video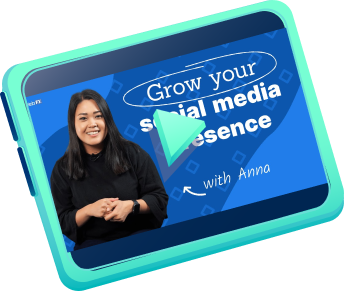 8 social media ideas for universities
There's no end of nuances to social media marketing, but when it comes to running a university account, there are a handful of major pointers to know. By following the tips below, you can boost online engagement amongst your target audience.
Here are eight simple social media guidelines for universities.
1. Show off the school
Social media is often used as a way for people to show off the best parts of their lives, and there's no reason your university should be any different.
Whether your biochemistry department has a major breakthrough or you simply see an opportunity for a beautiful photo of the sun rising over your football stadium, you can craft posts that show off the most impressive and attractive facets of your school.
2. Live-stream events
If there's a cool event happening on your campus, you can use social media to do more than just tell people about it. You can live stream the event itself — whether in its entirety or only in part — for everyone to see.
You can approach this casually by pulling out a phone and recording like a regular social media user, or you can set up a professional camera and generate a high-quality stream.
Either way, letting people get a peek at your swim team competition or marching band performance can inspire students to visit future events on your campus or even attend your school.
3. Use separate accounts
Unless your university is especially small, you may not want to use one single account for everything. Your English department is probably quite a bit different from your equestrian team. Using a single account to post updates related to both of those — along with all your other organizations and departments — could cause a lot of disorganization.
Instead, consider creating separate accounts for different entities within the university.
Take Auburn University, for example. While the university does have one overall Twitter account for the broadest information, it also has individual accounts for a great many departments, from Parking Services to the marching band.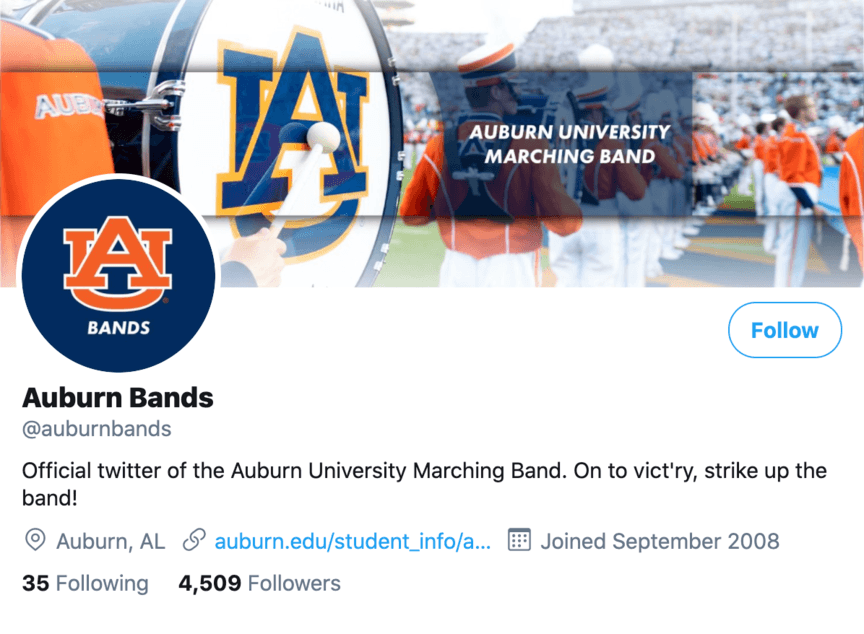 Using these separate accounts lets users more easily find the information they want. If someone wants to know where they can park on campus, they know to go to the Parking Services page, not the marching band one.
4. Maintain a consistent brand
Social media for universities is a great tool to make people aware of your brand, but you have to make sure that brand is consistent. While your basketball and fine arts accounts might have different content, they should still convey the same voice on behalf of the university.
Even if you only use one account, you may have a team of different people that manage that account, and those people might be prone to use different voices. Make sure everything conforms to a shared standard.
To this end, it might be a good idea to create a style guide. Can you use emojis? Do you have to conform to any grammar and capitalization standards? Having everyone follow these social media guidelines for your university can do a lot for your brand.
5. Harness user-generated content
Not all your social media content has to come directly from your account. You can use your platform to encourage your students, alumni, and followers to put out user-generated content that promotes your university, using tools like hashtags.
To promote a football game, for example, you can encourage spectators to tweet about the event and tag your athletics department account for a chance to have their tweet displayed on the videoboard.
6. Play to specific platform strengths
It's good to use multiple social networks for universities rather than only using one platform, but you shouldn't treat all those platforms the same. Different platforms are optimal for different tasks and tend to target different audiences.
While you might post the same message on two separate platforms, you might still need to convey it differently on each platform. On Facebook, for example, you might make a single post with a long piece of information, whereas on Twitter you might break it up across multiple tweets, or make one tweet with a link to the longer piece of content.
For best results, come up with a plan for how you intend to use your account on each platform.
7. Engage with your audience
When it comes to universities, people are often looking for connection. Prospective students are looking for somewhere that conveys a sense of community, and alumni are looking to keep in touch with their alma mater.
To make that connection happen for your audience, make sure to engage with them through your social networks. Leave positive comments on their user-generated content, and answer questions from people who may comment on your social posts.
8. Provide alerts
In line with the earlier point about having separate accounts, it's a great idea to have an account specifically dedicated to providing safety alerts. Whenever there's an emergency on campus, you need to let students know.
Given how much time most of them spend on social media, there's no faster way to notify them of the danger than to tweet about it. Baylor University, for instance, has a campus safety account on Twitter called "Baylor Alert" that notifies students of potential danger.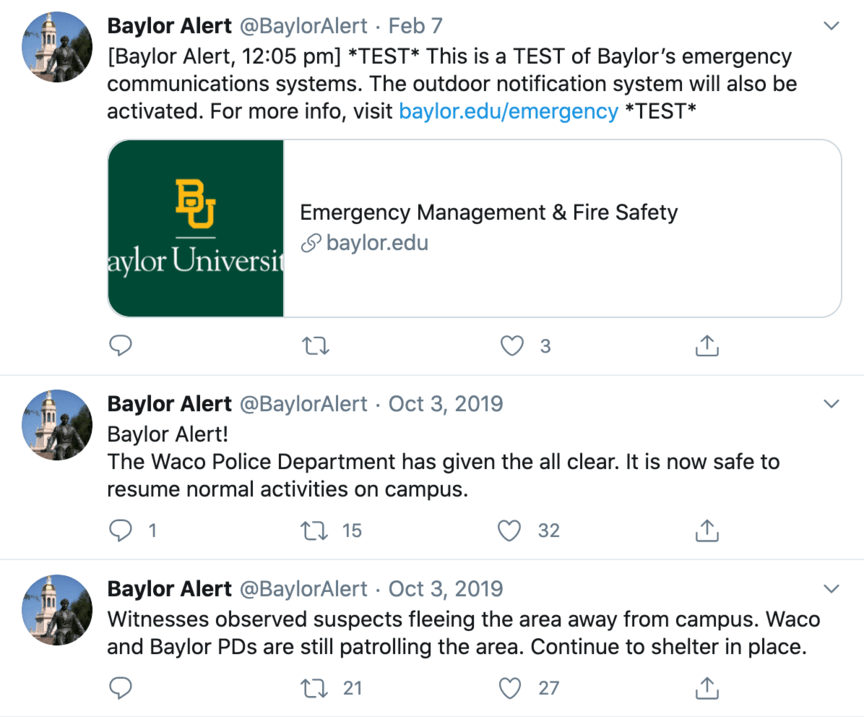 It's also a good idea to test these accounts regularly to make sure they're in working order.
Hear What It's Like to Work With WebFX!

"Our account manager is professional, skilled, and wonderful to work with. She takes the time to get us up to speed on best practices and adjustments she recommends so that we can get the most out of our monthly investment."
University
Get help with your social media from WebFX
Unsure how best to make these tips work for you? No worries. At WebFX, we can help you implement these social media ideas for universities to build a stronger social media presence.
Our team of over 500 digital marketing experts would love to help you optimize your university's social media accounts to reach as many people as possible. To get started with us, just give us a call at 888-601-5359 or contact us online today!
Earn a 20% greater ROI with WebFX