When you have a small business, you want to find creative ways to connect with local customers. Social media marketing is a great strategy for helping you reach more customers in your area. With social media marketing, you can build relationships with current and potential customers and provide them with the information they need to purchase — or become loyal customers.
On this page, we'll discuss five tips to help your small business create a successful social media marketing campaign. If you need help creating your campaign, call us today at 888-601-5359 to speak with a strategist about our SMB social media services.
1. Choose your platforms
First, you'll need to figure out which social media platforms you want to use. You want to choose platforms that allow you to reach your target audience best. This means that you need to have a solid understanding of your target audience.
Your target audience consists of the people who are interested in your small business. If you don't know who is in your target audience, you need to think about your ideal customer. Who is more likely to purchase goods from your small business?
You want to create target personas based on information like demographics, socioeconomic status, hobbies, and interests. This will help you tailor your social media marketing to reach people who are most interested in your small business.
Once you identify your target market, you can research which social media platforms they frequent. People of all different ages and races use social media. It is important to note that some people frequent platforms more than others, which can help you focus on the right platforms for your small business.
For example, let's say you're trying to reach people aged 30-49. If you look at four of the most popular social platforms, 78 percent of adults in this age range are on Facebook, 40 percent are on Instagram, 33 percent are on LinkedIn, and 27 percent are on Twitter. If you want to reach this age group, Facebook is a great option.
It's important that you analyze each platform to see which one will work best for your small business. When you know your platform, you can start generating content that engages your audience and encourages them to purchase from your business.

Hear What It's Like to Work With WebFX!

"Local and transparent in the work they do. There are so many companies out there that offer the same services, we are grateful to have hit it off the way we did with WebFX. Couldn't be happier!"
Waste Management Services
2. Post frequently
One key component of social media is that you need to post frequently. Your audience follows their friends, family, and other businesses like yours. They will see dozens of posts in their news feeds, so it's important that you frequently post to ensure they see your posts.
Posting frequently is also important for building your brand. You want your audience to recognize your brand and become familiar with it. This will help you earn more conversions down the line.
Each platform has an acceptable number of posts you can share each day. This may vary depending on your audience and what they like, but the acceptable number of posts is a good place to start.
On platforms like Facebook, posting is limited. Many users only want to see one to two posts from your business. You don't want your posts to take over your audience's news feeds.
However, with platforms like Twitter, you have more flexibility. You can post a dozen times a day. Twitter's news feed structure makes it friendly to post frequently and still engage your audience.
When you post on a routine basis on your social media network, you help your audience become more familiar with your brand. This will benefit your small business later by helping you earn more conversions.
3. Post a variety of content
It is important that you create content that is interesting for your audience. You want to engage them and get them to interact with your posts. When you post a variety of content, you keep your audience interested and engaged.
The type of content you can post will depend on your platform. Some platforms are more flexible with content, while others only enable you to post certain types of content.
Platforms like Facebook and Twitter are flexible with content. You can create posts, post photos, post videos, create polls, and link to content. These platforms are great for posting different types of content to engage your audience.
If you use Instagram, you are a little more restricted on what you can post. This platform only enables you to post photos and videos. You'll need to create photos and videos that are interesting and catch your audience's attention to boost engagement.
When you post a variety of content, you can figure out what type of content your audience likes best. This helps you shape your content plan and post more content that increases engagement.
4. Engage your audience
A big part of social media marketing is engagement. Social media is one of the few methods that you have a direct connection with your audience. It's a great opportunity to build relationships with your target customers and encourage them to buy.
When your audience comments on your posts, take the time to interact with them. Reply to their comment or react to it (like it or love it). It makes your audience feel more valued when you take the time to interact with their comments.
If someone leaves positive feedback for your business, thank them for their comments. When people leave negative feedback about your business, address their concerns. It helps you build your small business in a positive light.
Your audience wants to feel valued by your business. They don't want to be "just another customer." When you take the time to engage with your audience, you make your audience feel valued and encourage them to convert.
5. Explore paid options
One of the most notable things about social media marketing is that it is free to create an account and post on it. These social media platforms also offer budget-friendly paid advertising options. Paid ads help you reach more valuable leads and earn more conversions.
Each platform has their own advertising program. They offer a variety of plans to help you achieve different goals. You can aim to obtain more leads, increase brand exposure, or earn more conversions.
These ads help you reach people you may not be able to reach otherwise. You can attract more leads to your page, which will lead to more conversions for your small business.
Many of these social platforms enable you to create different types of ads. Some examples include photo and video ads. This enables you to figure out which types of ads garner the best response for your business.
By exploring paid options, you'll help your small business expand your reach and obtain more valuable leads.
74% of people use social media when making a purchasing decision.
Make their decision easy with a stellar social media presence. See how your brand can level up by requesting a no-obligation proposal today.
One of our experts will be in touch within 24 hours!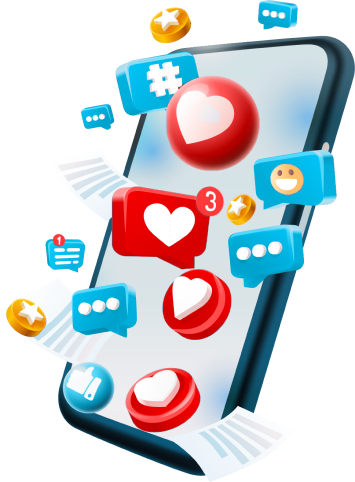 WebFX can help your small business own your social media plan
Social media marketing is a great opportunity for you to connect with leads that are interested in your small business. You can deliver more personalized content that gets leads to convert. At WebFX, we know how to create social media marketing plans that drive results.
We're a full-service digital marketing company that specializes in customized social media plans. We have a team of 500+ experts that will bring their knowledge and expertise to your campaign. Our award-winning team of social media savvy experts will help you create a marketing plan that works for your small business.
If you're looking for a company that drives results, look no further. To date, we've driven over $3 billion in sales and over 7.8 million leads for our clients. We put our clients' success first.
Our clients love the work we do for them. In fact, we have over 1020 client testimonials from a variety of industries. Check them out to see what it's like to partner with a top social media marketing company like WebFX!
Build your customized plan today
When you invest in social media marketing, you help your small business connect better with your audience and deliver more tailored content. If you're ready to start earning more credible leads that turn into conversions, contact us online or call us today at 888-601-5359 to speak with a strategist.
We look forward to helping your business grow!
Earn a 20% greater ROI with WebFX