Finding a way to attract people to your business is part of every industry. Lead generation — targeting people most likely to need your services — is crucial in building a client base. Lighting and LED companies can also benefit from this strategy.
Lead generation for lighting and LED companies can ensure that your target audience, whether commercial clients or residential homeowners, finds your company and reaches out. This page will break down the basics of lead generation for lighting and LED companies, including:
What is lead generation for lighting and LED companies?
Benefits of lead generation for lighting and led companies
Lead generation strategies
3 tips for generating leads
Read on to learn more, and call 888-601-5359 to speak with a strategist about beginning your lead generation strategy!
Our digital marketing campaigns impact the metrics that improve your bottom line.
See More Results

WebFX has driven the following results for clients:

$3 billion
In client revenue

7.8 million
Leads for our clients

5.2 million
Client phone calls
What is lead generation for lighting and LED companies?
Lead generation for lighting and LED companies is the process of identifying and attracting people who need your services and products. Lead generation aims to find those who are most likely to convert to grow your client base.
There are different types of leads to watch for, including:
Sales qualified leads (SQLs):A lead that your sales team has qualified. They likely fit your ideal customer profile and express interest in your company.
Marketing qualified leads (MQLs):A lead that has taken the next step from your marketing materials and fits criteria established by your marketing team.
Information qualified leads (IQLs):Leads who research answers to their problems or queries. For example, they might download a guide for installing lighting equipment or sign up for emails.
Depending on your goals, you will target different types of leads. Developing a solid generation plan will ensure you find those most relevant for your company.
Benefits of lead generation for lighting and led companies
You may do lead generation without realizing it. If you have ever attempted to find more customers to work with your company, you have partaken in some form of lead generation!
There are many reasons to implement a lead generation strategy, including the following:
Better audience targeting: Lead generation considers your ideal audience to find the people who would want to work with your company now or eventually. If you only work with commercial clients, you can cut out all residential communication and make sure that businesses see your marketing materials.
Improved resource management: Instead of spending chunks of your budget on sweeping approaches, you can invest time and money into the right audience. This way, you improve your return on investment (ROI)and maximize profit.
Competitive marketing:About 53% of marketers spend at least half their budget on lead generation. That means that if you aren't prioritizing lead generation, your competitors likely are. Lead generation helps you stand out from the competition and find new ways to reach your audience.
Above all, lead generation helps you get more business, improve your bottom line, and grow as a company.
Lead generation strategies
So, what does lead generation look like in practice? While there are countless lead generation strategies, lighting and LED companies can often benefit from digital tactics.
Lead generation strategies for lighting and LED companies can include:
Search engine optimization
Pay-per-click ads
Social media
Let's dive into each one below!
Search engine optimization (SEO)
SEO is the process of optimizing your website to rank higher in organic search results. Organic — or unpaid — search results require no payment to obtain.
With SEO, you can make several changes to your website to help search engines deem it valuable and relevant. When users search for "commercial lighting installation," these are the results that Google pulls up first: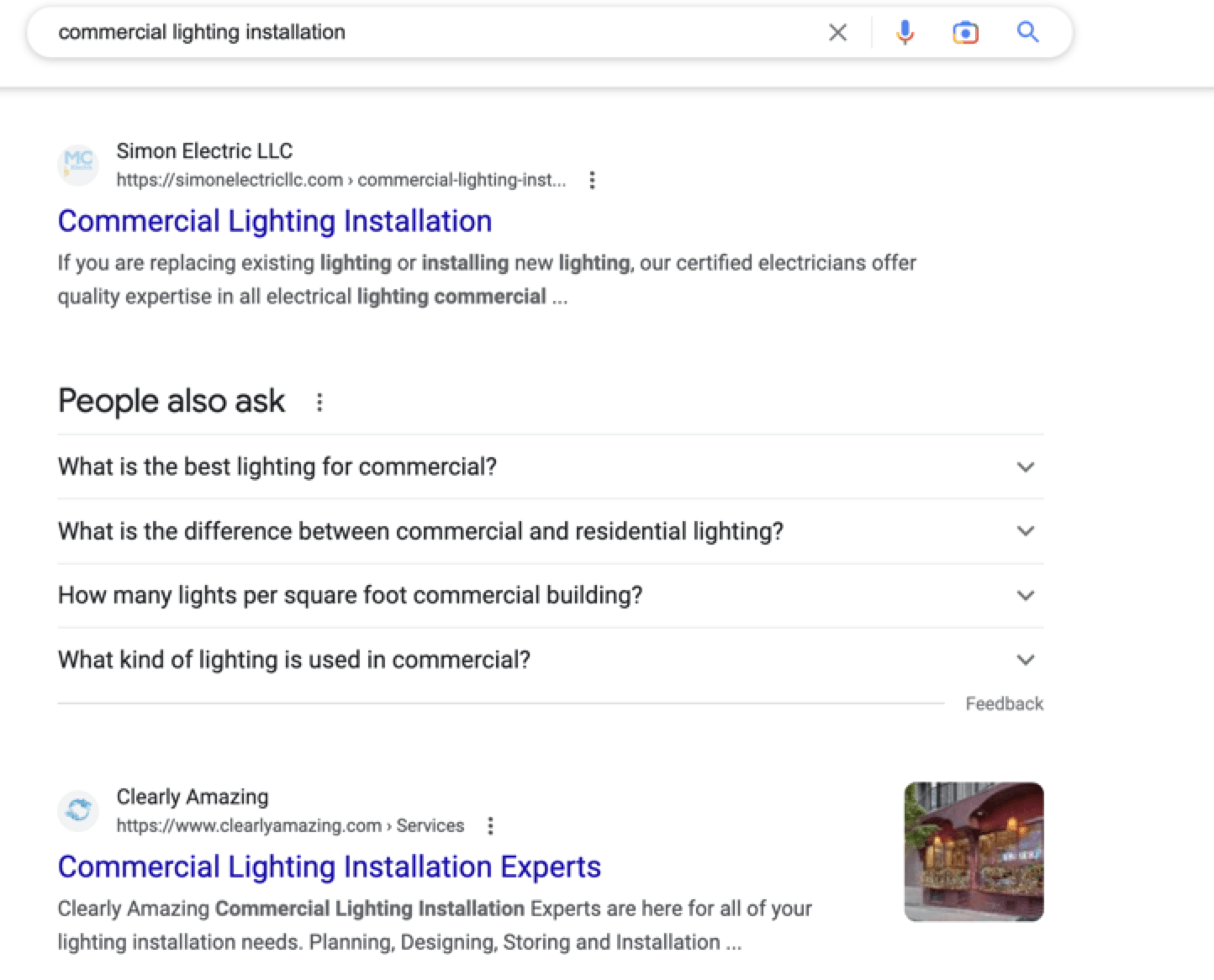 Users are more likely to click on the first few results. In fact, 75% of users don't even go past the first page of search results, and SEO helps you naturally place your website in front of users.
Pay-per-click (PPC) ads
PPC ads are a type of paid advertisement where you only pay to run the ad when someone clicks on it. You can find PPC ads on various sites, including:
Search engines
Ecommerce sites (Amazon)
Social media
Other websites
The "sponsored" tag sets these apart from other search results. For example, if you enter the term "led lighting fixtures," you get the following results: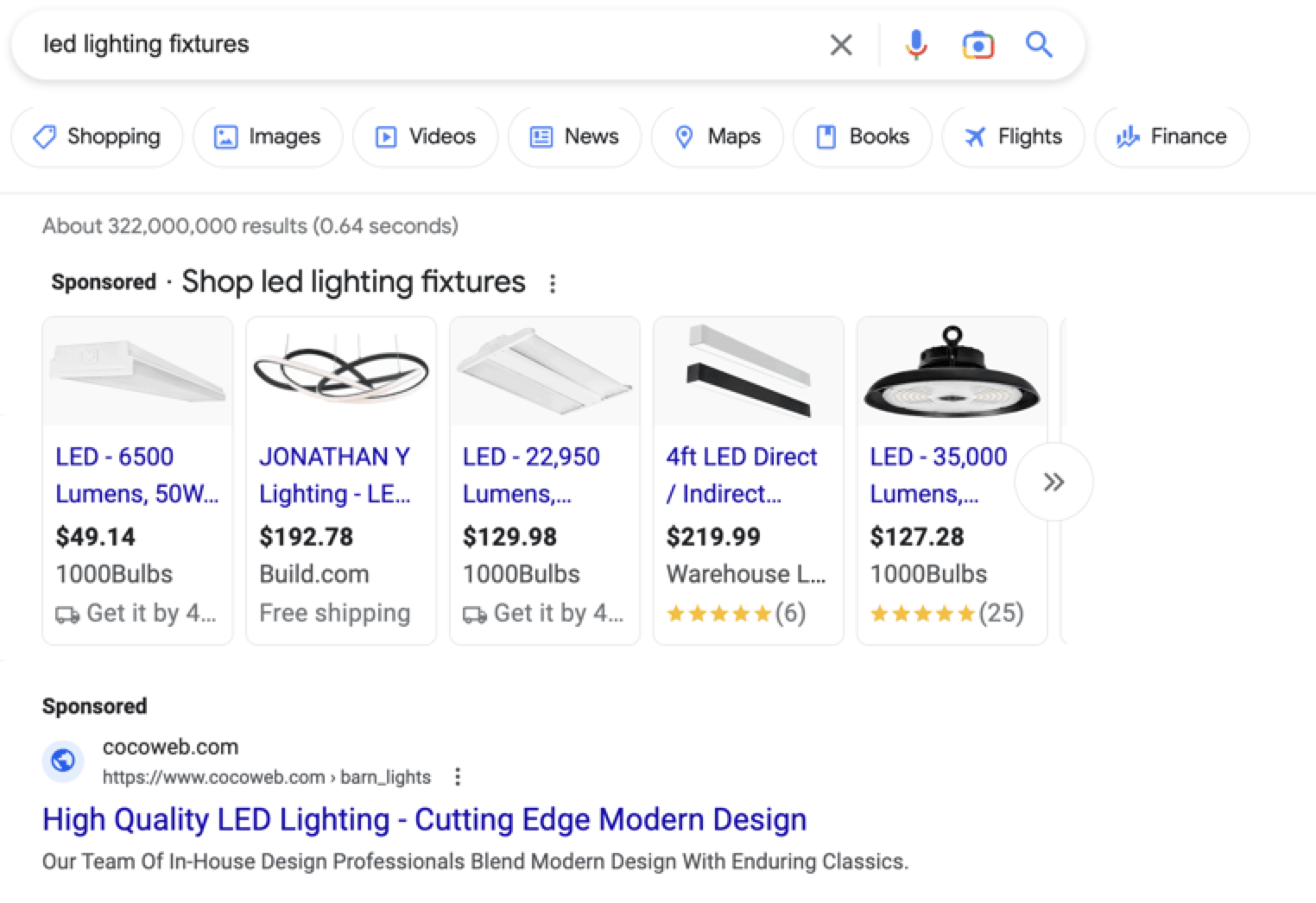 If you want an instant boost of traffic to your site or want to promote a new lighting product or service, PPC can be an excellent option. Businesses make $2 for every $1 they spend on PPC, so you can expect a high ROI!
Social media
Another popular lead-generation tactic is social media for lighting and LED companies. You can use social media to find, connect with, and convert leads while building your brand reputation.
There are endless ways to use social media platforms. You could post Instagram photos of your work to help people find your lighting services: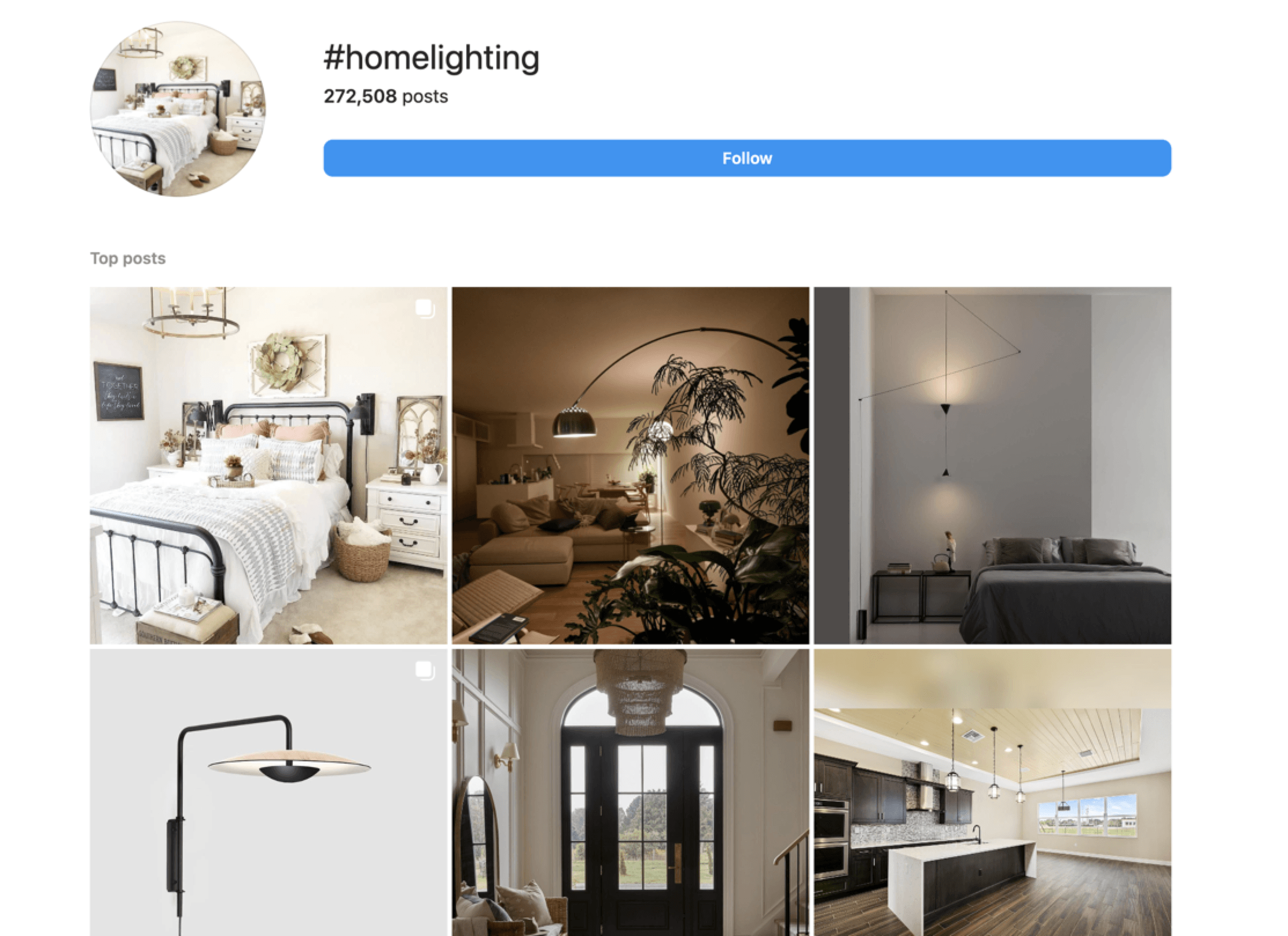 Sharing photos, videos, and updates can help people visualize your expertise and establish you as a leader in the industry. You can also connect with prospects directly and get your name out there, so they come to your when they need lighting services.
3 tips for generating leads
Now that we have looked at the basics of lead generation for lighting and LED companies and described some examples, here are some tips for generating leads!
1. Find your target audience
If you want the most successful lead generation strategies, you need to find where your leads are and place your company in front of them. Outlining your target audience and building buyer personas will save time and resources while narrowing down your strategy.
For example, if you know most of your clients are established business owners, you might use email marketing or SEO to encourage them to find your services. However, social media might be a better option if you work directly with homeowners.
2. Track key performance indicators (KPIs)
How can you know your lead generation strategies are working? By tracking key data to measure your progress!
KPIs will help you measure your progress and see what lead-generation strategies are drawing in revenue. Some metrics to look for include:
Conversions
Conversion rate
Bounce rate
Engagement
And more!
3. Work with an agency
Generating leads is crucial for business success. But what if you have enough on your plate to worry about?
A lead generation company can help you find the best tactics for your company while offloading the work from your team. WebFX is a professional lead generation agency that will:
Find, track, and nurture leads
See where most of your leads come from and expand those channels
Help redistribute your funding to profitable tactics
Working with an agency gives you better results with less effort, and WebFX can help you get started on the ideal lead generation strategy today!
Measuring the metrics that affect your bottom line.
Are you interested in custom reporting that is specific to your unique business needs? Powered by MarketingCloudFX, WebFX creates custom reports based on the metrics that matter most to your company.
Leads

Transactions

Calls

Revenue
Learn More

Want help optimizing your lead generation strategies?
If you want help optimizing your lead generation methods, look no further. WebFX knows how to find and nurture leads through conversion for lighting and LED companies. We have generated 7,839,684 leads for our clients, and that number keeps growing.
When you work with us, you gain access to MarketingCloudFX, our proprietary lead-tracking software powered by IBM Watson. This platform gives you all your lead tracking information, marketing data, and sales figures in one place, letting you see the complete picture for every lead.
Want to know more? Request a quote today and see what MCFX can do for your business with help from lead generation experts!
Increase your leads, sales, and revenue with digital marketing
Find Us Driving Revenue Nationwide