You want to get more customers through the door of your spa, but how do you do it? Your traditional methods are proving ineffective, and you need solutions now. How can you attract more clients to your spa to get a top-notch massage?
With lead generation for spas, of course!
Lead generation involves using digital marketing strategies to promote your spa to prospects most interested in your spa.
When you do lead generation, you can use multiple tactics — here are a few we'll mention on this page:
Need help building a lead generation strategy that works? Our team of 500+ experts is here to help! Contact us online or call us today at 888-601-5359 to speak with a strategist about our lead generation services!
Our digital marketing campaigns impact the metrics that improve your bottom line.
See More Results

WebFX has driven the following results for clients:

$3 billion
In client revenue

7.8 million
Leads for our clients

5.2 million
Client phone calls
1. Optimize your presence in search results
One of the best lead generation strategies for spas is search engine optimization (SEO). SEO is the process of optimizing your website to rank better in search results.

When users want to find information about spas, they turn to search engines. Over 70% of people research a company through search engines before buying or visiting.
That said, if you want users to find your spa when they search for massages, facials, and all things relaxation, you'll need to optimize your site with the help of an effective SEO campaign.
You can optimize for search engines by:
2. Run pay-per-click (PPC) ads
Another excellent option for doing spa lead generation is running pay-per-click (PPC) ads. PPC ads are paid advertisements that appear at the top of search results with the word "ad" tagged in the corner.

PPC ads are a great way to attract leads to your spa — 65% of all high-intent searches result in someone clicking on an ad. These ads drive people who are highly interested in a spa and need to find the right one.
Here's how you can make PPC an effective med spa lead generation strategy:
3. Create an email referral program
Next on our list of lead generation strategies for spas is creating an email referral program. Email marketing is one of the best lead nurturing strategies for your business, but you can also use it to generate new leads for your business.
An email referral program is an easy way to obtain new leads through people already interested in your company. You encourage your current subscribers to invite their friends and family to check out your spa, subscribe to your email list, or book an appointment.
To launch a successful email referral program:
Choose a relevant reward for both the current and new subscriber/customer
State the benefit of the referral program
Create relevant copy and images for your referral emails
Set up a tracking system to keep tabs on referrals
4. Run social media ads
One of the best med spa lead generation strategies is social media advertising. This strategy involves creating paid ads that appear on social media platforms. Some popular platforms to advertise on include:
Social media ads typically appear in a users' feed and look like a content post they may see from friends and family.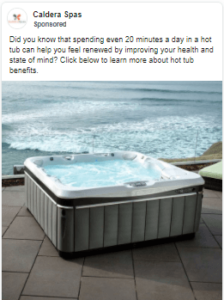 Social media platforms offer advanced targeting, making it easier for you to put your spa ads in front of the right people.
Here are a few tips for launching successful social media ads:
Establish who you want to target to ensure you reach the right users
Use eye-catching visuals to draw users to your ad
Match your ad copy and visual to create a cohesive ad experience
Use a custom landing page to keep prospects focused
5. Create content
Next on our list of lead generation strategies for spas is content marketing. Content creation is a great way to drive credible traffic to your site that turns into leads for your spa. The method involves sharing helpful information with your audience that's related to spas, massage benefits, or techniques for effective massages.
Content comes in numerous forms, including:
Guides
When you create content for your spa's website, you establish yourself as an authority in your field. By sharing information your audience wants, like the difference between a Swedish and a deep-tissue massage, you'll become a valuable resource for them and prove yourself as an expert in your industry.
As a result, they trust you know your industry well and feel more confident choosing your spa over the competition.
Content marketing is important to your other lead generation strategies, like SEO. Without content, you won't have anything to rank in Google. You need a content marketing strategy if you want leads to discover your spa when they search online.
Here are some pointers for creating a successful content marketing strategy:
Try different types of content to appeal to multiple members of your audience
Create content that matches the user search intent to ensure your content is relevant
Publish content often to create a steady flow of traffic to your site
Use a content calendar to help you stay on top of content planning
6. Build your local presence
The last item on the list of lead generation strategies for spas is to build your local presence. When it comes to finding a spa, many people will look for one in their local area.
In fact, 50% of searchers visit a business within a day of conducting a local search. Considering most people will visit a spa in their local area, it's critical that you optimize your local presence to drive those leads to your spa.
Not to mention, local search helps you reach people closer to converting — 80% of local searches convert. You're reaching people who search local terms like "spa near me" or "spa in [city]" who are ready to visit a spa and just need to find the right one.
To use this spa lead generation strategy right, follow these best practices:
37% of marketers say that generating high-quality leads was one of their biggest challenges.
We want to decrease that percentage.
WebFX can help you generate high-quality leads with a customized marketing strategy.
Learn More About Lead Generation Services
Get started with lead generation for spas today
Lead generation for spas is an excellent way for your spa to build an online presence that attracts more qualified leads. With so many great strategy options, you may not know where to start with your lead generation plan. That's where the experts at WebFX can help.
We can help you build a custom lead generation strategy that incorporates the strategies that will drive the best results for your business. We know a thing or two about driving results — we've driven over $3 billion in sales and over 7.8 million leads for our clients in the past five years.
Ready to start generating more leads for your business? Contact us online or call us today at 888-601-5359 to speak with a strategist about our lead generation strategies!
Earn a 20% greater ROI with WebFX