Out of all the processes involved with a tourism business, getting high-quality leads online offers the highest reward. Getting more leads means attracting new visitors and customers, and ultimately, earning more revenue. That's why lead generation for tourism businesses is essential.
On this page, we're exploring nine ways to generate more travel leads for your business!

9 ways to generate more travel leads
Let's get started!
1. Website optimization
A clean, user-friendly site helps drive results for your tourism company. Optimizing your website design allows you to build brand recognition with your colors, logos, images, and phrases.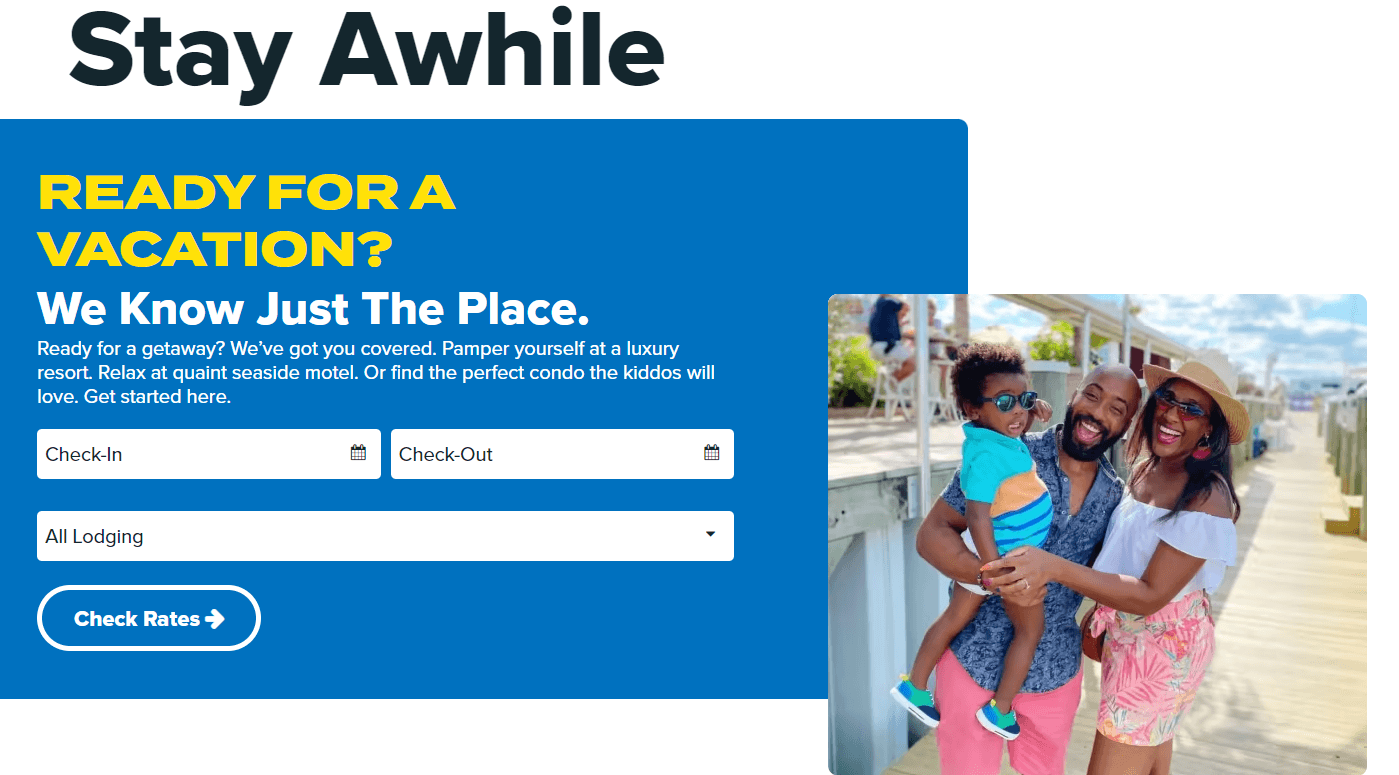 Modernize your digital presence by creating an adaptive design for all devices, such as a computer, smartphone, or tablet.
2. Keyword optimization
Next on our list of ways to generate travel leads is keyword optimization.
Using competitive keywords in search engine optimization (SEO) for tourism helps your website rank higher in Google search results amongst other travel companies.
For example, you may want to rank for keywords like, "things to do in Ocean City, Maryland."
Researching and implementing the best long-tail keywords on your page in headings, body text, title tags, and meta descriptions allows Google to recognize your content as relevant to researchers.
In addition, boost your site's authority by linking pertinent sites and internal pages to show you're offering more value to interested travelers.
3. Lead magnets
A lead magnet offers valuable incentives to your site visitors, such as a checklist, short video, outlined instructions, an e-book, newsletter, or discount. Getting contact information in exchange for these lead magnets allows you to communicate with prospects and build relationships with them.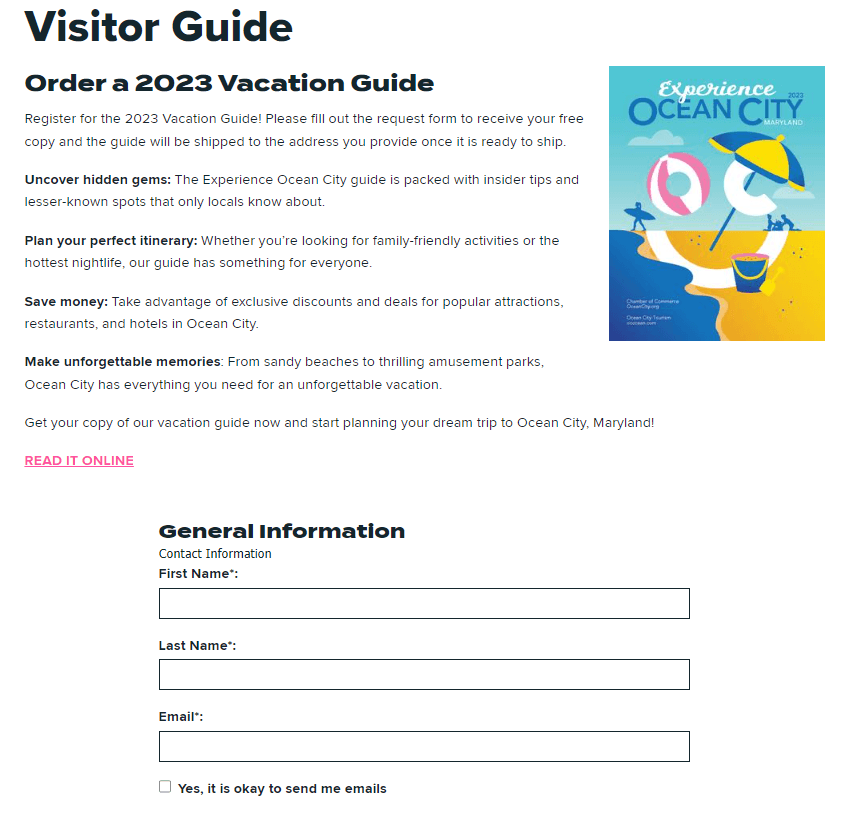 For example, you may offer a free vacation guide or offer exclusive discounts on events and places to stay in exchange for an email address.
Move their purchase journey from awareness to sales conversion by nurturing your leads. Prospects will trust your business and gain the information they need to buy your tourism services or experiences.
4. Email marketing
When it comes to lead generation for tourism, one of the best strategies to implement is email marketing.
The weekly, biweekly, or monthly emails you send customers should include relevant business information, updates, and deals. Implementing effective email practices involves writing enticing subject lines, making your copy scannable, and telling your subscribers what you want them to do.
Include a call to action (CTA) such as "click here for more details" and "contact us to book your trip" instructs a reader, persuading them to click a link to your website.
5. Social media marketing
Want to improve your lead generation for tourism? Try social media marketing.
When planning a vacation, 55% of travelers browse for content relating to their destination. A social media presence helps your travel company build recognition as a reputable brand.
Gain more leads by creating a social media strategy and sharing content on a consistent timeline, linking to CTAs, and engaging with comments and messages to build a following.
6. YouTube marketing
Marketing with video formats allows prospects to experience the sights and sounds of breathtaking scenery with attractions worth visiting. Videos will help you create a customized approach and show the best features of your destination.
Strategize some YouTube video ideas to film and upload, such as helpful tips for travelers, benefits of your service, testimonials, how to book a vacation with your company. You will build your following and generate leads to your company website.
7. Blog marketing
A company blog on your site lets you engage with site visitors and convert them into customers. Show your industry expertise by publishing informative posts about your travel services and ways to plan or enjoy a vacation.
Follow SEO blogging practices by writing engaging content infused with strategic keywords and a CTA instructing readers to book their trip with your company. Share links to your latest blog posts on social media and your newsletter for more traffic.
8. Customer incentives
Discounts and complimentary offerings, like gift baskets, spa vouchers, or airport transfers, help you gain and retain loyal clients. Showing your client value is one of the most effective incentives you can offer.
Provide excellent customer service and encourage online reviews so that your clients rave about their positive experiences with your company.
9. Referral program
Last on our list of ways to get more travel leads is to implement a referral program.
A referral program entices your customers to tell their friends and family about your travel services for something in return, such as a discount or credits they can use on their next trip. Advertising in banner displays, template footers, emails, and social media platforms prompts clients to participate in the referral program.
Get inspiration from your competitors by viewing their referral program campaigns to ensure you're offering an equivalent or better incentive.
37% of marketers say that generating high-quality leads was one of their biggest challenges.
We want to decrease that percentage.
WebFX can help you generate high-quality leads with a customized marketing strategy.
Learn More About Lead Generation Services
Master lead generation for tourism with WebFX
If you'd like to attract more traffic to your website and see visitors convert into leads, let WebFX help. Our lead generation services help companies attract prospects for increased revenue.
So far, we've driven 7.8 million leads for our clients. We implement best practices for websites, blogs, social media, emails, and more.
Whether you'd like to improve one component of your company's digital presence or all aspects, we will provide personalized solutions. To get started, call us at 888-601-5359 or request an estimate today!
Increase your leads, sales, and revenue with digital marketing