Your window and door website is your primary digital touchpoint to interact with potential customers. When someone visits your website, you want them to get an indication of the value you'll provide, and ultimately, you want to urge them to convert.
To accomplish these goals, you'll need a solid web design. But what does web design for window and door companies entail?
On this page, you'll find:
Keep reading to learn how to elevate your site! Or, if you'd like to partner with a web design agency with experience in the home services industry, check out our web design services!
Window and door website examples
One of the best ways to learn about web design for window and door companies is to check out businesses with solid websites. Learn how these examples leverage robust web design to inspire your strategy!
Marvin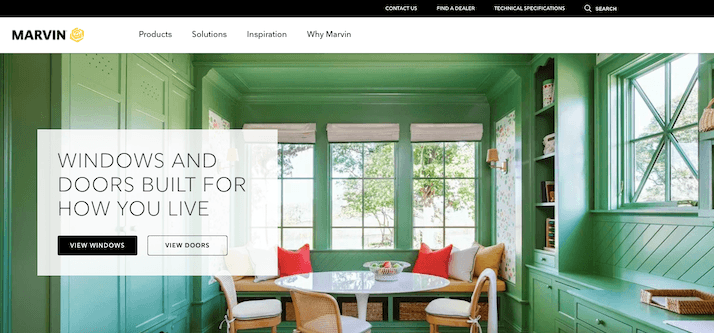 Marvin's website is first on the list of window and door website inspiration for its crisp, clean design. The homepage doesn't include excessive, unnecessary information, and the navigation menu stays simple. Too many options on the main menu could leave visitors overwhelmed and unsure where to go.
Additionally, the design in the page's center shows off Marvin's aesthetically pleasing windows for visitors as soon as they enter the site. The buttons near this image make it easy for users to quickly navigate to the product they want to find — windows or doors.
Also, note the statement Marvin includes above these navigation buttons. The phrasing showcases one of their unique selling propositions (USPs), "built for how you live."
Andersen Window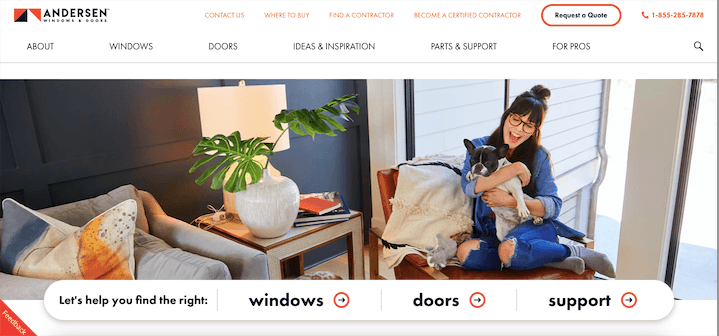 Andersen Window's website also includes an excellent example of a user-friendly navigation menu. While Marvin's main menu stands out for its simplicity, Andersen Window's menu stands out for its intuitive categories. The menu choices align with what visitors will look for when they come to the site.
The header also features a call-to-action (CTA), so users can always find contact information for Andersen Windows wherever they are on the site.
Window World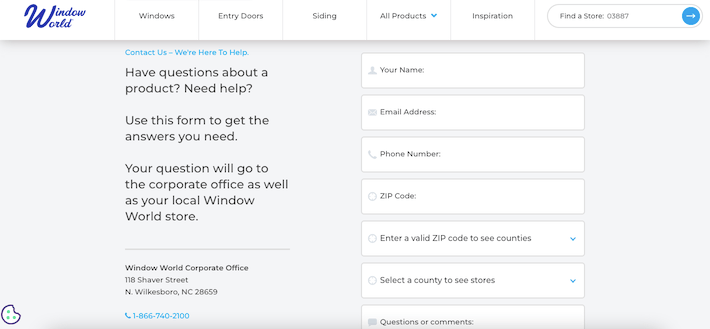 Beyond the homepage, Window World's website features a simple, clean contact form users can fill out if they have questions. The page tells the users where their questions will go, making the visitors feel more confident that their inquiries will receive responses.
Also, note the location finder search bar in the top right. When you fill it out, the site prompts you to enter your zip code and county, then takes you to a locations page.

The locations page includes a map, your nearest store, and the store's distance from you. With local companies like window and door businesses, clarifying your location and helping visitors find the nearest store is a critical conversion rate optimization technique.
Rite Window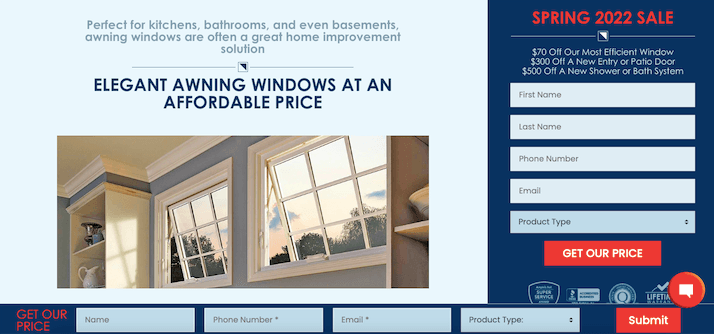 This window and door website example pulls from one of Rite Window's product pages for awning windows. At the top of the page, the company showcases a promotion with a CTA and contact form, prompting visitors to act.
To the left of the contact form, Rite Window describes applications for awning windows that allow visitors to start visualizing the product in their homes right away. Below this description, the company shows off one of its beautiful products.
On the windows product page, the company includes a photo gallery. This gallery features photos of their employees and their work, helping visitors see proof of their high-quality services.
Window and door web design best practices
As you read through those window and door website examples, you might have noticed some commonalities. These similarities exist because they follow web design best practices.
To help you better picture what your company's website should include, consider these web design tips:
Meet WebFX:
Your world-class, tech-enabled marketing agency with over 1.6 million hours of combined expertise.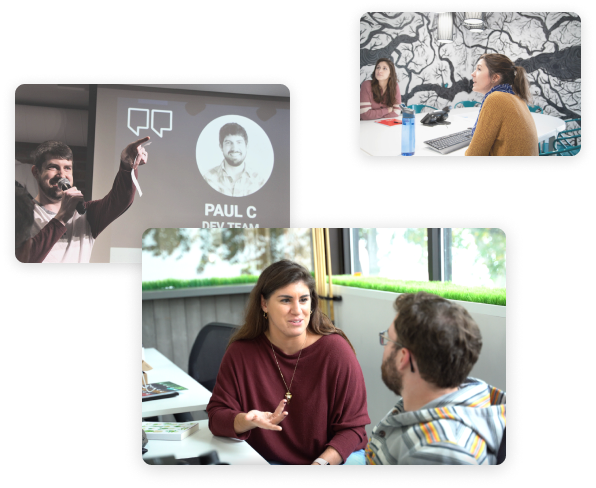 Our web design services for window and door businesses
Web design for window and door companies involves many moving parts. To help your website stand out and facilitate conversions, consider partnering with a web design agency that knows your industry.
At WebFX, we offer data-driven web design services to help you drive more leads from your website. Our web design services include:
When you partner with us to design your window and door website, we'll ensure the site is:
Our award-winning designers know how to create a user-friendly website that drives conversions. We also know web design isn't one-size-fits-all. With our experience in the home services industry, you can count on us to design a website optimized for your window and door company's needs.
Elevate your online presence with web design for window and door companies
Are you ready to wow your customers with a stunning website? Partner with an agency that's launched 1600+ websites and worked with 154 industries.
Our 500+ experts have 1.6 million hours of experience. The websites we've designed have driven 23% better traffic for our clients, and we're ready to do the same for your company.
Call us at 888-601-5359 or request a free proposal today to learn how we'll design a conversion-friendly website for your window and door company!
Earn a 20% greater ROI with WebFX