If you want to grow your window and door company, you need to generate more leads. But how do you promote your business online and get your products seen by the people looking to buy?
Any lead generation strategy should focus on generating quality leads likely to convert. As a window and door contractor, you need to reach people who own homes and might need to make updates now or in the future.
If you have thousands of site visitors, but none of those people have the decision-making power to purchase new door or window installations, your chances of making a sale are slim.
Fortunately, you can drive more high-quality leads to your business with a strategic approach known as lead generation. Keep reading for ten strategies for lead generation for window and door companies you can use right away!
Or, if you'd like to partner with a full-service digital marketing agency that knows how to run holistic digital marketing campaigns for window and door companies, check out our lead generation services! We'll drive more qualified leads to your business so you can do what you do best: install beautiful windows and doors.
37% of marketers say that generating high-quality leads was one of their biggest challenges.
We want to decrease that percentage.
WebFX can help you generate high-quality leads with a customized marketing strategy.
Learn More About Lead Generation Services
10 strategies for lead generation for window and door companies
With more shoppers conducting research and looking for companies online, digital marketing helps you generate more window and door leads. But which tactics work best for acquiring new prospects? Check out these top lead generation strategies for window and door contractors:
1. Set up your website
Your website is your virtual hub for communicating with your audience and converting them into customers. All other online lead generation channels for window and door companies point people back to your website, so ensure it's well-designed and optimized for conversions.
How can window and door companies like yours optimize their site for conversions? With compelling calls-to-action (CTAs).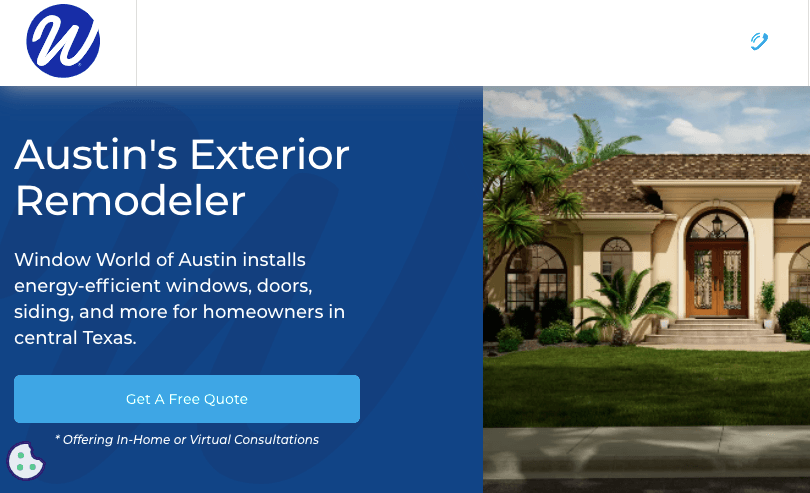 As you incorporate CTAs into your website content, follow these best practices:
Clearly describe the action you want visitors to take
Design your CTA to stand out
Keep your CTA relevant to the page
Make it easy for visitors to complete the desired action
2. Optimize your site for search engines
Now you have your site, but how will it generate window and door leads for your business? With search engine optimization (SEO)!
With SEO, you engage in tactics to help your site appear higher in the search results for relevant keywords. For example, potential customers might search for "new front door installation," so you could create and optimize content targeting that keyword.
For SEO to generate qualified leads, you need to conduct thorough keyword research. You want to target keywords your target audience uses when they want to learn more about topics related to your business.
When you target your SEO strategy for window and door companies effectively, more people will find your website when looking for installation professionals like you.
3. Run pay-per-click (PPC) ads
With PPC ads, you advertise your site and pay for it to appear in the search results for target keywords. Google will often show PPC ads at the top of the results, so this strategy helps you achieve prime search engine real-estate.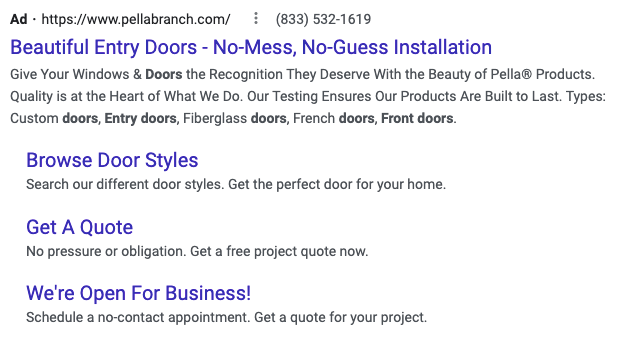 While it takes time to see the true effects of your campaign, you could start to generate window and door leads with your PPC ads within a few days or weeks.
Additionally, paid search campaigns have robust targeting capabilities. Keyword research allows you to target searchers looking for information related to your business. Want to reach people looking for window replacement services in a particular area? PPC ad targeting will help!
4. Run Local Services Ads
Another type of advertising strategy you can use to generate more window and door leads is Google Local Services ads. Like paid search ads, Local Services ads appear at the top of the search results.

However, these ads are only available for service companies, and you pay according to the leads your ad generates.
The ad format allows you to include the most critical information prospects need to know, such as:
Business name
Average rating
Location
Hours
Phone number
When someone clicks on the ad, they'll be taken to a landing page with more information and the ability to contact you.
5. Set up your Google Business Profile
As a window and door contractor, you'll receive the most qualified leads from the local area. When these searchers use Google, they receive search results that showcase companies' Google Business Profiles.
Your Google Business Profile acts as a one-stop spot for you to tell potential leads where you're located, how to contact you, and the services you provide.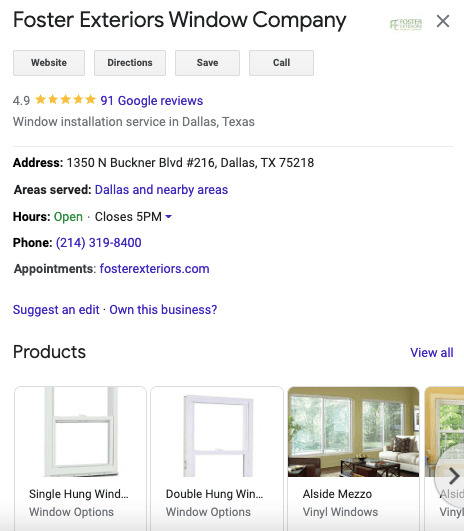 Because of Google Business Profiles' prominence in local search results, this space is one of the best lead generation channels for window and door companies.
6. Establish your sales funnel
Your potential customers go through three stages before purchasing your services:
Awareness
Consideration
Decision
These steps make up the sales funnel for most companies. If you want to generate more qualified leads, find ways to reach customers at every stage.
For the awareness stage, you could create content that describes reasons someone might need to replace their front door. To follow up with this information, you might discuss the types or styles of front doors they should consider.
To help them choose a service provider, you can discuss why you're the best window and door contractor for them.
When you create content for each sales funnel stage, you open yourself up to homeowners looking to buy and those who might buy in the future. You also build your authority and foster relationships with your audience.
When your readers see your expertise demonstrated on your website, they're more likely to become qualified leads for your company.
7. Engage in social media
Five billion people and 91% of companies actively use social media. If you want to get your window and door company in front of more potential customers, consider adding social media marketing to your strategy.
With organic social media posts and paid ads, your business appears as users scroll through their feeds. You can also target your content to reach the audience most relevant to your business.
Social media marketing works well to build relationships with your audience and increase brand awareness. When used alongside other channels — like pointing your followers to your website — social media can contribute to effective lead generation for window and door companies.
8. Conduct word-of-mouth marketing
While most lead generation strategies for window and door companies rely on your reach, word-of-mouth marketing empowers you to generate leads from your existing customers' spheres of influence.
With the right approach, you can leverage word-of-mouth recommendations to reach leads that you couldn't have otherwise.
Consider these word-of-mouth strategies for window and door companies:
9. Create form submissions
As you engage in lead generation strategies to get your company in front of more potential customers, you need a way for them to contact you. Create a website form that encourages potential leads to reach out for more information.
While you can design a conversion-driving contact form in many styles, keep these best practices in mind to make it easy for customers to use:
Request necessary contact info, such as emails
Leave an open-ended field for their inquiry
Indicate required fields
Make your submission error messages detailed. (Ex. Instead of leaving a vague, "fill out all required fields" message, tell the user which field they forgot to fill out.)
Make the submission button text descriptive
When you get new form submissions, ensure you respond quickly to these inquiries. After all, if these people contacted you, there's a strong chance they could become high-quality leads for your business.
10. Nurture your leads
Once you've generated more leads for your window and door company, nurture your leads down the sales funnel.
Most people who first find your business online might not be ready to buy. Use data-driven technology to understand the typical paths your leads take to conversion. For example, do homeowners tend to sign up for an email list before contacting you for more information?
You can also use marketing technology (martech) to create profiles of individual customers and tailor your content accordingly.
You'll want to create various types of content that answer your leads' questions at every stage of the purchase funnel. If they've visited your site and filled out a contact form or otherwise engaged with you, they're likely aware of their problem. They know they need new windows and doors!
However, they might need more information about the best window or door solution for them. Provide this content and follow it up with information about why they should choose you for their new installation. Consider these lead nurturing tactics for your window and door business:
With a robust lead nurturing strategy, you'll see more homeowners converting and trusting you for their window and door installations.
Meet WebFX:
Your world-class, tech-enabled marketing agency with over 1.6 million hours of combined expertise.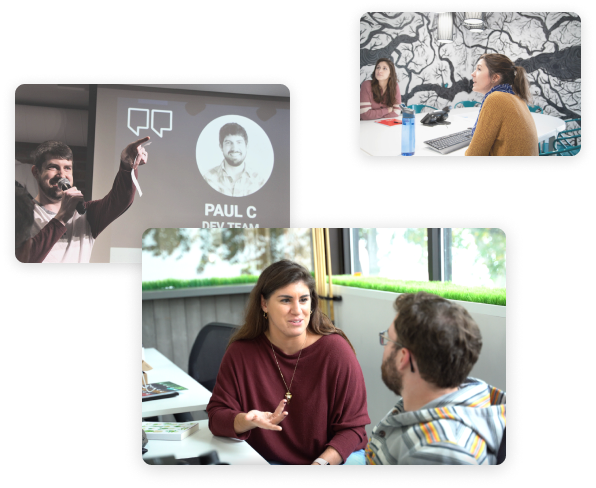 Generate more leads for your window and door company with WebFX
WebFX is a full-service digital marketing agency that uses data-driven solutions to generate more leads for contractors like you. When you partner with us for lead generation, you'll receive access to our team of 500+ digital marketing experts who have 1.6 million hours of experience.
Lead generation for window and door companies requires a holistic strategy tailored to your company. At WebFX, we're experts in:
Our comprehensive digital marketing strategies have generated 7.8 million qualified leads for our clients. Ready to generate more leads and grow your business? Call us at 888-601-5359 or contact us online today!
Earn a 20% greater ROI with WebFX