Your storage company's ultimate goal is to drive revenue by obtaining customers. But you can't just pull fresh customers out of thin air — you must go through a process to nurture people toward conversion. More specifically, you need to generate leads.
That's the purpose of lead generation for storage facilities. When you turn people into leads — that is, users who have a vested interest in your company — you can market to them to push them toward becoming customers.
So, how should you approach your storage facility lead generation? There are many ways to create leads, and we'll cover some of the best approaches below. Read on for more information about storage company lead generation.
Then partner with WebFX — the agency with over 1020 client testimonials — for our lead generation services. Just call 888-601-5359 or contact us online today to get started!
Learn how we increased traffic by over 40%, and conversions by over 100% for an ecommerce client.
Read the Case Study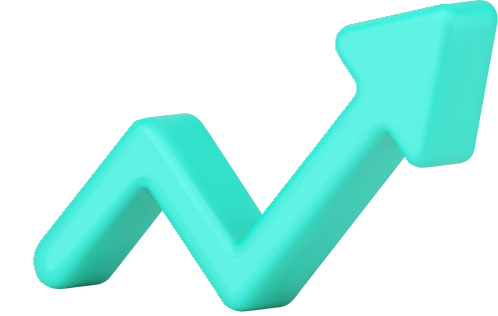 7 storage company lead generation tactics
The best way to do storage facility lead generation is to apply several different marketing strategies.
Here are seven storage company lead generation tactics to try!
1. Start a business blog
One of the best ways to attract interest in your company is to publish written content on your website — and few types of written content are more engaging than blog posts. You can put up new blog posts weekly, a few times a week, or even daily.
Your blog should focus on informing users about your business and industry. For example, you could write a list of tips on how to manage your storage space or share the difference between climate-controlled and non-climate-controlled storage facilities.
As users visit your site to read your content, many of them will end up taking an active interest in your facility and becoming leads.
2. Optimize your website's SEO
Search engine optimization (SEO) is a marketing strategy that involves getting your web content to rank in relevant Google search results. The idea is that when people find your content in their searches, they'll visit your site to learn more and eventually become leads.
Some of the best ways to optimize your website's SEO include:
When you implement each of these tactics on your site, you will rank higher in Google. With the right strategy, you could even get your site on page one of search results, bringing in vast amounts of lead-generating traffic.
3. Create a Google Business Profile
Not all SEO tactics are limited to your website. There are also some off-site SEO methods you can try, including creating a Google Business Profile.
A Google Business Profile lets you set up an account for your storage facility that displays information such as your:
Business name

Location

Phone number

Reviews

And more!
Having a Google Business Profile is so beneficial because when people search for storage facilities in their area, Google will likely include a local 3-pack in search results. The 3-pack will show three relevant Google Business Profiles.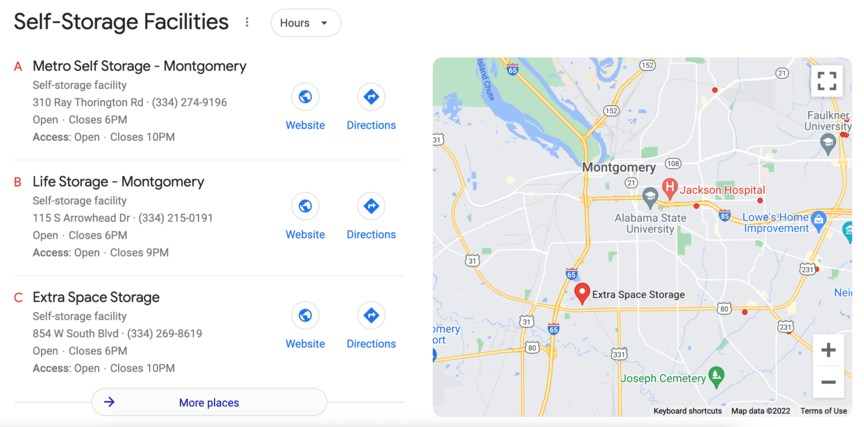 By optimizing your profile — which you can do by including as much business information as possible and attaining positive reviews — you could end up featuring in those local 3-packs, drawing users to your site!
4. Run a paid advertising campaign
Not all your Google marketing has to be organic. You can also run pay-per-click (PPC) ads in Google, which will appear at the very top of search results. Google Ads is your tool for running these ad campaigns.
In Google Ads, you can bid on the keywords you want to target. With an optimal bid and a high enough Ad Rank, your ads will start appearing in search results. When users click your ads, they'll be taken to landing pages that encourage them to convert.
Not everyone will convert right off the bat, but many of them will still develop an interest in your business based on the ads they see. That makes PPC a fantastic lead generation strategy for your storage company.
5. Market yourself on social media
You might already use social media in your personal life, but have you considered using it to market your business? Social media can be a valuable storage facility lead generation tool, helping you reach a wide audience online.
When you set up a social media account on the platform(s) of your choice, start posting engaging content that encourages people to interact with your company. Some types of posts you might make include:
Links to your blog

Contests

or special offers

And more!
When you develop a following on social media, many of the people who engage with you there will end up visiting your website and becoming leads.
6. Invest in social media advertising
There's more than one way to generate storage leads on social media. In addition to posting organic content, you can run paid social media ads. These ads appear right in users' feeds, allowing you to reach the people who may not find you organically.
One of the most helpful features of paid social media advertising is that it lets you target very specific groups of people. You can set up your ads to target demographics like:
Age

Gender

Occupation

Location

And more!
That means you can target the exact demographics of your ideal audience. Since you're reaching a relevant group, you'll earn more qualified leads for your storage company.
7. Build out an email list
One of the most useful types of lead generation is to build out an email list. You can do this on your website by placing calls to action (CTAs) on your pages. You might include CTAs between paragraphs of a blog post, at the bottom of a service page, or in a pop-up on your homepage.
Wherever you put your CTAs, make sure they encourage users to sign up for your emails. When someone submits their email address, it will be added to your email list. And as that list grows, so will your number of leads.
All the people on your email list signed up voluntarily, meaning all of them want to hear from your business. The best part is that then you can send out emails to those users to nurture them toward converting!
Our digital marketing campaigns impact the metrics that improve your bottom line.
See More Results

WebFX has driven the following results for clients:

$3 billion
In client revenue

7.8 million
Leads for our clients

5.2 million
Client phone calls
Hear What It's Like to Work With WebFX!

"WebFX did amazing work creating a new website for us on a tight schedule. They have taken the time to learn about our business and give us ideas of how to make our digital marketing better. We still have work to do with WebFX but overall very pleased."
Professional Service
WebFX knows lead generation for storage facilities
Looking for help with your lead generation? Don't worry — WebFX is here to help! We have over 25 years of marketing experience, so we know lead generation for storage facilities.
When you partner with us for our lead generation services, you'll get help generating leads for your storage business via all the methods listed above. You'll even receive a dedicated account representative to keep you in the loop about everything we do.
To get started with us, just call 888-601-5359 or contact us online today!
Earn a 20% greater ROI with WebFX