The web landscape is competitive. There are, after all, over 1.7 billion websites competing for web traffic for a number of different topics. With that number of websites competing for web traffic, how do you improve website traffic for your site?
Well, you're in the right place. There are so many ways to drive more people to your website, but in this post, I'm going to tell you some easy tips for getting traffic to your site (mostly) for free. For a complete list of tips to help you improve website traffic for free, you can check out our marketing guide!
Our digital marketing campaigns impact the metrics that improve your bottom line.
See More Results

WebFX has driven the following results for clients:

$3 billion
In client revenue

7.8 million
Leads for our clients

5.2 million
Client phone calls
Increase website traffic with the following tips
When you first created your website, you did so with the intent of driving a specific audience or audiences to your site.
Regardless of whether you're selling a product, offering a service, or creating useful content, the first step is learning how to get traffic to your website. Read on for 3 top tips on how to drive traffic to your website.
1. Optimize your website's content to get found in search results
Search engine optimization (SEO) is so important, and a great first step to improving your website's traffic. Take some time to make sure your website is optimized properly. There are some minimal effort actions you can take to start optimizing your website.
Keyword Research
When people search for a specific topic on Google, they use keywords.
For your website, you'll want to make sure your content includes those keywords wherever possible, so it appears in the search results. The goal is for your website to appear on the first page of search results. While you want to use relevant keywords in your content, you should use them where they fit best.
The goal is to find a balance between adding keywords while avoiding the dreaded keyword stuffing. Stuffing keywords everywhere in your content will not help your website. Not only can Google recognize keyword stuffing, but it also makes your content hard to read for your audience.
There are several free tools to help with your keyword research for your website, including:
You can read this helpful guide to learn more about keyword research!
Title Tag
Each page on your website should have a unique title tag. You can think of the title tag as a headline that should grab someone's attention. If possible, your title tag should also include your target keyword.
In the image below, I searched for the keyword "best restaurants in PA" on Google.

This was the first result to pop up. Notice the use of the keyword in the title tag?
Local SEO
While the Internet lets anyone from around the world have access to your site, you should also think about optimizing your content for your region.
Consider the purpose of your website and how often leads or customers are located nearby. If the answer is frequently, optimizing your content for your region will help you rank more often for searches like, "best restaurants in Harrisburg". If you run a business with a brick-and-mortar location (or multiple locations), it's critical that you register your business with Google Business Profile. All you have to do is:
Provide information about your business
Verify your account
Adding photos can also help your listing rank higher in relevant searches in your area.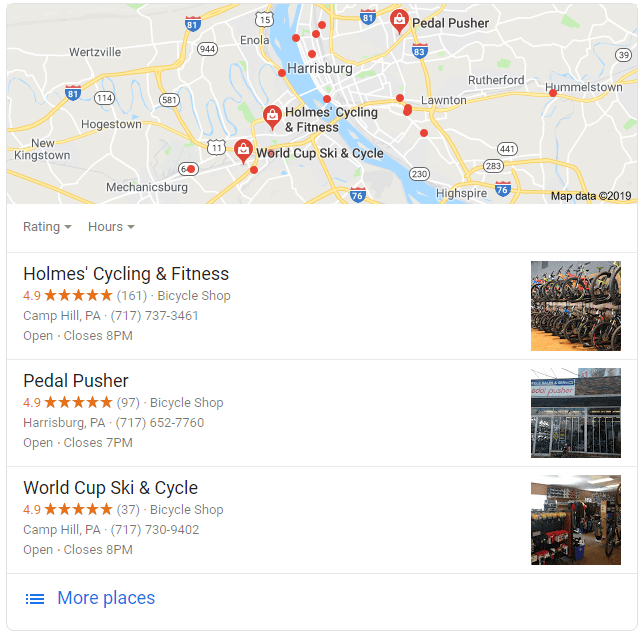 Above are examples of Google My Business listings.
Don't forget to keep your profile and your website updated with any changes you make to your business.
Looking for an all-in-one SEO audit tool? You've found it.
SEO Checker provides data on key metrics to give you:
Complete SEO score

Content Grade

Site Speed Analysis

and more.
2. Create awesome content for your website with a blog
Before you can get people to visit your site, you need to have content that makes them want to go to your website. You can use the content on your website to answer common questions, highlight new products or services you offer, give updates on industry news, and more. It all depends on what you want to accomplish.
A great way to keep creating and updating your content is to start a blog. Many companies use their blogs to promote their products, give company updates, and provide answers to common questions people have for their business or their industry.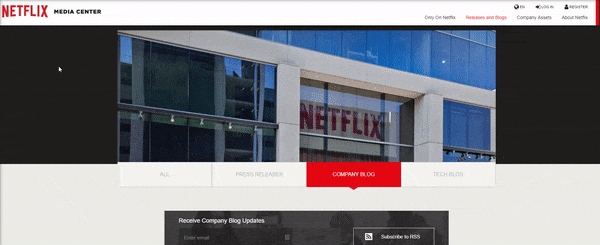 In the image above, Netflix blogs about company, industry, and technology updates.
(Super cool, right?!) The great thing about a blog is that you don't have to stick with text posts. You can enrich your posts by including images and videos. Images and videos break up long blocks of text, provide context, and make a post more appealing.
Canva is an excellent tool for creating graphics for your blog posts, social media posts, and more. Pexels and Pixabay also offer great stock images you can use. Just make sure that any images you choose, your business has permission to use.
Blogs are also a great way to build backlinks to your site. If you're creating unique, engaging, and relevant content, people might link to your content in their content, giving you backlinks. Backlinks are great because they tell Google that your site has great content people want to read.
Not to mention, they're a big factor that will help improve website traffic.
3. Promote your content to increase traffic to your website
You can have the best content ever created on your website, but that alone won't generate a ton of traffic.
Utilize social media to reach out to followers
Does your business use Facebook, Instagram, Twitter, or another social media site? These are great places to share what you have on your website. Whether you wrote an in-depth article, have a new product page on your site, or a thrilling event video, you should be sharing links to your website to your followers consistently.
Below is an example of a tweet from Patagonia linking to a post on their blog.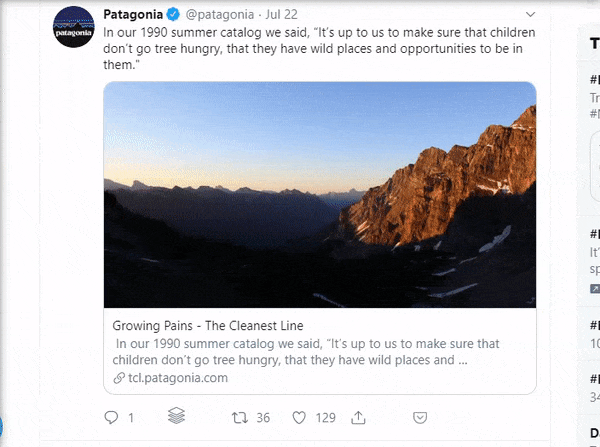 Reach out to bloggers and industry professionals for relevant backlinks
When you create new content for your site, backlinks might not come to you. You should take some time to research bloggers and industry leaders in your field, and then reach out to them to see if they'll link to your content on their website.
Advertise
Paid search, display advertising and social media advertising are all great ways to increase traffic to your site and build brand awareness.
Consider your goals when you begin advertising, so you can judge the return on investment of your efforts. For example, is your goal to get more conversions or increase traffic to your site? Read our digital advertising handbook for more information about how you can leverage digital advertising!
Go offline to promote your website
Promotion doesn't just stop with the web.
You can also promote your website and your brand in person. Although these methods might not be completely free, they are very cost-effective and can be done using supplies your business already owns. Tell your customers about your website and your awesome content.
Get them as excited as you are about what you've created! Do you have a storefront? Have flyers, stickers, or signage that promotes your website.
A simple chalkboard or whiteboard telling people to go to your website can help get the word out. Do you have business cards? Make sure you have a link to your website on them.
Now that you know how to improve your website's traffic, it's time to get started
Keep in mind that although these methods are fairly easy, they will take time.
The more time and effort you put into optimizing your website, creating content, and promoting your site, the better the results will be. If you want some additional help ensuring that your website is ready to rank, try some website optimization tools! We're here to help if you want to partner with industry experts to help improve traffic to your website or even your website's design. If you feel like your website is repelling customers, rest assured — our team has over 25 years of experience driving results to our client's websites.
Will yours be next? Contact us online or call us at 888-601-5359 to get started!