How to Do an SEO Test: Ultimate Guide for 2023
When it comes to search engine optimization (SEO), testing is essential. If regular SEO testing and reporting aren't part of your SEO strategy, you won't know if your efforts are working, and you'll likely miss opportunities to improve your campaign.
To succeed in SEO, you need to test your SEO performance regularly and monitor your rankings continuously.
If the SEO test process seems overwhelming, don't worry. Various tools can automate much of the process, and professional SEO agencies like WebFX can help you get the most out of your tests.
Keep reading to learn more about how to conduct a Google SEO test.
What is an SEO test?
An SEO test is an evaluation of how well a page is optimized for search engines. These tests, often performed with the help of software tools, evaluate various elements of a page to determine what areas are well-optimized and what requires improvement.
The results of an SEO test help you refine your SEO strategy.
Why conduct an SEO assessment test?
An SEO assessment test uncovers strengths and weaknesses in your SEO strategy. Without one, your SEO campaign won't be as effective as possible, and you could be missing out on valuable site traffic and qualified leads.
Why conduct an SEO test at the beginning of your campaign?
It can be especially beneficial to conduct an SEO test before you implement an SEO campaign to provide a baseline for where you started. For the same reason, you should check your SEO beforehand (if you're not sure how to get started here, check out our How to Check Your SEO guide!)
You can expect a sub-par SEO grade when you run the test on a site that isn't optimized, but over time, you'll be able to compare your improving SEO results to the ones that you started with — showing how your SEO campaign is working.
Why conduct SEO tests regularly?
It's equally as important to run SEO tests on your website periodically to ensure that your SEO campaign is working properly.
Doing so gives you insight into how well your methods are working and what areas still require improvement.
How can I check my SEO performance?
So, how do you conduct an SEO performance test?
If you're planning on doing your test manually, you'll need to determine which elements to check and then evaluate them one by one. Some of the elements you may want to include in your SEO report are:
Page speed
URL optimization
Meta tags
Content
Image optimization
Code
Backlinks
Domain
Mobile-friendliness
Social media widgets
In a later section, we'll go through each of these elements in detail.
If you want a faster way to test your SEO, try our free SEO checker tool.
To use the tool, simply enter your website URL, name, and email address. We'll then test your page and email you a report with your results.
How to read your SEO report
Once our SEO analyzer finishes checking your page, we'll send you a report on your results.
The report opens with a summary of your page and an overall SEO score from 0 to 100 percent. You'll also get an overview of the positive signals and issues the SEO test found.

Following the results, you'll find a list of recommendations for improving your page.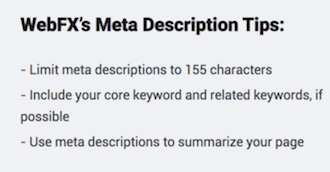 Our free SEO checker tests one page at a time. If you want to test multiple pages, create a spreadsheet and note the results of each report. Organizing your results in a spreadsheet can help you spot overall trends and refine your SEO strategy.
Elements to check in a Google SEO test
Google considers more than 200 factors when determining how to rank search results, so there are quite a few things you could evaluate.
It's helpful to start with just a few of the most important factors, though. Our SEO Checker evaluates ten main areas, and we believe these factors are an ideal place to start, whether you're using a tool or conducting your test manually.
Let's take a look at each of these ten elements.
1. Page speed
Did you know that 83% of users expect pages to load in three seconds or less? Page speed is essential for user experience, and Google considers it when ranking search results.
So, how can you test whether your page is up to speed? Our SEO Checker tests page speed, but you could also use Google's PageSpeed Insights tool.
Both SEO speed test tools will provide you with recommendations for improving your page speed. These recommendations might include compressing your files, minifying your code, and upgrading your server.
Here's an example of the recommendations provided by Google's PageSpeed Insights tool:

If you're not sure how to make the changes recommended by your SEO speed test tool, professional page speed optimization services can help.
2. URL optimization
Both search engines and users use URLs to determine what a page is about, so your Google SEO test should include making sure your URL is SEO-friendly.
What is an SEO-friendly URL? Check for the following characteristics:
A clear description of the page's contents: Your URL should provide a brief description of what your page is about. Avoid default URLs that are a combination of random letters, numbers, and symbols.
Your core keyword: Include the main keyword you're targeting with your page. This will help your page rank for that keyword.
Hyphens: Use hyphens to separate the words in your URL. Hyphens make the URL easier to read, and search engines won't misread them.
The right length: Keep your URL relatively short. Try not to go over about five words.
The right characters: Avoid using characters like apostrophes, commas, periods, hashtags, and underscores, as some platforms may misinterpret them.
3. Meta tags
SEO meta tags are HTML tags that provide information about your page to search engines via web crawlers. While these tags don't show up on your page, they do show up in search results, and they help users understand what your page is about.
Two of the most important meta tags to check are your title tag and meta description tag.
Your title tag tells Google what your page is about, and it appears on search engine results pages (SERPs) and at the tops of browser tabs. Your title tag will likely be similar to your main heading, but it could differ slightly.
The title tag is highlighted in the screenshot below:

Check out the following tips for creating SEO-friendly title tags:
Make sure your title is less than 60 characters long since most search engines cut the title off around this point when displaying them in SERPs.
You should also include your main keywords in your title tag, preferably toward the beginning of the tile.
Each title should be unique and should accurately describe the topic of the page.
Meta descriptions, which describe your page's content in several sentences, are another important type of meta tag. These tags appear on SERPs and can help entice users to click through to your page.
Here's an example of a meta description in a Google SERP:

The tips for creating an SEO-friendly meta description are similar to those for title tags:
Your meta description should be less than 160 characters long so that search engines don't cut them off.
Include your primary keyword in your meta description.
Make each meta description unique. Your descriptions should accurately describe the contents of the page and encourage readers to click through.
4. Content
To succeed in SEO, you need to create unique, high-quality content that is valuable to users and optimized for search engines. Google SEO tests should always include evaluating your page's content.
Some of the content elements we check for include:
Keyword use: You should include your main keyword in your copy without overusing it or making your copy sound unnatural. The ideal number of keyword uses depends on the page, but three to four appearances is a good goal.
Keyword placement: Ideally, you want to use your keyword in the first 100 words of your copy, in your headings, and throughout your copy.
5. Image optimization
Adding images to your pages can make them more aesthetically appealing and scannable and help users understand your message. They also help with SEO if optimized correctly.
As part of your SEO check, make sure your images:
Have optimized filenames: Your filenames should briefly and accurately describe the image. Separate words with hyphens and use keywords if they're relevant to the image.
Have optimized alt tags: Alt tags are important for accessibility and help search engines understand your images. In your alt tags, briefly describe your image and include keywords if applicable.
6. Technical SEO
The backend of your site also plays a vital role in your SEO. That's why you need to include a technical SEO check in your SEO test.
Some technical elements to check include:
Your robots.txt file: A robots.txt file tells search engines which pages to crawl and which to ignore. As part of your SEO check, make sure you aren't accidentally blocking search engines from crawling important pages with your robots.txt file.
Your XML sitemap: An XML sitemap is a map of your site that search engines use to find your pages so they can index them. Ensure that you have an XML sitemap that includes all of your important pages.
Your site's security: Your website should use HTTPS, which makes it more secure by encrypting data submitted by users. Get started by purchasing a Secure Sockets Layer (SSL) certificate. If your website has one, you'll see a symbol like the following in the address bar on your site.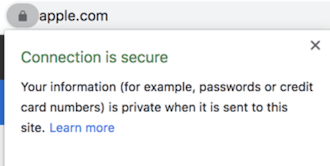 7. Backlinks
The quantity and quality of domains linking to your site substantially influence your rankings. Your Google SEO test should involve checking how many backlinks your page has and which sites link to it.
There are numerous tools you can use to check your backlinks. In addition to our SEO Checker tool, you can use Google Search Console, Ahrefs, Moz Link Explorer, SEMrush, and BuzzSumo.
The best way to earn more links is to produce high-quality content that other websites want to link to. Avoid spammy techniques like buying links, as these tactics can hurt your rankings.
8. Domain
You should also check your website's domain as part of your SEO assessment test. Your domain is the name of your website and takes you to your site when you type it into the address bar.
Apple.com, Amazon.com, and nytimes.com are examples of domain names.
Various characteristics of your domain can impact your SEO, including:
The length of your domain name
The accessibility of your site
Your favicon, the icon representing your website that appears in browser tabs
How should you choose a domain name? The best domain names are short, simple, and easy to remember. They should also represent your brand. Avoid special characters and hard-to-spell words and don't use hyphens if your domain name has multiple words — keep the words unseparated.
Think about your audience when choosing your domain name. What would they think your domain name should be? What will be easiest for them to remember and type into the address bar?
Often, the best domain name is simply the name of your business, maybe with the addition of the city in which you're located, such as target.com or gigipizzaphilly.com.
9. Mobile-friendliness
More than half of all web traffic now comes from mobile devices, and your site's mobile-friendliness can have a significant impact on its rankings.
You can check whether your site is mobile-friendly using our SEO Checker tool or Google's mobile-friendly test tool. Below is an example of a results page for Google's tool.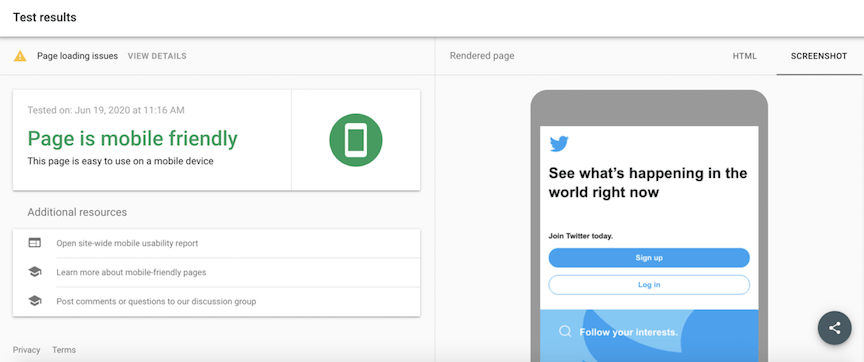 To make your site more mobile-friendly, use responsive design. When you employ responsive design, your site pages adjust to any device that someone uses to view your website. That means that users can experience your site seamlessly on any sized device.
Using Accelerated Mobile Pages (AMP) can also help make your page faster on mobile. These pages use stripped-down HTML and JavaScript, allowing them to load faster.
You should also check your page's tap targets — the buttons on your page users can tap with their fingers on a mobile device. Make sure these buttons are large enough and far enough apart for users to press them easily.
10. Social media
Including social media widgets on your page can encourage users to share your content —increasing its visibility. Links from social media may also improve your SEO.
As part of your SEO test, make your page has the appropriate social media widgets and that they all work correctly.
Here's how Billboard.com uses social media widgets on their posts:

How often should I check my SEO performance?
Periodically performing an SEO assessment test can help ensure your SEO strategy is on track. You may want to test your SEO once per quarter, although you can perform tests slightly less often or more often, depending on your preferences.
In addition to periodic tests, you should monitor your SEO continuously. A professional SEO agency can track your SEO performance for you, and the tools listed in this section can help as well.
Going more in-depth with SEO audits
In addition to an SEO test using a tool or a quick manual check, you may want to conduct a full SEO audit. An SEO audit can provide you with more detailed information about your SEO performance and strategy.
As with an SEO test, you'll receive information about what's working and recommendations for improvement.
At WebFX, we conduct our SEO audits over 30-45 days, depending on the plan you choose. During this time, we'll thoroughly analyze your website and provide recommendations on how to improve your SEO.
At the end of the audit, you'll receive a detailed report explaining what we found and how you can improve your SEO.
SEO audits are helpful if you want more detail about your SEO performance to guide your SEO strategy. You may want to conduct an SEO audit before you launch a new campaign and perform them every quarter.
If you sign up for SEO services with a digital marketing agency, your SEO package may include an SEO audit, monitoring, and reporting.
At WebFX, we offer an SEO audit, continuous SEO monitoring and regular reporting as part of our SEO services. Contact us to learn more!
The difference between SEO tests, SEO audits, and SEO monitoring
SEO tests, SEO audits, and SEO monitoring are similar concepts, but they differ in several important ways. Let's take a quick look at these differences:
An SEO test is a quick check of a website's or page's SEO. It covers basic information and provides results very quickly.
An SEO audit is an in-depth assessment of your SEO. An SEO audit takes longer to perform and provides you with more detailed, comprehensive information.
SEO monitoring is the ongoing process of tracking your SEO performance. Rather than a one-time check or assessment, it involves collecting basic performance data over time using SEO tools.
So, an SEO audit is more in-depth than an SEO check and takes longer to perform. SEO monitoring involves collecting only basic performance data and takes place continuously over time.
How to monitor your SEO performance
Monitoring your SEO performance, including your rankings for relevant keywords, is another way to make sure your SEO strategy works properly. It can be helpful to check your SEO using the following tools in between running SEO tests or performing audits.
Here are some of the top SEO ranking checker tools:
1. Google Search Console
Google Search Console (GSC) is a free tool from Google that allows you to check how your site ranks for your target keywords and provides lots of other information like:
GSC is one of the fundamental SEO monitoring tools — it's one every business should use.
2. Ahrefs
Ahrefs is a powerful SEO monitoring tool, and while it's not free, it offers many valuable features.
With Ahrefs, you can:
See which keywords each of your pages rank for
Find new keyword opportunities with the "Content Gap" feature
Check your backlinks
This tool is also useful for keeping track of your competitors' SEO performance, which can help you plan your SEO strategy.
3. SEMrush
SEMrush, another paid SEO ranking checker tool, allows you to find information about your:
Top keywords
Average position in search results
Top competitors in search results
Backlinks
Organic search traffic
It also allows you to monitor other channels like social media and paid advertising.
4. AuthorityLabs
Another SEO ranking checker option is AuthorityLabs, a paid tool that lets you track your rankings for specific keywords.
In AuthorityLabs, you can see:
An overview of your keyword rankings
Rankings for specific keywords
Rankings in different search engines.
You can also analyze either your entire website or individual pages.
5. AnalyticsFX
AnalyticsFX is our proprietary SEO tracking tool at WebFX.
It lets you track various aspects of your SEO performance, including:
Your keyword rankings
Usage of search engine features
Changes in your search visibility
It also provides AI-generated recommendations for improving your SEO.
This tool is part of our MarketingCloudFX platform, which tracks digital marketing metrics across various channels and uses artificial intelligence to analyze your data and provide strategic recommendations. Contact us to learn more about MarketingCloudFX and our digital marketing automation services.
Improving your SEO performance
Conducting an SEO test or audit is the first step in improving your SEO. A Google SEO test tells you what's working well and what areas you could improve.
To start improving your SEO, you need to create a plan based on the recommendations provided in your SEO tests and assessments.
Following the steps below can help you improve your SEO performance following an SEO assessment test:
Analyze your test results
First, take a close look at your test results. Identify which recommendations will make the most significant impact and make those changes a priority. If you analyzed multiple pages, see if you can pick out patterns and pinpoint areas where you need to make more widescale changes.
If you used our SEO checker, you'll get recommendations on how to fix each issue the test identifies. Your report will also tell you which items have the biggest impact on your SEO.
Create or adjust your SEO strategy
Next, you'll need to create or update your SEO strategy based on your test results.
If you already have an SEO strategy, adjust it based on the findings of your SEO test. Your analysis may have uncovered some areas you missed when creating your original SEO plan, or you might discover that your keywords weren't attracting quite the right audience, for instance.
If you don't have an SEO strategy, you'll need to create one. Working with a professional SEO company will help with this. Conducting an SEO audit is an excellent first step for creating an SEO strategy. The next steps include:
Identify your target audience: Determine who you want to reach with your SEO efforts — your ideal website visitors and customers. Research how your target audience searches online.
Conduct keyword research: Identifying the keywords you want to target is an essential part of creating an SEO strategy. Brainstorm some keyword ideas that your target audience might search to find your website. Then, use keyword tools like KeywordsFX, Keywords Everywhere, and Ahrefs to discover related keywords and get more information about your keywords, such as how competitive they are.
Analyze your competitors: Analyze the search results for your target keywords to see which sites and types of content are ranking well and what kinds of SEO strategies they use. Researching your competition can give you insight about the types of content and strategies that work best.
Create your plan: Next, set SMART goals and create a plan for reaching them. Outline the changes you want to make and the content you want to create. Keep in mind that it typically takes a few months to see results from SEO.
Set up monitoring: An essential part of creating an SEO strategy is planning how you'll track and measure your results. Set up the appropriate tools, such as Google Search Console, Google Analytics, or Ahrefs, or work with a company that can monitor your SEO.
3. Implement your strategy
Next, implement your strategy — including your plans for improving, monitoring, and measuring your SEO. Follow your plan closely so that you can accurately track and measure the results of your efforts.
4. Adjust your strategy as needed
As you continue to implement and monitor your SEO efforts, you may uncover aspects that aren't working as well as expected. You may find these SEO issues through monitoring or additional SEO tests or audits.
Continuously refining your plan is to be expected when doing SEO. You'll need to regularly update your strategy to keep up with changes in audience behavior and search engine algorithms, as well as new insights you uncover.
Independent research from Clutch has named WebFX the
top SEO company

in the United States.

Clutch has personally interviewed more than 250 WebFX clients to discuss their experience partnering with us.

Read More Clutch Reviews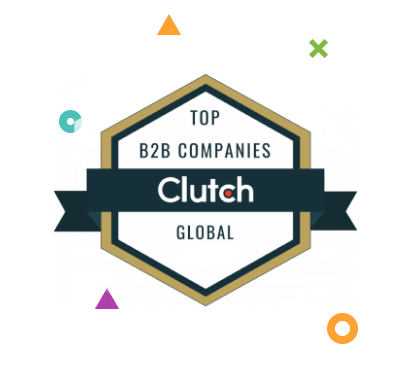 How WebFX can help assess, analyze, and improve your SEO
Conducting an in-depth SEO audit and creating and implementing an SEO strategy takes quite a bit of time and expertise. That's why it's helpful to work with a professional SEO company like WebFX.
We have a team of 500+ digital marketing experts who are dedicated to getting results for our clients. In fact, our work has generated more than 7,839,684 leads and $3,021,182,299 in revenue for our clients over the last five years.
We can conduct an SEO audit of your website, create a custom SEO strategy based on your needs and goals, implement that strategy, and provide regular reporting on our results.
We recommend conducting a preliminary SEO test using our SEO Checker tool. Then, if you need help implementing the recommended changes, creating an SEO strategy, or performing a more in-depth SEO audit, contact us to talk to one of our digital marketing experts. You can reach us online or at 888-601-5359.
How Is Your Website's SEO?
Use our free tool to get your score calculated in under 60 seconds.