Like all service providers, plumbers need customer relationship management (CRM) software to improve their performance. You'll want to find the best CRM for plumbers to help you manage your plumbing business, from invoicing to customer service, scheduling, and more.
Below are eight of the most popular CRMs for plumbers. For more marketing tips, subscribe to our newsletter, Revenue Weekly!
Don't miss our Marketing Manager Insider emails!
Join 200,000 smart marketers and get the month's hottest marketing news and insights delivered straight to your inbox!
Enter your email below:
Inline Subscription Form – CTA 72
"*" indicates required fields
(Don't worry, we'll never share your information!)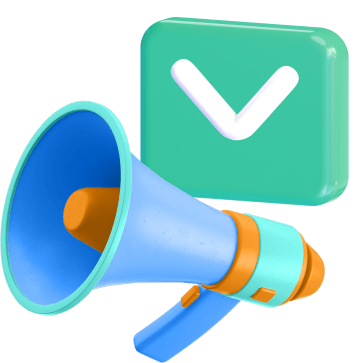 The best CRM for plumbers: 8 top platforms for 2023
Check out our list of the eight best CRMs for plumbers below:
1. Nutshell

Cost: Starting at $16 per user per month
First on our list of the best plumber CRM software is Nutshell. Nutshell is a user-friendly CRM designed to help small to medium-sized businesses (SMBs) thrive.
With Nutshell, you can:
Store all the contact details of your leads and clients in a single dashboard
Send automatic, personalized emails
Automatically collect lead information from your website forms
Understand how clients discover your company
And more
2. Commusoft

Cost: Contact a representative for pricing.
Known as an easy-to-use CRM, Commusoft displays all your customer data in one place. You can store information about your clients and their interactions with your business and track their satisfaction with your services.
Stay on top of your schedule and ensure multiple clients don't go for the same time slot with appointment scheduling straight from the app.
Commusoft users can:
Easily manage tasks and projects
Keep track of client data, like contact info and invoices
Set up automated reminders for important dates or appointments
Simplify budgeting with plumbing inventory software
3. FieldEdge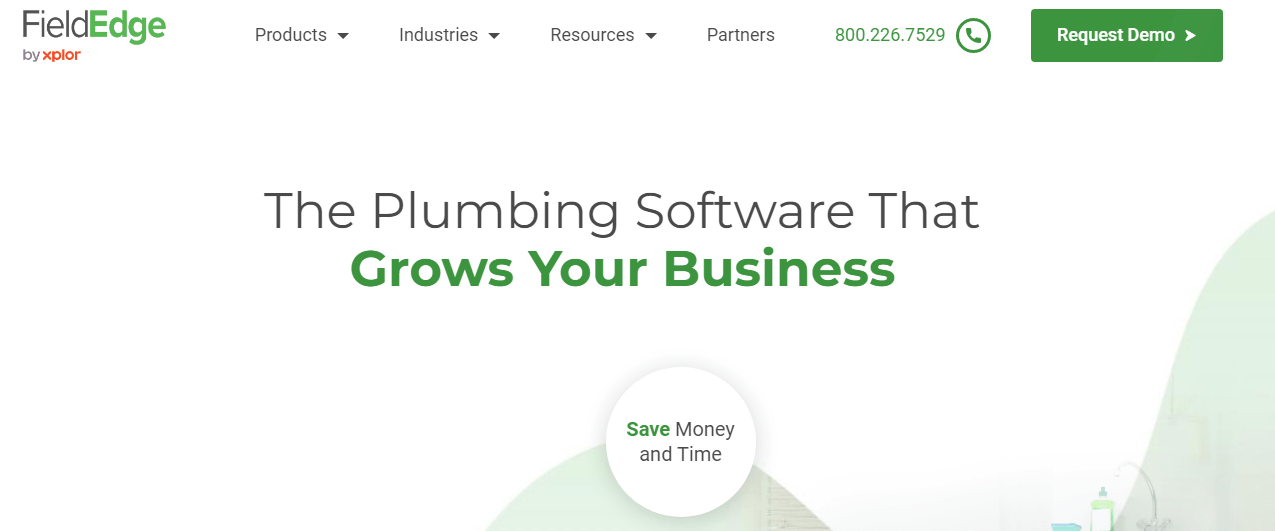 Cost: Estimated monthly fee of $100 per office user and $125 per technician. Contact the representative for specific pricing.
FieldEdge developed its software for plumbing companies. The design will help you quickly manage your leads, appointments, customers, and employees so you can focus on what matters most — providing exceptional service. FieldEdge also features a CRM app for iOS devices so you can access your data anytime.
Built for getting projects done, this CRM features:
A centralized database of clients and projects
Plumbing dispatch software to organize assignments
Automated reminders about upcoming appointments and tasks
Paperless plumbing invoicing software with integrated payment processing
4. Housecall Pro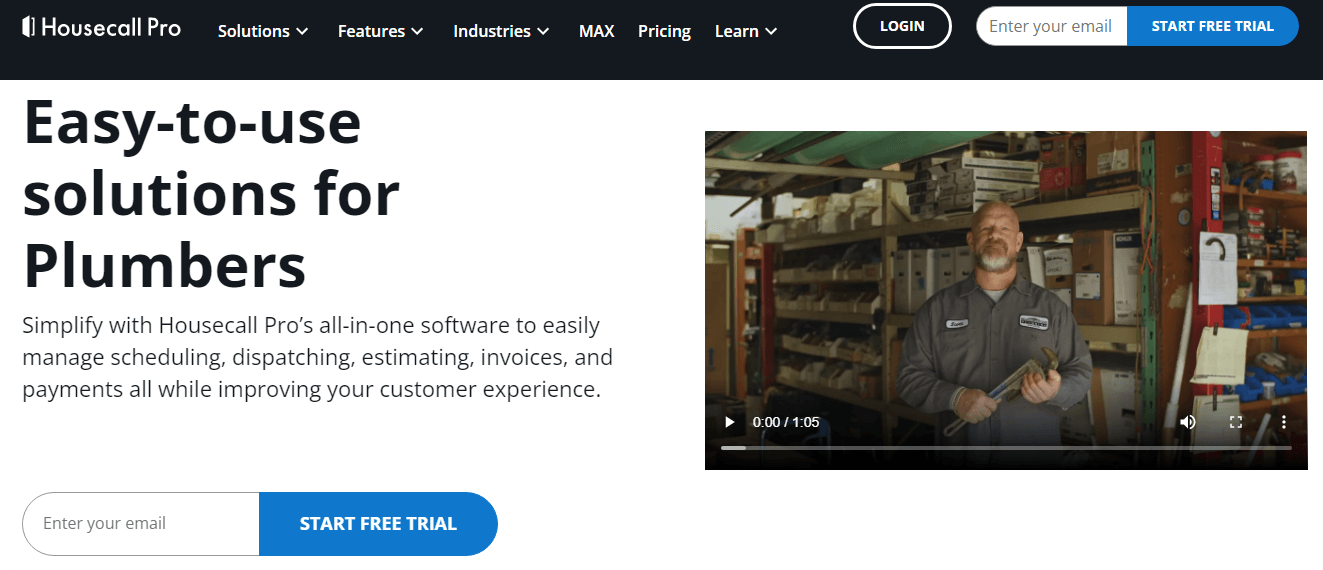 Cost: Free 14-day trial, then $49+ a month.
Housecall Pro helps home service businesses grow by increasing efficiency and productivity. The software tracks your customers and their information, so you can make sure they stay content with your services.
The software also allows you to manage your appointments and schedule so you know what tasks to complete and when.
Housecall Pro will help you:
Track your leads and projects
Generate professional proposals to send your customers estimates
Streamline your payment processing with reliable software through the mobile app
Build custom checklists to ensure smooth operations
5. Knowify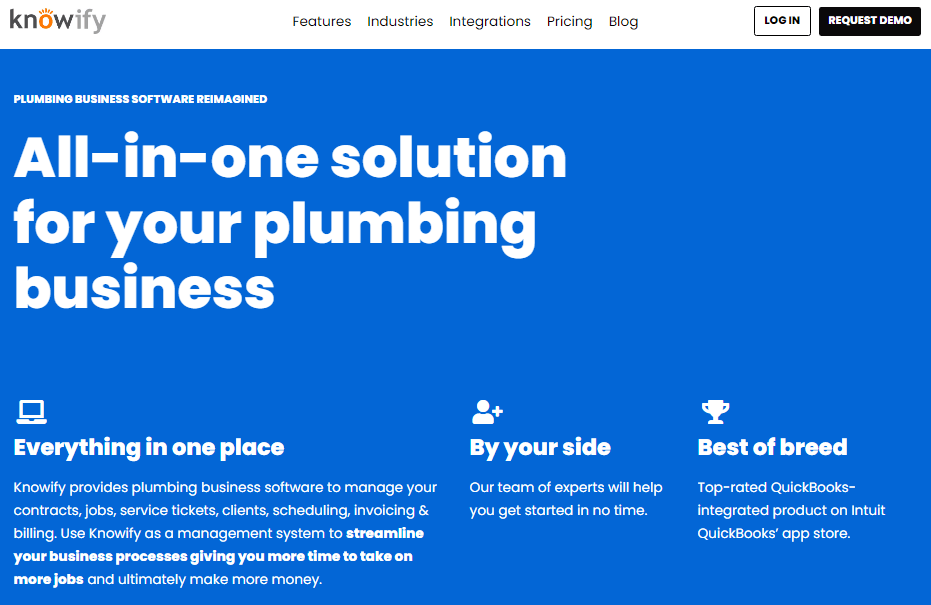 Cost: 14-day free trial, then $99+ a month.
Many plumbers consider Knowify as the ultimate all-in-one CRM. It possesses a complete suite of tools to help you manage your leads, track your time, and keep tabs on projects.
The platform comes packed with features that make it easy to stay organized and productive, and it even integrates with popular business software like Quickbooks and Zapier.
Knowfiy users have the benefit of:
Creating custom fields to store important information, such as contact info or payment history
Viewing advanced analytics to see how well efforts pay off through cloud-based management tools
Prepare bids for commercial jobs and send out change orders.
Using time-tracking apps
6. Sage CRM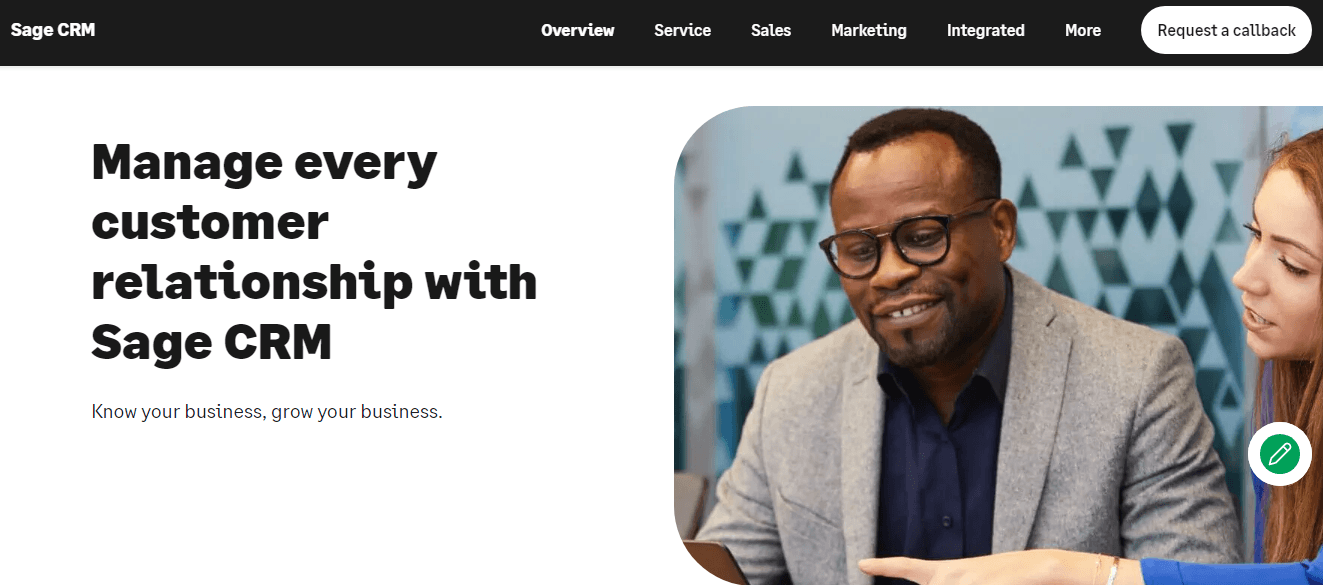 Cost: Estimated $39 per user per month — contact representative for pricing.
Sage CRM is a trusted choice for companies looking to grow across many industries. It's easy to use, cost-effective, and scalable. Manage customer interactions with simple workflows with this robust management system.
Cover all bases with this top-ranking tool for sales, marketing, and service.
Other features include:
Automating everyday tasks to boost the sales process.
Campaign tracking through CRM integrations with MailChimp and customer information
Customizable dashboard with widgets that allow you to see the most important critical at a glance
7. Sera Systems CRM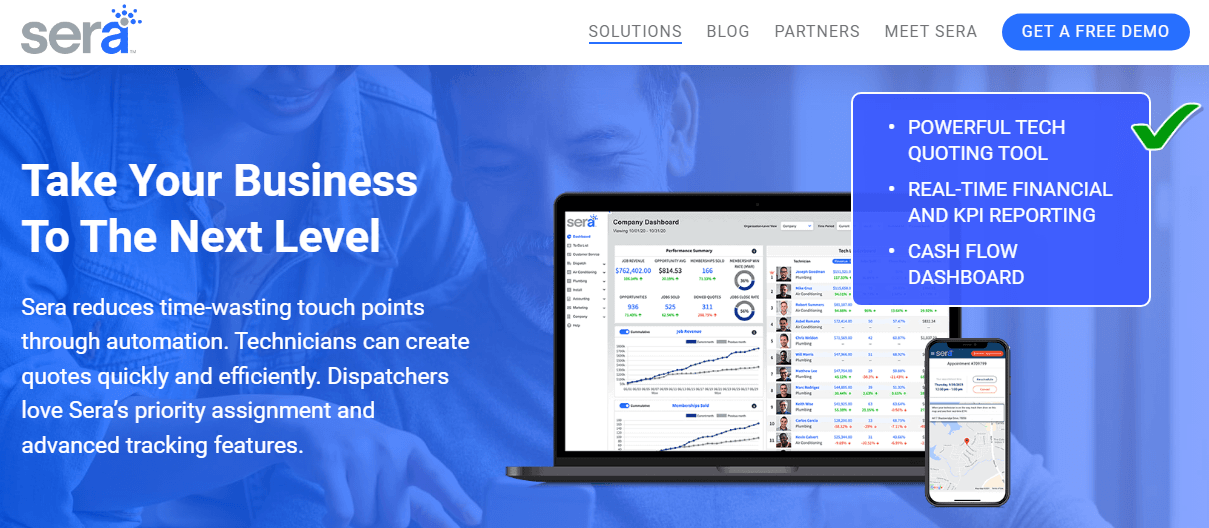 Cost: Get a free demo for pricing.
Sera blasted onto the scene, touting advanced automation and artificial technology. This plumber CRM works well for beginners and those who want something new.
Their legendary customer service ensures that users have a positive experience with this new take on relationship management technology.
Sera also includes many other features that make working in the plumbing industry easier, like:
Easy-to-learn implementation
Project management tools that make organizing and managing your work easy
Customer service tools for quick and effective responses to emails and phone calls
Lead generation assistance so you can grow your memberships
8. Zoho CRM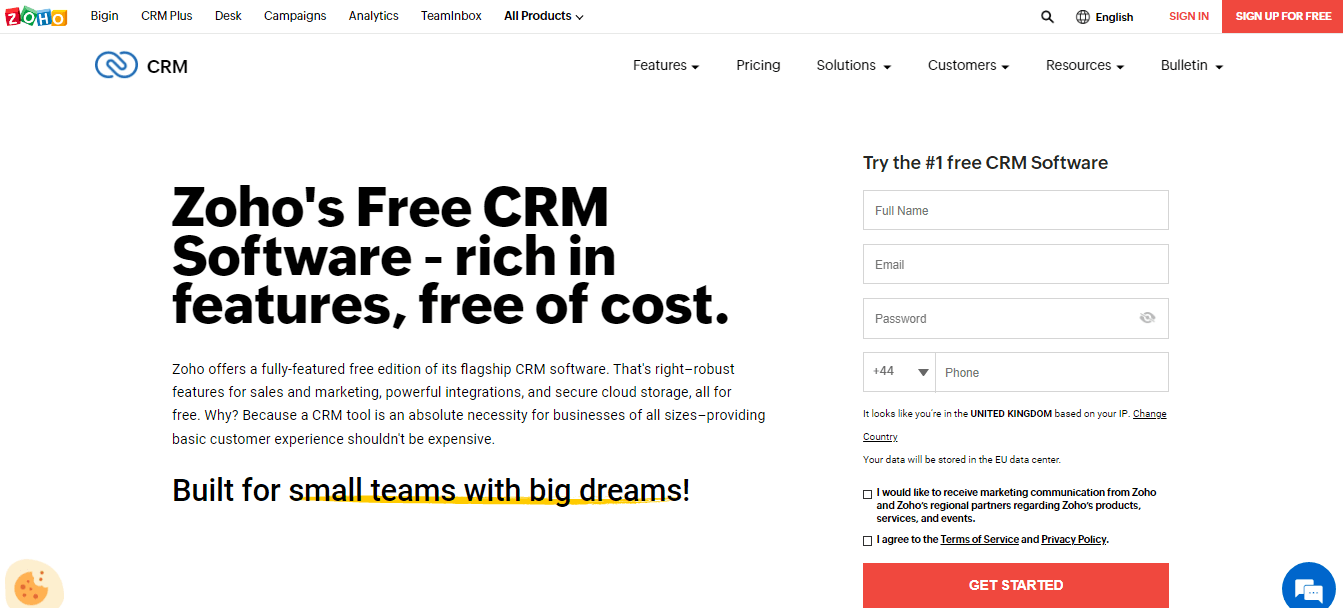 Cost: 15-day free trial, then $14+ per user per month.
Last on our list of the best CRM platforms for plumbers is Zoho CRM.
Zoho CRM is a robust, feature-rich plumber CRM solution with 15 years of experience in the world of CRMs. The system provides numerous ways for your company to manage its workflow, including email integration and mobile apps for Android and iOS devices.
If you need reliable CRM software for plumbers that won't cost much upfront or require ongoing maintenance fees each month, Zoho CRM stands out from the competition!
Additional features include:
A robust dashboard to keep track of your contacts, leads, and opportunities
Email template builder to create customized email campaigns
Adjustable workflows that help you turn leads into sales
The option for small teams to test their free CRM
Measuring the metrics that affect your bottom line.
Are you interested in custom reporting that is specific to your unique business needs? Powered by MarketingCloudFX, WebFX creates custom reports based on the metrics that matter most to your company.
Leads

Transactions

Calls

Revenue
Learn More

Get the best CRM for plumbers with Nutshell
Have you ever wondered if your CRM is really helping you generate more revenue? With Nutshell, we can help you figure it out.
WebFX's CRM software for plumbers, Nutshell, will help you track the ROI of your marketing campaigns and show you the metrics needed to develop bulletproof marketing strategies. See what works, what doesn't, and learn why.
Want to learn more? Contact us online or chat with us at 888-601-5359 today!
Earn a 20% greater ROI with WebFX
Increase your leads, sales, and revenue with digital marketing