Today, more than 91% of businesses use social media. Is yours one of them?
Social media can benefit companies in a wide variety of industries, including local businesses like plumbers. But how can you use social media to grow your plumbing business? In this post, we'll provide you with 11 ideas for social media marketing for plumbers.
At WebFX, we have experience helping companies across a wide range of industries use social media to reach their business goals. To learn more about our social media marketing services, contact us today.
Growing your social presence with WebFX is a walk in the park.
"WebFX allows growing your social media platforms to be stress-free! They are knowledgeable and adapt to your company needs!"
Learn More About Our Social Media Services

Why use social media for plumbers?
Here are some of the top reasons to use social media for your plumbing business.
1. You can reach a large audience
Did you know that there are more than 5 billion active users on social media, and that, on average, users spend nearly a third of their online time on social sites?
Social media's popularity is one of many reasons it's beneficial for local businesses such as plumbers. It gives you access to a huge audience of potential customers.
Your organic posts can reach lots of people, and with social media advertising, you can reach even more by targeting specific audiences!
2. Build your brand and authority
Social media for plumbers is great for building your brand and becoming a recognized authority in your field.
Before you start posting on social media, come up with a brand persona — a set of personality traits, values, and attitudes that represent your company. This persona will determine the voice, or style, of your social media posts.
For example, you might want to be down-to-earth and funny, or you might want to emphasize how much you care about your community. When you create a brand persona, it helps you better plan how you can market to your target audience.
This doesn't mean every post has to be the same thing, but it helps give you some direction.
If you post regularly in a consistent voice, your followers will pick up on your brand personality and what your business stands for.
As you post sound advice and accurate information related to plumbing, people will begin to see you as a reputable authority in your field. This makes them more likely to trust you when they need plumbing work done.
3. Build relationships
As you build your brand on social media, your followers will get to know you. This helps you to build relationships, which leads to trust and, over time, new customers.
You can also build relationships on social media by talking with other users directly. Ask questions in your posts to encourage interaction. Reply to any comments, questions, reviews, and messages you receive in a timely manner.
4. Get qualified leads
Social media is a great place for plumbers to get qualified leads — people who have shown interest in your business and are likely to become customers.
When people follow you on social media, they're demonstrating interest in your business. This means they're more likely to interact with your posts, visit your website, and become paying customers. In fact, 77% of people buy from companies that they follow on social media.
Social media advertising is another way to earn leads on social sites. You can target your ads to users based on their location, demographics, interests, and more.
Hear What It's Like to Work With WebFX!

"I have recommended WebFX to everyone that I talk to and will continue to do so. I can't stress enough how helpful WebFX is with helping us understand the SEO information and how it works."
Plumbing Company In New York
Social media posts for plumbers: 11 ideas
Now that you understand the benefits of social media, you may be looking for ideas for how exactly to use social media. Below are 11 ideas for social media marketing for plumbers.
1. Offer plumbing-related tips
One idea for social media posts for plumbers is to post helpful plumbing-related tips. These posts will provide value to your followers and will position you as a helpful plumbing expert.
For example, you might offer tips about how to save water or the best types of faucets for different purposes.
Check out this example from Metro-Flow Plumbing: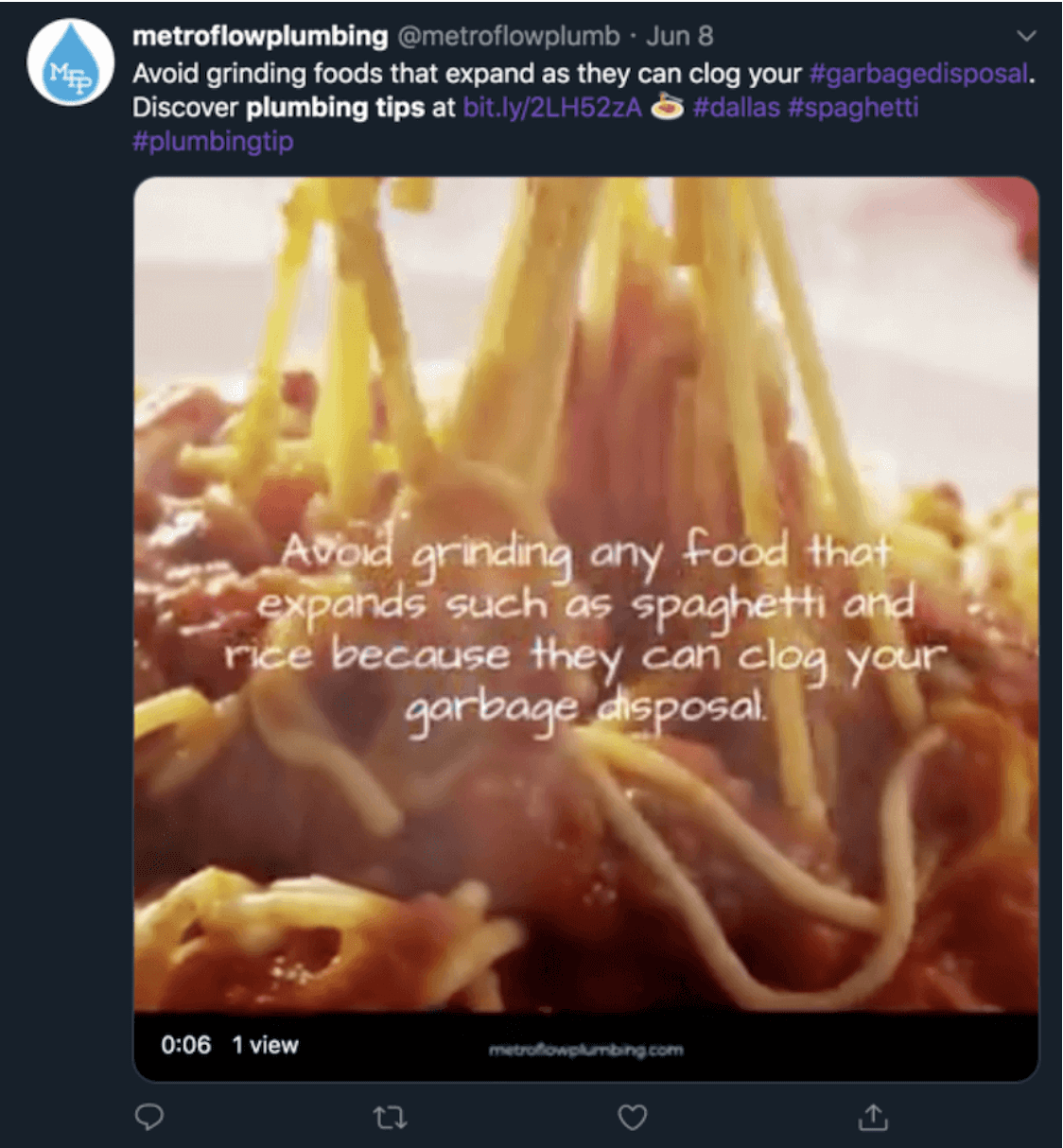 2. Share plumbing-related facts
You can also use your social media page to post plumbing-related facts. Like tips, these posts will help your followers see you as a plumbing expert.
Try scouring the Internet for interesting facts to share. For example, did you know that John Harrington invented the flushing toilet in 1596, which is why people sometimes call the toilet "the John?"
3. Post about causes that matter to you
You can also post about causes that are relevant to your business or local community. Doing so can help you grow your social media presence and make a positive impact!
For example, you might tweet about a local food bank or a charity that provides clean water to people around the world.
4. Respond to comments
Social media for plumbers should involve responding to people's comments and posts on your page.
If someone has something positive to say about your business, thank them. If they have a complaint, acknowledge it publicly and offer to resolve the issue over private messaging or on the phone.
Social media is also a great place to answer customer questions and provide an aspect of customer service through your social profiles.
5. Show off your work
Have an especially interesting or impressive project you're working on? Share pictures of your progress and the finished product.
Sharing photos of your work is a great way to show off your skills, plus visuals perform well on social media. Facebook posts with images get two times more engagement!
Just make sure you get your customers' permission before posting photos of the work you did for them.
Check out this Facebook post from the Eco Plumbers for an example: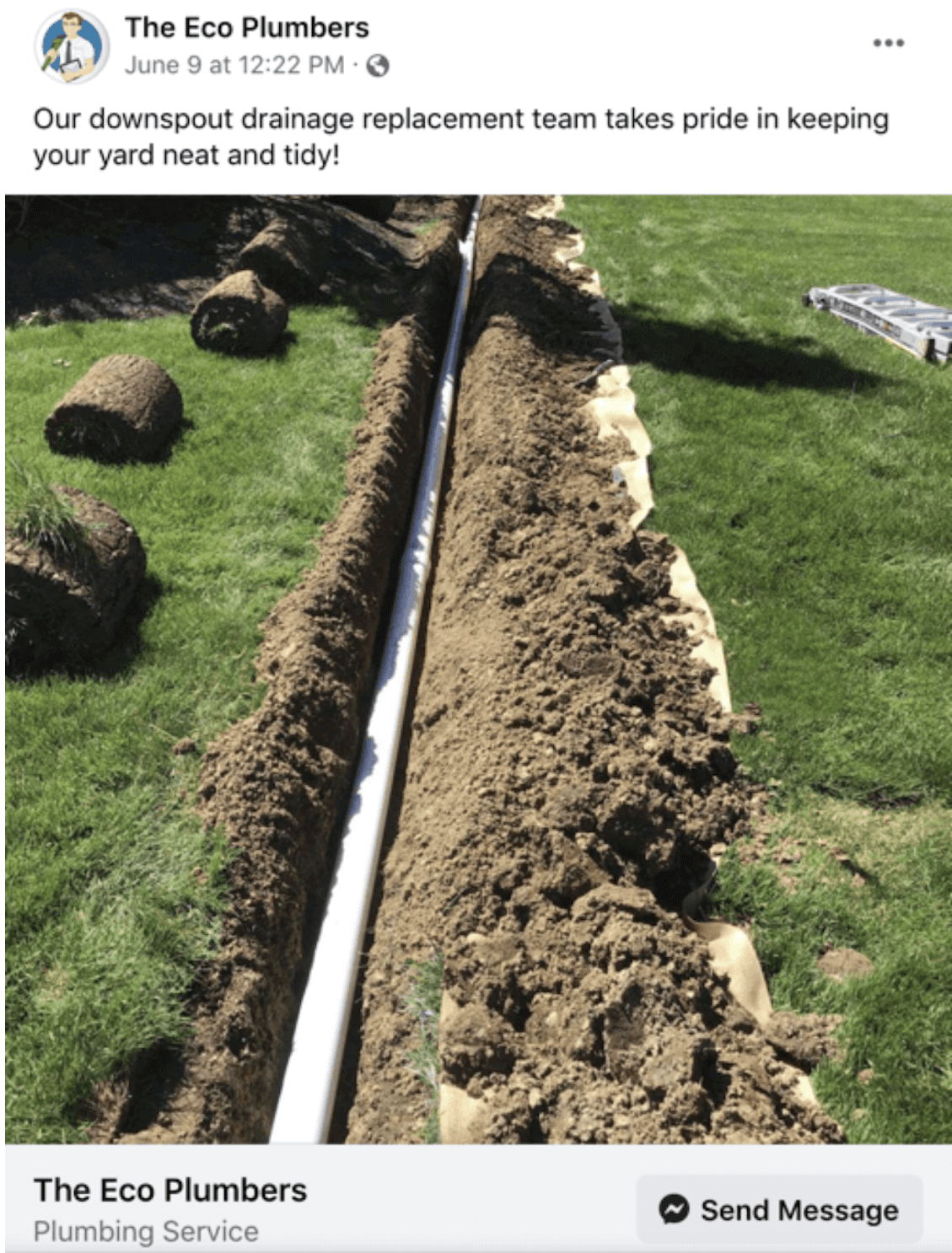 6. Spotlight your employees and customers
Social media posts are also an excellent way to show that you appreciate your employees and customers and highlight the human side of your brand.
Share a picture of one of your employees, perhaps on their birthday or work anniversary, tell your followers a little about them, and thank them for hard work.
If you have an especially loyal customer, an appreciation post thanking them for their loyalty can go a long way.
Keep in mind that you should get someone's permission before you post a picture of them.
7. Make your followers laugh
Another way to bring value to your followers is to make them laugh. Try sharing plumbing-related jokes or funny photos. Just keep the humor professional and family-friendly, so you don't accidentally offend your customers!
Check out this image posted on Pinterest by a plumbing company: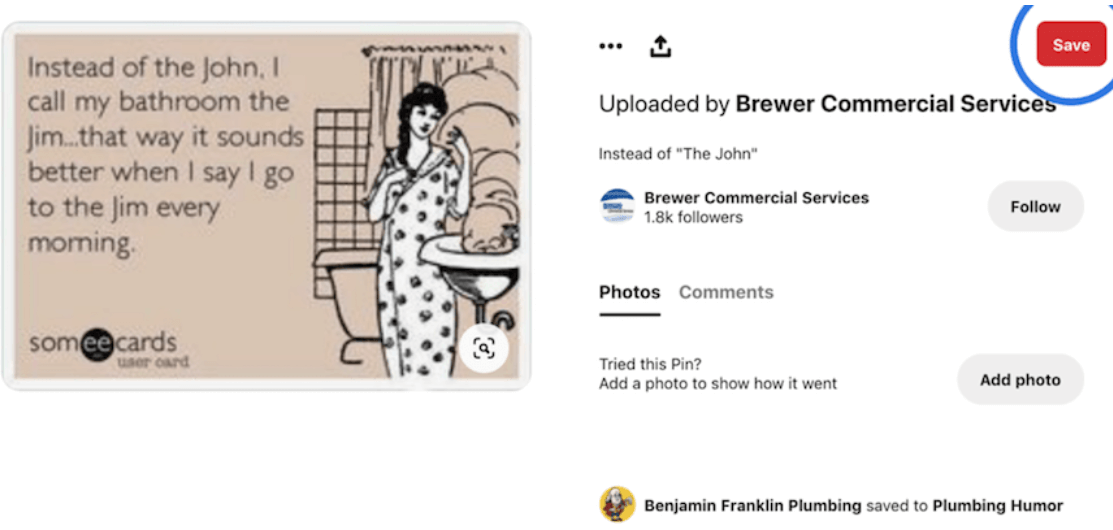 8. Share informational articles
On your feed, you'll want to have a good mix of original posts and shared posts from others.
Keep up with news related to plumbing, home repair, and other relevant areas, and share articles that you think your followers would find useful.
9. Create DIY video
Another way to establish yourself as an expert in your field is to post videos about how to do simple plumbing-related fixes. For example, you could show your followers how to turn the water off if a leak occurs.
Videos are excellent tools for increasing engagement with your audience. Tweets with videos get 10 times more engagement than tweets without, and videos are the type of content that gets the most engagement on Instagram.
10. Social media contests
Another idea for how to advertise a plumbing company on social media is to hold a social media contest. These contests are an excellent way to increase engagement with your audience.
For example, you could post a picture of a piece of plumbing equipment and have people guess what it's called. Or have followers guess how much water a famous building uses each day. Whoever provides the best or closest answer gets their next plumbing fix free!
Of course, those are just a few potential contest ideas. Feel free to get creative!
11. Encourage reviews
Encourage customers to review your business on Facebook. Having positive reviews can help convince potential customers to choose your company.
When you get a positive review, respond and thank the reviewer. If you get a negative review, acknowledge the issue and offer to resolve it through another channel.
Not happy with your social media engagement?
We've got just the blog post for you.
Read the Blog Post & Watch the Video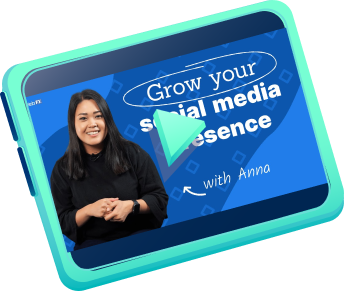 Social media services for plumbers
While anyone can create a social media account and start posting, working with a professional social media management company can help you get the most out of your social media presence.
When you work with a social media marketing company, you'll get a professional social media audit, a custom strategy, high-quality copy and visuals, and in-depth reporting on your results.
Working with a social media company enables you to reach your goals without the time investment needed to learn social media management and run your campaigns yourself.
Professional social media marketers know how to advertise a plumbing company on social media in a way that gets results. Ultimately, professional social media management can lead to a higher return on investment (ROI).
Some social media services available to plumbers include:
Social media for plumbers with WebFX
At WebFX, we have a team of more than 500 digital marketing experts who can help you grow your business with social media. We create data-backed, results-driven strategies for our clients and have a client retention rate of 91%. We're also a Meta Business Partner.
To learn more about our social media services, contact us online or at 888-601-5359.
Earn a 20% greater ROI with WebFX