Did you know that 86% of people use the Internet to find local businesses? Having a professional-looking, easy-to-use website is crucial to getting the attention — and business — of people looking for local plumbing services online.
In this article, we'll take a closer look at web design for plumbers and cover topics like:
Why it's important
How to create a plumbing website
What web design services entail
WebFX is an experienced web design and digital marketing firm. We've designed more than 1,128 client websites, and we pride ourselves on helping people grow their businesses through our free resources and our services. Contact us to learn more!
Or, keep reading to learn more about web design for plumbers!
Why is web design for plumbers important?
Over 70% of people research companies online before deciding to buy from them or visit them, and having an effective website is essential to standing out to these potential customers.
Having a well-designed, optimized website helps you rank better in search engine results. So, if someone searches something like "plumber in Atlanta," your optimized site can be one of the first things they see in the results.
Your website also sets the first impression of you and your business, and 94% of the factors that impact that first impression are related to your website's design.
If someone likes your website's design and functionality, they'll likely stick around longer and potentially become a customer. If your website creates a negative first impression, they may go to a competitor's site instead.
Your web design could also impact how many leads and customers you get from your plumber website. A well-designed website that makes it easy for visitors to find your contact information and use online appointment booking features will generate better results for your business.

Hear What It's Like to Work With WebFX!

"I have recommended WebFX to everyone that I talk to and will continue to do so. I can't stress enough how helpful WebFX is with helping us understand the SEO information and how it works."
Plumbing Company In New York
How to create a plumbing website
So, how do you create a plumbing services website that drives result? Here are six basic steps to follow.
1. Set goals for your website
Before you start building your website, set goals. Figure out what you want to accomplish with your site.
You can set numerous goals for your website, including:
Increasing brand awareness
Increasing leads
Increasing conversions
And more
Defining your goals before you start building will help you build a plumbing services website that can meet those goals
2. Choose a domain name
Your domain name is one of the most crucial features, as it's how users will identify your site.
Keep it short, simple, and descriptive, and avoid using numbers and hyphens so that both people and search engines can easily read it. You can use your business name as your domain name.
When choosing a top-level domain (TLD), the last part of your domain name, choose a recognizable one like ".com." The TLD is highlighted in the example below:

For example, "stevesplumbingservices.com" is a great plumber website domain name. "Plumbing-services-4-harrisburg.buzz?" Not so much.
3. Choose a web host
You'll also need to choose a web host — a server where your data will be stored.
You can choose shared website hosting or opt for a dedicated server for your website. For most relatively small sites, shared hosting is the most cost-effective option.
Some hosting providers also offer cloud hosting, in which they use several cloud-based servers to host your site. This option increases reliability while remaining cost-effective. If one server goes down, the others will continue running.
4. Decide on functionality and design style
Figure out what features your website needs to have and what design style would work best for your business.
At the core of your plumber website, you need a clean design and functional navigation. Both of these elements will help you create a user-friendly site that gets your audience to engage.
In the example below, you see various ways website visitors can easily navigate around the site. Each section across the top has a dropdown menu, and users can also navigate using the breadcrumb navigation shown by the arrow furthest to the left.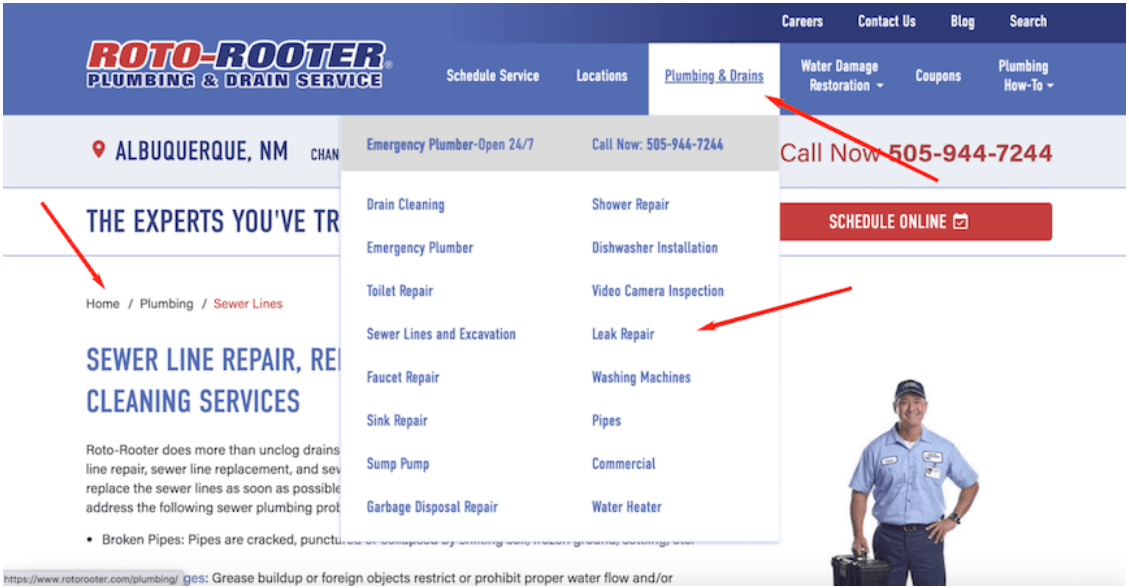 Some additional features you might want to include are:
The ability to accept payment
Appointment booking
A content management system (CMS) for a blog
Social media integration
You'll also need to choose a design that reflects your brand and helps you stand out to your audience. Web design for plumbers might be relatively simple, or it might be more intricate with numerous intricate and eye-catching elements.
Your design will depend upon your brand, your audience, and what you want to achieve with your website.
5. Build your pages
Next, you can start building your pages. The pages you need depend on your business and goals, but some basic pages to include are:
Make sure each page has a specific purpose and contributes to your main goals in some way. Of course, you can always add pages further down the road.
6. Test and publish your website
Before you launch your website, test it thoroughly.
Open it in all major browsers, including Chrome, Safari, and Firefox, and test it on multiple kinds of devices, including laptops, tablets, and smartphones. Be sure to test all of your features and links.
Once you're sure your website works, it's time to publish it!
Web design services for plumbers
When it comes to web design, it's best to work with a professional.
Your website is the foundation of your online presence, so it's a worthwhile investment. A professional web designer or web design company can create a plumbing services website that attracts customers, keeps their attention, and helps you reach your goals.
When you choose web design services from a web design expert like WebFX, you'll get the following:
Custom style: We'll create a custom website style for you based on your preferences and needs.
Responsive design: Our websites are responsive, meaning they adjust to the user's screen. Responsive sites look great and work correctly on smartphones, computers, and other device types.
Feature integration: We can integrate a range of features into your website, including CMSs and payment capabilities.
Page creation and copywriting: We'll create and design the pages you need and provide quality copy that provides your audience with all the information they need.
Search engine optimization (SEO): We follow best practices for SEO in all of our web design work to help your site rank well for relevant search terms.
Some other web design-related services we offer include:
Website redesign services: Have a site that needs revamped? These services involve updating or replacing an old site and transitioning to a new site.
30-day web design services: If you want a new website fast, choose our RainmakerFX package. Select one of our themes, and we'll add your branding and get your site launched in 30 days.
Americans with Disabilities Act (ADA) compliance services: We can help ensure your website is compliant with the Americans with Disabilities Act (ADA) and make it accessible to more users
Web design for plumbers from WebFX
At WebFX, we design websites that get results. We've generated more than $3 billion in revenue for our clients over the last five years, and we've won more than 50 web design awards.
Ready to get started on your plumbing services website? Contact us online or at 888-601-5359 today to speak with a strategist!
We don't want to tell you about the work we do, we want to SHOW you.
View Our Portfolio

We've built over
Websites
in a variety of industries.
Earn a 20% greater ROI with WebFX