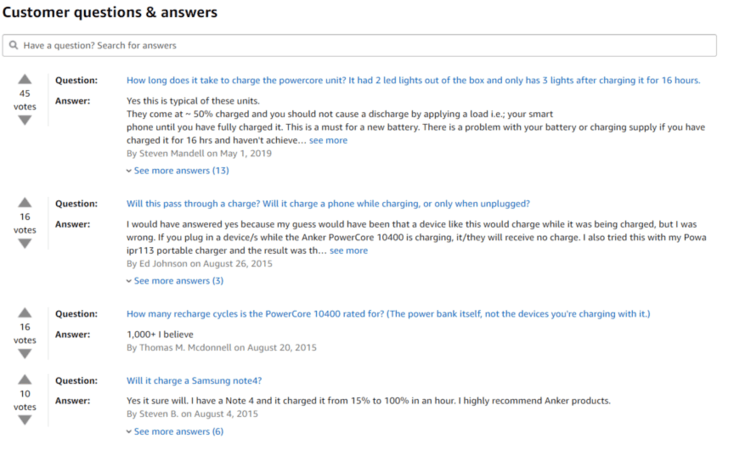 Agency
Earn More Sales with a Top Amazon Seller Agency From creating product listings to fulfilling product orders, it's a massive undertaking to manage your presence on Amazon. If you're looking to ease your responsibilities and create more time for yourself […]

Learn
Home How to Open an Amazon Storefront (And Start Selling) With more than one million small-to-midsized businesses selling on Amazon, your company needs to stand out from the competition. Opening an Amazon storefront, also called an Amazon Store, can set […]
Amazon is responsible for more than 40% of online sales, from products to services. As the world's biggest ecommerce platform, it's capable of increasing your sales, brand awareness, and market dominance.
Selling on Amazon is also highly competitive. To succeed, you need the right strategies, tools, and Amazon marketing services on your side.
Discover how to use Amazon to your advantage with these comprehensive resources, which range from learning the basics of SEO on Amazon to discovering advanced strategies for decreasing Advertising Cost of Sale (ACoS).
This marketing guide for Amazon can help you take your business's performance on Amazon to the next level. You'll learn the basics of marketing on Amazon, discover how services for Amazon can help grow your business, get marketing tips for Amazon, and more.
Feel free to browse through all of our free marketing resources for Amazon or skip ahead to the section that interests you most.
Table of contents: Resources for Amazon marketing
What is Amazon marketing?
Marketing on Amazon is a strategy that allows sellers and vendors to sell and promote their products through Amazon. Just like marketing on other channels, there are multiple tactics to choose from after you decide to start marketing on Amazon.
Why use Amazon for product marketing?
Is Amazon the best fit for your business? In most cases, the answer is yes.
Even if your company maintains its own website and online shop, Amazon most likely has a far greater reach and customer base than your site, meaning that marketing on Amazon will most definitely increase the overall number of people viewing your products online.
Opening a storefront on Amazon also adds another revenue stream to your business. As long as you continue to optimize your website for search engines or run ads, you can continue to generate sales from your site.
Learn more about the basics of Amazon marketing
How to launch your store on Amazon
To begin selling your products on Amazon, you first need to launch your Amazon Storefront! Setting up a storefront is an easy process that any seller can complete. To start, you'll need to enroll in Amazon Brand Registry — a tool from Amazon for protecting your products from copycats.
One you're registered with Amazon Brand Registry, you're ready to set up your storefront! To do this, log into either your Amazon Seller Central account or your Amazon Vendor Central account. After logging in, the process is as easy as selecting "Storefront" in the main navigation, clicking "Create Store," and choosing your brand from the pop-up box. You have a plethora of customization options to choose from, which we've outlined for you in our complete guide to opening your Amazon Storefront.
Learn more about launching your Amazon Storefront
How to market your products on Amazon
On Amazon, your business can use a variety of strategies, including these product marketing tactics for Amazon.
SEO for Amazon
Similar to search engine optimization (SEO) on Google, SEO for Amazon focuses on optimizing product pages to improve where the products show up, or rank, within the result pages of an Amazon search.
Sellers and vendors want to optimize their product pages so their products rank at the top of search results for relevant keywords or queries. Like traditional SEO, SEO for Amazon is also free to use unless outsourcing or investing in tools.
When doing SEO to promote your products on Amazon, you can approach it as you would doing SEO for your own ecommerce website.
Like all good SEO campaigns, the process begins with keyword research. You'll want to identify long-tail keywords that help you stand out from the competition and connect you with the needs of your target audience.
Once you select your keywords, use them to guide you as you optimize your Amazon storefront. Here are a few tips to get you started:
Manage your reviews
Optimize your title
Pay attention to image guidelines
Use competitor research to help price your products
Optimize product descriptions for readability
Advertising on Amazon
If you're selling on Amazon but not utilizing Amazon Ads, you could be missing out on opportunities to win new customers. Amazon Ads offers multiple types of ads, including:
Sponsored Brands
Product Display Ads
If you're just getting started, Sponsored Product Ads are a great place to start because they appear directly next to Amazon search results.
You may already be familiar with Sponsored Brands ads, which appear at the top of search results. These are great for associating your brand with products as they allow you to display your logo and up to three products in that category.
Product Display Ads show on Amazon similarly to other display ads you might be running with Microsoft Ads or Google Ads. With these types of ads, you can target users based on their interests or target products that are related to yours, allowing you to expand your reach.
While Amazon's Sponsored Product Ads and Sponsored Brands ads use the pay-per-click (PPC) pricing model, Product Display Ads use the cost per thousand viewable impressions (vCPM) pricing model.
Conversion rate optimization (CRO) for Amazon
Conversion rate optimization is vital for any ecommerce seller. On Amazon, where there are millions of competitors, the stakes are even higher. Amazon CRO focuses on increasing the number of shoppers who convert and purchase your products.
To begin, identify elements that may convince users to choose your products. These factors may include product titles, descriptions, prices, and images.
From there, test different variations of these elements. While it may be tempting to throw something together and see what sticks, A/B test your changes so you can track the impacts of your optimizations and maximize your conversion rate using real data.
Amazon review management
Reviews on Amazon are crucial for encouraging shoppers to choose your products. They can also impact your visibility on Amazon, as they affect your rankings on Amazon search results.
That's why Amazon review management is so important. Review management includes encouraging customers to leave reviews, responding to reviews, and answering questions.
External marketing
Often referred to as off-Amazon marketing, this strategy allows vendors and sellers to create ads and link these ads to their Amazon product page or Brand Store. These links can come from many places, with the seller or vendor deciding where the links go. Some examples include:
Email marketing: Promoting your Amazon Storefront through your email newsletters
PPC advertising: Using PPC advertising channels outside of Amazon, such as Google Ads, to promote your products in search engines and other pages across the Internet
Social media marketing: Linking to your Amazon products in your organic social media posts
Social media advertising: Placing ads for your Amazon products on social media sites such as Facebook and Twitter
Marketing tips and strategies for Amazon
Want more Amazon marketing tips? Check out these articles for some of our top Amazon marketing tips and strategies.
General Amazon marketing tips and strategies resources
SEO for Amazon
Advertising on Amazon
CRO for Amazon
Amazon review management resources
External marketing for Amazon
Measuring your Amazon marketing results
To maximize your success on Amazon, it's important to track and measure your Amazon marketing results. Amazon offers a tool called Amazon Brand Analytics that can help you gauge your brand's performance in the marketplace and ensure you're capitalizing on every opportunity.
For example, one of the many available reports in Amazon Brand Analytics shows you the search terms shoppers used to find your products.
This report tells you which keywords are most valuable to your business and can give you new ideas for terms to target.
To get started, be sure to check out these Amazon seller metrics first:
Order defect rate (ODR)
Pre-fulfillment cancellation rate
Late shipment rate
Conversion rate
Learn more about Amazon analytics
Amazon analytics resources
Amazon marketing tools and platforms
There are many tools available that can help you optimize and measure the results of your Amazon marketing. Check out some of these tools, including free tools from the team at WebFX, here:
Outsourcing Amazon marketing
Because of the large number of sellers on Amazon, it can be difficult for small and mid-sized businesses to manage all the components of a successful campaign. Between A/B testing for CRO and conducting keyword research for Amazon SEO, marketing your business on Amazon can be a challenge.
To help with this and maximize your marketing results, consider working with a marketing agency for Amazon. By acting as an extension of your team, an agency can help you grow your small business and generate more sales. When you have an agency to handle your marketing on Amazon, you also have more time to focus on other aspects of your business.
To get the most value out of your marketing agency, consider a full-service digital marketing agency like WebFX. We can generate ROI-focused results with strategies customized to fit the needs of your business.
Whether your business needs help generating additional clicks through PPC, standing out from the crowd with CRO, or establishing your brand with Amazon SEO, marketing agencies can help grow your business through Amazon.
Additional Amazon marketing resources
Learn more about Amazon marketing and digital marketing with these additional resources.
If you want to stay in the loop on the latest advice for digital marketing on Amazon and elsewhere across the Internet, sign up for our email newsletters.
Amazon marketing resources by category
Additional digital marketing channels and strategies
Market (and sell) your products on Amazon with WebFX
Whether you are new to marketing on Amazon and don't know how to get started, or you already market through Amazon and need help with optimization, WebFX offers a variety of marketing services for Amazon to meet your unique needs.
For example, you can get help with:
So, whether you are looking to start from scratch or build on an existing foundation, WebFX has the team, tech, and know-how to significantly enhance your marketing strategy on Amazon, giving your products the necessary reach to boost sales and improve your bottom line. Don't waste any time getting your products more exposure. Contact us today!
Partner with a team of ecommerce masters!
WebFX campaigns have delivered more than 12,936,451 ecommerce transactions in the last 5 years
Read the Case Studies