Whether you're a marketing newbie or a seasoned pro, digital marketing terms are a necessary part of your everyday workflow. As a marketer, some reasons to stay brushed up on your digital marketing terms include:
Using the correct terms in your writing
Using the correct terms in client reports
Making sure you understand your marketing goals
Integrating all your marketing knowledge into your campaign
For those reasons — and many more — check out our digital marketing terms glossary below. And, if you're feeling stuck with your digital marketing campaign, reach out to WebFX! We're a full-service digital marketing agency that can help you reach your potential online!
Contact us online or give us a call at 888-601-5359!
Our digital marketing campaigns impact the metrics that improve your bottom line.
See More Results

WebFX has driven the following results for clients:

$3 billion
In client revenue

7.8 million
Leads for our clients

5.2 million
Client phone calls
Before we get started…what is the definition of digital marketing?
Before we talk about digital marketing terms to know, it's important to understand the definition of digital marketing itself. Digital marketing is an umbrella term that describes the many tactics behind promoting your business online. Digital marketing strategies include, but are not limited to:
Search engine optimization (SEO)
Local SEO
Pay-per-click advertising (PPC)
Email marketing
Content marketing
Conversion rate optimization (CRO)
Page speed optimization
Geofencing
Social media marketing
Social media advertising
Voice search optimization
In our digital marketing terms glossary, we'll be covering more than just strategies — we'll also define digital marketing metrics terms, strategy terms, and more. Use the table of contents to jump to different term categories!
Digital marketing strategy terms
First on our list of digital marketing terms to know is digital marketing strategy terms.
Content marketing
Content marketing is the practice of creating and distributing content to your audience with the goal of increasing brand awareness, improving site traffic, and boosting conversions. You can expand your efforts by sharing your content on social media, in email newsletters, and more.
Conversion rate optimization (CRO)
CRO is the process of increasing the number of conversions that take place on your site by optimizing website elements to move more users through the sales funnel.
Email marketing
Email marketing is when you advertise to your target audience via email campaigns.
You can send newsletters, special offers, and more.
Geofencing
Geofencing is when you market your products and services to a specific group of people within your geographic location. It involves drawing a virtual fence around an area that you'd like to target, in which users receive ads for your business while in that radius.
Lead nurturing
Lead nurturing is the process of cultivating a relationship with your target audience to build trust and loyalty, and then eventually, converting them into clients.
Local SEO
Local SEO is when you optimize your website to rank in local results. It includes strategies like claiming your Google My Business listing, writing pages based on local keywords, and more.
Page speed optimization
Page speed optimization is the process of improving your site's load time to satisfy users.
Tactics include compressing photos and cleaning up your HTML code.
PPC
PPC is a paid strategy that allows you to appear above organic results in search engines. You can target your most qualified audience with keywords in your PPC ads, and you only pay when users click them — not for ranking real estate.
SEO
SEO is the practice of optimizing your website for search engines and users. The end goal of SEO is to help your content rank highly in search engines like Google so that your target audience finds you when they search for a term that you target with your content.
SEO helps you rank organically, or without paying for rankings.
Social media advertising
Social media advertising allows you to create and distribute ads for your products or services on a range of social platforms including Facebook, Twitter, Instagram, LinkedIn, and more. Most platforms have an ad platform baked in it.
Social media marketing
Social media marketing is the practice of building brand awareness, building relationships, and ultimately converting users on different social media platforms, by sharing content relevant to your business and industry. You can market to your target audience on platforms like Facebook, Twitter, YouTube, Instagram, and more.
Voice search optimization
Voice search optimization is when you adjust your content to target users that search using a voice search device.
You speak differently out loud than you would while typing a query, so voice search optimization helps you optimize for verbal queries.
Website design
Website design is the practice of creating a user-friendly website that informs users about your business, products, and services. The ultimate goal of website design is to convert site visitors into customers.
Digital marketing terms
Below, we've compiled a list of the most important digital marketing terms.
A/B testing
A/B testing is when you test two different versions of a marketing campaign to see which delivers better results.
Bottom-of-the-funnel content (BOFU)
Bottom-of-the-funnel content is content that is created for users that are about to make a purchase. It features sales-driven language and offers things like demos and consultations.
Brand positioning
Brand positioning refers to the way you present yourself to your customers.
In turn, it signifies the way that customers connect with your brand based on your values and the way that you stand out from competitors.
Brand awareness
Brand awareness is the level at which users can recall and recognize your brand name. You build brand awareness by being present on social media platforms, sending email newsletters, and appearing in search engines.
Buyer persona
A buyer persona is a fictitious profile that you create to outline your ideal customer. This profile helps you create effective marketing campaigns by imagining how your target persona would like to be marketed to, what profiles they use, and what kind of content they read.
CMS
CMS stands for content management system, and it allows users to create, host, and manage website content.
WordPress is an example of a CMS.
Customer acquisition
Customer acquisition refers to the process of attracting customers to your business. It includes establishing a relationship with potential customers, showing them that you understand their needs, and providing them with the info they need to convert.
Customer retention
Customer retention refers to the process of keeping your customers on board with your company by satisfying them with your services.
Demand generation
Demand generation is when you create a need for your product using the data you've collected about your target audience and past campaigns.
Inbound marketing
Inbound marketing refers to tactics that target your ideal users instead of marketing to those who might not be interested. Inbound marketing tactics include SEO, social media, content marketing, and more — and refer to tactics that attract your target users rather than you reaching out to them.
Keyword research
Keyword research is the process of discovering key terms that your target audience uses when searching online.
You can use a keyword research tool to help you discover these terms.
Key performance indicator (KPI)
KPIs help you track your marketing goals' success rate. When you set KPIs for your marketing campaign, you determine what metrics are most important, and track them over time.
Landing page
Landing pages use forms, images, and organized information to encourage a user to convert. They are where users arrive after clicking an ad.
Marketing automation
Marketing automation allows you to program marketing tasks so that you don't have to do them manually.
Marketing automation software makes it easy to nurture leads and boost the efficiency of your marketing campaigns.
Middle-of-the-funnel content (MOFU)
MOFU content is content that you create for users who are about halfway through the buyer journey. This kind of content includes things like case studies or solutions that you provide.
Top-of-the-funnel content (TOFU)
TOFU content caters to users who are just learning about a topic, and not ready to use your services or buy your products. This content is more informational and focused on creating a relationship with potential customers.
Digital marketing metrics terms
Next up in our digital marketing terms glossary is digital marketing metrics terms!
These are important for reporting reasons, and they can also help you set critical goals for your company.
Churn rate
Churn rate is also referred to as customer retention and can help you determine how many customers you lose in a specified period.
Try our FREE Churn Rate Calculator
Customer acquisition cost (CAC)
Customer acquisition cost (or patient acquisition cost among medical practices) is how much it costs to turn a lead into a paying customer.
Try our FREE CAC Calculator
Cost per click (CPC)
Cost per click refers to how much you pay for each one of your clicks on a PPC ad.
Try our FREE CPC Calculator
Cost per lead (CPL)
Cost per lead is how much you spend to acquire a lead.
Cost per thousand (CPM)
CPM refers to cost per thousand, which helps you determine how much 1000 views or impressions would cost.
Try our FREE CPM Calculator
Customer lifetime value (CLV)
Customer lifetime value is how much revenue a specific customer is forecasted to drive for your business.
Try our FREE CLV calculator
Click through rate (CTR)
Click through rate is determined by how many times a user clicks on an ad or a link and arrives at the page you're tracking.
Try our FREE CTR Calculator
Conversion rate
Conversion rate is the percentage of your site's visitors or ad viewers that complete the desired goal, which is typically a conversion or purchase.
Try our FREE Conversion Rate Calculator
Keyword density
Keyword density is how many times you use a target keyword on a page in relation to the total number of words on the page.
Try our FREE keyword density calculator
Return on ad spend (ROAS)
ROAS helps you understand how much return you generate in comparison to how much you spend on ads.
Try our FREE ROAS Calculator
Meet MarketingCloudFX:
One platform tracking countless metrics and driving stellar results.
Learn More About Our Proprietary Software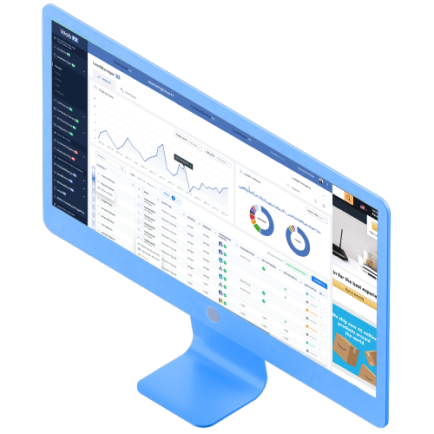 Social media marketing terms
Next in our digital marketing terms list, learn more about important social media marketing terms.
Boosted post
Boosted posts are when you pay for a Facebook post to increase its reach. Also known as promoted posts.
Brand advocate
A brand advocate is a customer who supports a brand on social media by posting positive reviews and comments on your content.
Direct message
A direct message is when a user messages you via a social media platform's private message platform.
Engagement
Social engagement refers to any action that a user takes on your social profile. Engagement is typically measured in likes, reactions, shares, and comments.
Social feed
Your social feed is the stream of content that you see when scrolling through social media platforms.
Follower
A social media follower is someone who has chosen to see your posts regularly by subscribing or "following" your page.
Hashtag
Hashtags are made up of a "#" symbol, followed by a term or phrase, which helps social platforms classify different kinds of content.
For example, if you post on Twitter with the hashtag "#cupcake," when users search that hashtag to find similar content, your post could show up.
Impressions
Impressions refer to how many times your post has been seen on social media.
Shares
Shares refer to the number of times that users have reposted your content.
Social listening
Social listening is when marketers use a specialized tool to track conversions that are related to topics, terms, and interests on social media platforms. The software collects mentions, hashtags, comments, and more to create a report of how users behave on social media.
74% of people use social media when making a purchasing decision.
Make their decision easy with a stellar social media presence. See how your brand can level up by requesting a no-obligation proposal today.
One of our experts will be in touch within 24 hours!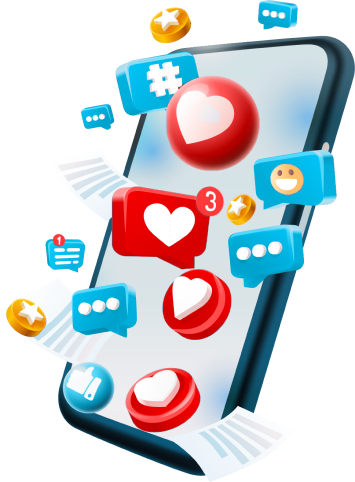 Email marketing terms
Email marketing has its own set of digital marketing terms to know!
Deliverability rate
Also known as acceptance rate, the deliverability rate is the percentage of emails that are accepted by the recipients' email server.
Double opt-in
Double opt-in is when users must complete two actions before subscribing to your email content. For example, a sign-up form and a confirmation link.
Dynamic content
Dynamic content is content that changes within an email based on the subscriber.
For example, the content might change based on the age or gender of the subscriber.
Email automation
Email automation is when you create personalized emails to send to specific groups of subscribers and automate them to reach recipients at the right time. There is a variety of email automation software on the market.
Email personalization
Email personalization is when you customize the content of the email based on the subscriber's previous interest, previous actions on your site, age, location, and more.
Email segmentation
Email segmentation is when you segment emails into different buckets based on interests, send times, and more.
Email service provider (ESP)
An email service provider is a program that helps marketers send campaigns to their subscriber list. ESPs have the ability to help you build subscriber lists, send emails automatically, and provide reporting.
Multivirate testing
Multivirate testing allows you to test different parts of your email to ensure that you get the best response possible.
For example, you could test different subject lines, different offers, and different calls to action.
Open rate
Open rate is the percentage of emails that are opened by recipients.
Transactional email
A transactional email is an email that is triggered when a customer makes a purchase.
Hard bounce
A hard bounce occurs when an email you send is returned to you based on a wrong email address or an incorrect domain name.
Soft bounce
A soft bounce occurs when a file is too big to send, or the inbox of the person you're sending to is full.
Want your own digital marketing campaign?
If all this talk of digital marketing terms has you excited to start a campaign or improve your existing one, WebFX can help! So, what makes us so qualified for the job?
We've been in business for over two decades — helping clients just like you take their business to new heights with digital marketing. We're Google Premier Partners, ongoing learners, and award winners — did you know that we were voted the best SEO company in the world by Clutch? We have a team of more than 500 digital marketing specialists who are masters in their craft.
Our team knows digital marketing terms by heart and can help you implement them into a custom campaign. We offer all of the services mentioned on this page, and then some! To learn more, contact us online, or give us a call at 888-601-5359 to learn more about our digital marketing services!
How is your website's SEO?
Use our free tool to get your score calculated in under 60 seconds.
Get posts by email
Join 200,000 marketing managers and subscribe to Revenue Weekly!
"*" indicates required fields
WebFX Careers
Join our mission to provide industry-leading digital marketing services to businesses around the globe - all while building your personal knowledge and growing as an individual.